Even as the economic bubble enclosing San Francisco bursts, the Bay Area still reigns as a hub of recent and historical technological innovation. So what better place to stage a blockbuster survey of technology related art projects than here? The SFMOMA's current exhibition 010101: Art in technological Times reflects on what it means to create work in a time when our lives are deeply intertwined with technology.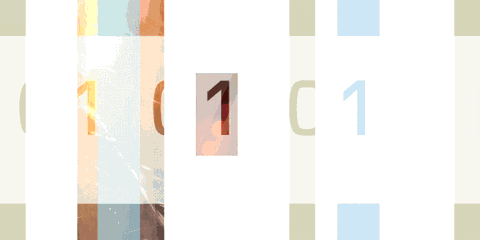 "This ground-breaking project is not just a show of 'art about technology' or 'high tech art and design,'" notes SFMOMA Director David A. Ross. "Rather, it presents artists, architects and designers whose work is carried out self consciously in the shadow of the digital age, which is bringing new ideas and working processes to the studio, introducing new exhibition practices to the gallery and offering radically new ways to connect creators and their potential audiences. The play-on-numbers of the exhibition title underlines the changing nature of museums and artists as they and the rest of society reflect upon life in technological times."
010101 is one of a handful of recent American shows that attempt to put a handle on these nascent forms. The curators attempt tp make sure that no subgenre of technology-informed work is left out out of the mix, and uses both a entire museum floor and an online exhibition to do so. The show includes work ranging from painting to video, sound and sculptural installations. The web portion of the show is not accessible from the museum itself. While the breadth of the show is generous, it suffers as a whole from lack of editing. It includes works that are pretty but conceptually trite, where interactive translates as merely gimmicky, and where any connection to technology seems tenuous or forced. That said, there are a number of individual projects that make the show worthwhile viewing.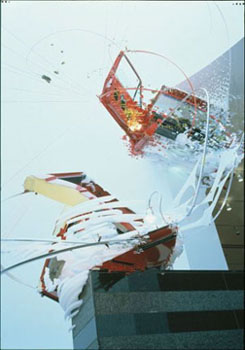 Sarah Sze's kinetic "Car Crash" defies glossy cliches about tech art with craft-class construction. Her installation arcs up the museum's center stairwell and perches off of it in a series of dizzy fragments. Tiny motors animate bits of foam, packing peanuts, pills, and other materials in a dense and organic microcosm of detritus.

And Heike Baranowski's room-filling video installation Auto Scope is grittily compelling. Four copies of an hourlong video loop shown simultaneously edge to edge fill a room. Paris moves by, gray walls and trees forming a banal and mesmerizing immersive kaleidoscope that dissolves through seemingly unending urban industrial zones.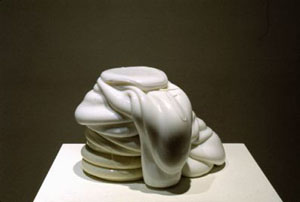 Sculptors Karin Sander and Roxy Paine both share a gallery and employ hands-off approaches to the creative process. And both let the machines they use determine the aesthetic of their output. Sander's 1:10 is a series of highly detailed and naturalistic miniature figures. Created at 1/10th scale by feeding full-body 3-D scans to a computer driven fabricator generated sculptures using a process usually reserved for industrial prototyping. Roxy Paine's laptop drives his Skumak Machine to make sculptures by extruding plastic in randomized intervals onto a conveyer belt. The accumulated globby red stacks displayed on a table across from the machine points to the possibility of mass production of art and the lack of artist involvement.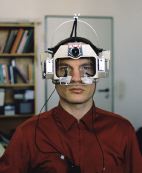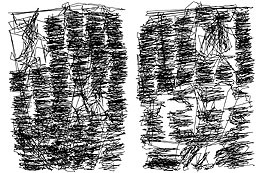 Jochem Hendricks uses a retinal scanner to create drawings that document how his eyes track through a reading of the main Silicon valley newspaper The San Jose Mercury News.
Newspapers printed with the scratchy output of this experiment resemble methampetamine-fueled etchings and reveal the form of the papers layout beyond its words. The paper is available for purchase in a kiosk in the museum. And don't miss Janet Cardiff's video walkthrough, one of the highlights of the show. You have to trade your credit card and ID in the museum lobby for an ultralight handycam and headset to experience her parallax-inducing narrative set in the museum. In contrast to projects like these some work seemed to lack unclear direction beyond showcasing consumer electronics like plasma screens and G4 laptops. And projects by designers were particularly disappointing. Both Droog Design's and Karim Rashid's projects seemed thrown together during an overly hectic work period.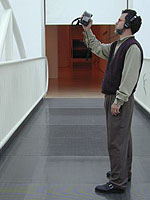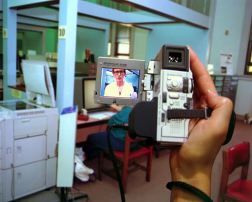 Designed by Perimetre-Flux, the 010101 web site is ambitious in its scale and beautiful in its execution, however for functional access to information about the show a user would be better to go to the PR site (unfortunately locked to the public). That said the official website for the show should be visited to appreciate the bold graphic design and experimental interactive components, as well as being a portal to. Unlike many flash sites, the 010101 site invites lasting user participation through a visual message board. Unlike many regular html message boards on the web, the 010101 site graphically reveals the reply structures of the posts in a branching hierarchical structure. While this is a technical feat and a step in the right direction for flash sites which often lock out the user from any lasting interaction with each other, it fails in the familiar flash way of making any such interaction hidden by the whizziness of the interface itself. In the end it would have been more fruitful for the conversation to have been able to read the text upfront with out having to rollover and click through each individual posting.
While ultimately uneven in its execution, 010101 and it's attendant web site are both commendable in their willingness to state a perspective in an elusive and evolving area. While this show is not definitive of art in technological times; like our times, it is messy, innovative, and containing at least as many failures as successes.
010101 : Art in Technological Times
Date: March 3 – July 8, 2001
Place: SFMOMA
Address: 151 Third St. San Francisco
Open: Friday – Tuesday (10 am – 6 pm), Thursday (10 am – 9 pm)
Closed on Wednesdays
Tel: 415.357.4000
http://www.sfmoma.org
Text by Amy Balkin + Josh On From Futurefarmers
[Help wanted]
Inviting volunteer staff / pro bono for contribution and translation. Please
e-mail
to us.