This month we want to give you an impression of the street where we're living: "Hamburger Berg". If you're going out in Hamburg, you probably will end up on the "Kiez" which is the party- and also red-light district of Hamburg. Then, if you're still in a party mood and up for some drinking, you will probably end up here in the final end and get really wasted… some people even stay here for the rest of their lives in pubs like this:

They are open 24 hours a day and have inspiring names like "Kiek Ut" which is a special German slang and means something like "Room With A View" or "Flying Dutchman". These names though don't portray reality all too well, if you really would dare to spend one of your nights here. Try to be friends with Manuela, Sabrina or Atze or any other people hanging in on a typical weekend night and you will find out what we're talking about relatively soon, (always depends on your level of drunkeness!) and if the people aren't missing at the moment…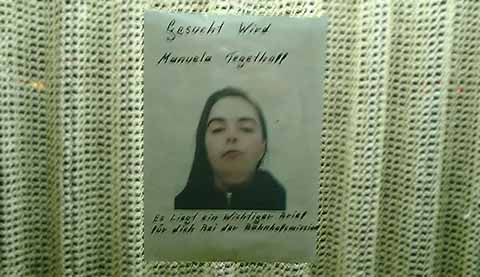 "Wanted: Manuela Tegethoff.
An important letter is waiting for you by the missionaries of the train station."
If you should run into her by accident, just give us a call (+49 173
924 1642), we'll know what to do.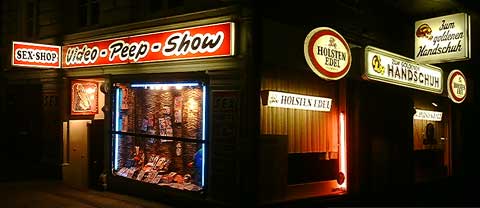 Just in case you didn't get a date that night, there are always a couple of stores open that will supply you with just what you need on a lonely night like this. Or you could give it another try in the very famous "Golden Glove" that is always good for hot surprises. But watch out, about 50% of all people working here are probably professionals, so don't let your ego shoot up too high, if suddenly everybody's nice to you.

There are quite a lot of ways to spend an entertaining night on "Hamburger Berg". you can "dine" in the "Elbschloss Keller" (watercastle cellar), enjoy some personal atmosphere at "Susi & Peter" or check in the "Hong Kong Hotel". In case you plan on spending your honeymoon here, you can try to get yourself a room for a night, but you wil probably just be able to rent by hours, we guess. You're travelling with your dogs and cats? No problem! Check out "Ute's Place" right across the street, where your love(d) pets will be provided with some food.

Well, maybe your honeymoon is already over by now, because your plans didn't quite work out the way you wanted to. Go and get some pain relief at the "sorrow breaker". In bad cases of sexual frustration you could try some interesting experiments at the "Gum Club" where the cops show up 5 times a day. We still wonder whether they join in or clear things up!

At "pop inn j.place" we have absolutely no clue at all what you can do here.

Our favourite bar is the "Knallermann" that is named after the "Ballermann 6", a very popular beach-club on the Spanishisland of Mallorca which seems to be more German than Spanish in the summertime. In the context of alcohol the terms "Knaller" and "Baller" both mean drinking till you pass out. Unfortunately this hot-spot location gets officially closed down every once in a while due to some unknown illegal occurances.

So we choose the good old "Blue Pete" (Version 4!) for a final beer. Being blue in german also means being drunken so you could ask for the "Drunken Pete" and people will show you the way with a smile on the face.
In case you feel the urge to get to know the honest Germany and have already been to the Schwarzwald, you now know where to spend your next holiday trip.
Text and Photo: Andrew Sinn and Daniel Goddemeyer from Fork Unstable Media
[Help wanted]
Inviting volunteer staff / pro bono for contribution and translation. Please
e-mail
to us.