This month's cover design was produced by 'eBoy' based in Berlin and New York. Their colorful and original pixel-based design such as robots, cities and people delight the viewers' eyes. They're difinitely one of the originators of pixel-based design and today there are many followers of their design style from all over the world.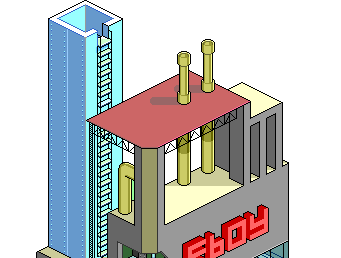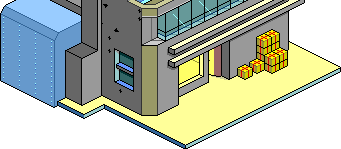 First of all, please tell us who you are.
eBoy is Steffen Sauerteig, Svend Smital and Kai Vermehr in Berlin and Peter Stemmler in New York.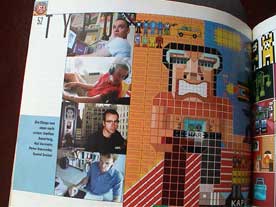 How many members are involved in and what does each member have charge of?
It's only us four. All the members do the same work. Peter is vector-focused though. The rest of us in Berlin does pixels.
How was 'eBoy' founded?
By getting the domain — it was free to be taken and the start of a shared identity for us. We developed the playground concept for the website and it all evolved automatically.
Please tell us about the process from the beginning to the finishing through one work. How do you usually work from the initial idea to the finishing?
"A" begins, and forwards the work to "B" some time later. "C" then maybe finishes the job. Who is "A" changes with every project. This layering does enrich every piece of work with our different personal styles. Images by us mostly are genuinely shared work.
Where does your inspiration and idea come from?
Pop culture in general. Shopping, zapping, supermarketing, watching toy ads, playing Quake, Tekken and other stuff.
There's one section called 'eCity' on your web site. What's the concept behind it?
Creating buildings we love in a predefined technique and perspective. The technique of adding, removing and changing pieces is similar to the process every real city experiences through time.
You've been working widely on both print and web. What do you think are the merits and demerits on each media?
The web is direct, fast and dynamic — but unreal. Print is real but slow and bulky.
Today pixel-based art is becoming very popular in the world. What do you think about the current trend of pixel-based art?
The trend obviously is fuelled by the recent technical developments. It is just one side of many new possibilities. We love pixels and it's great others do too.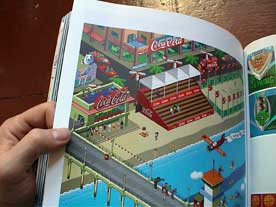 What do you want to communicate to the viewers through your works?
Just fun! Someone defined us as an entertainment site. Maybe he wasn't so wrong …
When you made the cover design for Shift this month, what did you imagine and how did you work on it?
A girl.
We'd like to ask you about Berlin/Germany. What's hot now? And what do you think about being based in Berlin/Germany?
No real idea what's hot now. We don't party very much. But Berlin is energy — you can feel that on the streets.
What do you think about Japan?
Reminds us of an alien intelligence. Incredibly rich and different in all kind of resources. We've never been there but it seems to be one of the most vibrant places on earth.
What are you interested in most now?
Shopping. We'll buy two megacool parka jackets from Maharishi.
Who are your favorite visual/graphic designers and sites?
Sites: epinions.com. Because it is not thinkable without the Internet. It is beautifully designed, very useful and truly democratic. Designers: kids
We've heard you were working on an 'eBoy book' published soon. How will the book be?
Hopefully we'll finish this project this year. It will be some kind of printout of our image database.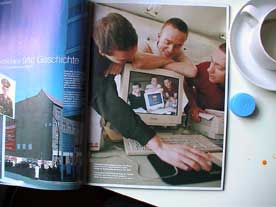 Do you have any plans for the near future? Also, is there anything you would like to do in the future?
We dream of making real toys. Let's see if we get somewhere with it. We're moving slowly.
eBoy Berlin (1)
Address: Gerichtsstr. 12-13/Aufgang 2, 13347 Berlin, Germany
Tel: +49 (30) 4400-8715
Steffen Sauerteig: t@eboy.com
Svend Smital: s@eboy.com
eBoy Berlin (2)
Address: Selchower Str. 32, 12049 Berlin, Germany
Tel: +49 (30) 627-091-74
Kai Vermehr: k@eboy.com
eBoy New York
Address: 325 W 38 st., Studio No. 903, New York, NY 10018, USA
Tel: +1 (212) 244-6059
Peter Stemmler: p@eboy.com
eBoy
http://www.eboy.com
Text: Mayumi Kaneko
[Help wanted]
Inviting volunteer staff / pro bono for contribution and translation. Please
e-mail
to us.