BIT GENERATION 2000 "TV GAMES"
I had a chance to visit the exhibition titled 'Bit Generation 2000 TV GAMES' held at the Contemporary Art Gallery, Art Tower Mito over the Century from October 28th, 2000 to January 28th, 2001.
This exhibition focused on the cultural aspect of the 30-year-old videogames industry beginning with the first commercial video game 'Computer Space' which appeared in 1971. It proposes videogames are shifting from things 'to play' to things 'to think'.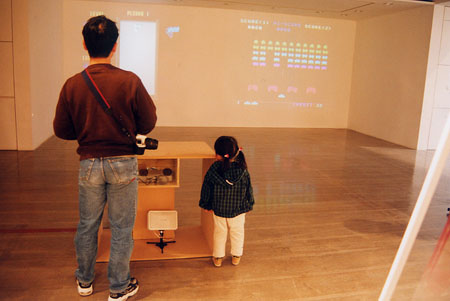 Bit Generation' means 'a generation' of these 30 years where the world's value has been transposed from 'Atom (money = substance)' into 'Bit (numeral = information)', and 'videogames' are used as the best material to understand this generation.
Excuse me for being personal, but I'm just 30 years old. It can be said that I've am the 'Bit Generation'. Since the time a cool videogame linked to TV in my living room, videogames have had a close relation with my personal development. I was excited over 'Block Breaker', though it's composed of only dots and lines, devoured 'Game Center Arashi', a comic book about a charismatic gamer, challenged 'Invader Game' with a passion for videogames, stayed up all night playing Family Computer when it got to my friend's home, and was moved to tears by Xevios' at first sight.
We all have always experienced the latest technology through videogames and can't help having a kind of 'expectation' that something 'new' might come from videogames.
This exhibition allowed visitors to see and experience some important videogames that have marked the stages of the times, and gave us a detailed interpretation on what kind of key videogames needed to evolve.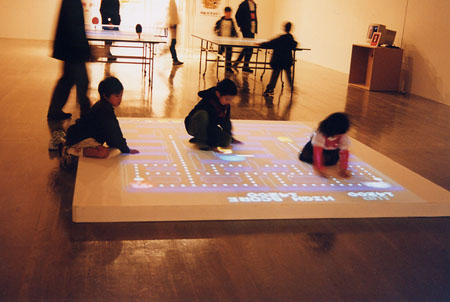 Among all the exhibits, one installation that compared the spatial difference between 'Atoms and Bits' was exhibited within the first space. It was really impressive to me. With real table-tennis tables and the videogame 'Pong' projected onto the table-tennis tables, or 'Pac-Man' machine where visitors can actually walk around on, it was an efficient introduction to take visitors into the context of videogames by setting up the formless Bits into a space. Also, it was a symbolic scene in that the world of videogames found its way into museums, though it's been on a different level from art.
Read more ...

1
2
[Help wanted]
Inviting volunteer staff / pro bono for contribution and translation. Please
e-mail
to us.