The 8th New York Digital Salon at The School of Visual Arts Musuem came to a close on December 9th. Featuring the work of professionals and students alike, the show covered computer related art realized as digital prints, CD-ROMs, interactive installations, sculptures, digital videos, computer animations, performances and websites. The Salon will continue to Europe and Asia, including Milan, Italy; Barcelona, Madrid, Alicante, Spain; as well as The Canary Islands and Lisbon, Portugal.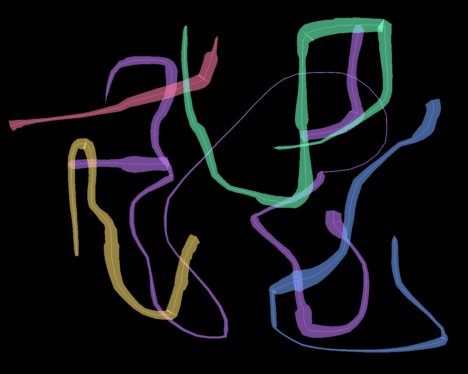 Audiovisual Environment Suite, Golan Levin, 2001
Over 800 entries were received leaving an international jury that included Erik Davis, Perry Hoberman and Eric Zimmerman to make their selections based on the traditional criteria of selecting art. Bruce Wands, director of the New York Digital Salon and chair of SVA's "Masters Program" in Computer Art commented, digital art has finally come of age and the 2000 exhibition further underscores the significance of the computer as a tool for making fine art. The 85 selected works were organized under four buckets: the gallery exhibitions, animations, networks (websites) and essays.
As a designer working on the web, my particular bias led me to gravitate toward works incorporating interactivity as a fundamental component. Surprisingly these works often fell outside the realm of websites. At times they co-opted web/media culture to clever ends and other times looked at tactile/gestural options for more subtle results.
Golan Levin's "Audiovisual Environment Suite" allowed users to create music and animations interactively through the act of mark making. These "visual instruments" would create sight and sound performances in accordance with the speed and motion the marks were drawn. Produced at MIT Media Lab's Aesthetics and Computational Group, the project has received citations in both ID magazine and Communication Arts.
Shih Chieh Huang, a student at The School of Visual Arts MFA department, created a mixed media installation that was reminiscent of both a carnival funhouse and the Battlebots. Constructed mostly from bottles, tubes, black lights and hanging plastic tied in knots, motion sensors activated pulsating lights and jarring sounds as one traversed the installation.
Jonah Brucker-Cohen's "IPO Madness" probably brought more attention onto itself then any other piece in the show but managed to live up to that billing. Disguised as a slot machine, the piece incorporated a browser that both generated random IPO addresses and shouted out WHASSUP! (ala Budweiser Boys) with every pull of the lever. Even the interface with its inundation of banner ads was consistent with the visual vocabulary of lowbrow Las Vegas. The Jackpot was hit when you landed on an operating URL and was accompanied with the Slim Shady anthem.
Artists have always capitalized on new technologies, tools and materials to further their practice. Digital media has begun to break into the establishment of the contemporary art world. Shows like the Digital Salon will continue to create fodder for dialogue surrounding computer arts practice and dissemination.
The 8th New York Digital Salon
Date: November 6th – December 9th, 2001
Place: The School of Visual Arts Musuem
Address: 209 East 23rd Street, New York, NY 10010
Tel: +1 212 592 2000
http://www.sva.edu/salon/
Text: Michael Foronda

[Help wanted]
Inviting volunteer staff / pro bono for contribution and translation. Please
e-mail
to us.