The digital film festival 'Resfest' that finally made its debut in Japan last year, has just come back to the Harajuku Laforet Museum. In its fifth year as a festival that showcases the works of the world's top digital artists, this year's festival was held in 10 cities, 5 countries, and finally came to an end in Japan.
This year's screening program includes 'Features', 'Shorts', 'Long Shorts', 'Cinema Electronica' features music videos and video clips, Resmix' the original program of Resfest Tokyo features Japanese creators, and 'Net Cinema' as a new screening component of Resfest 2000 features digital movies distributed on the internet. The festival also showcased British TV commercials and music videos, and a talk show by The Designers Republic with Karl Hyde from Underworld. It became a worth seeing and hearing festival.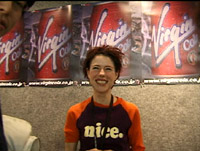 Shift brings you some of the most impressive works from this year's new program 'Net Cinema' and 'Resmix' featured the works of Japanese artists.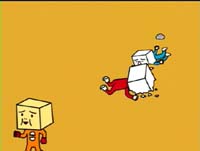 The first one is an animation titled 'Tofu Oyako' by Devil Robots. Though almost of other works featured in the 'Resmix' section use 3D and full CG animations, this piece has a simple image and sound with the outstanding story of Devil Robots. You'll see how they think much of the story and characters.
The story is when a Tofu (soybean curd) parent and child are landing on the ground from a spaceship (also made with Tofu), a cowardly child Tofu stumbles and is crushed ('cause he's a Tofu). There are 5 different patterns of story and you'll see what 'Simple is Best' is from this funny animation.
A music video of Denki Groove, 'Nothing's Gonna Change'. Speaking of the real pleasure of full 3D CG is the richness of colors and a sense of reality. This piece is a perfect full 3D CG animation. The animation created by Prince Tongha, a collaboration between Hideyuki Tanaka and Pierre Taki from Denki Groove, matches very well with the track.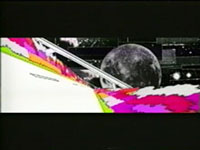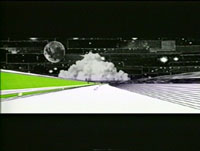 The another music video for Hikaru Utada 'Fly Me To The Moon'. Simple but rough illustrations of an illustrator Keiji Itoh are combined well with CG and the slow track. You'll find a good sense of Ichiro Tanida who worked for planning and direction of this video. The collaboration between illustration and CG gives me a feeling of analogue and freshness in some way.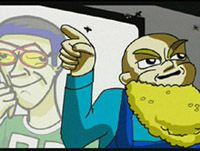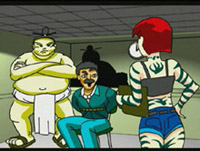 'Net Cinema' screened lots of excellent works making full use of Flash with well organized stories. Especially this 'Beebeard And The World Record Heroes' by Nick Nicholas, Justin Willow and Chris Lindland is super stupid but super cool! The story is about a team of crime fighters who each has particular talents. The scene of the story is in the 21st Century. They do battle in the media-soaked city of Circadia, California home to the silver-tongued scamsters and noveau thugs. The animation can be seen on Beebeard.com.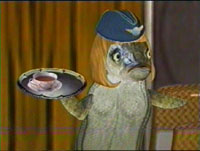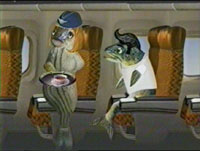 'Fishbar 10' directed by Janet Galore is also stupid but has a really good idea. Though it's a short film only in about 3 minutes, it has a sense of humor with the story that the characters start singing to help a poor young soul of their friend find his true love in an airplane with a musical style. This can be seen on Honkworm.com.
It is to be regretted that we can enjoy these works only on the internet, on the other hand, there's a great pleasure that we get one more fun to enjoy privately.
Since both these two programs feature many creators in the forefront of the current scene, they all made me again realized their quality. Within the duration of the festival, many people include not only those who are involved in the industry but also the general public visited to this festival.
The talk show invited The Designers Republic and Karl Hyde also really livened up. This talk show was a good opportunity to hear a live message from world's famous artists in Japan.
There was a common message from creators in the forefront (include Karl Hyde, Ian Anderson from The Designers Republic, Eric Henry).
"Technology is no more than a tool to give shape to an idea. What the most important is to have your own vision, not to lose sight of your vision, and to do what you want."
It's an ordinary fact, but in the current situation that everyone can produce something high-quality easily at a low cost, we should react to the message as a warning from creators.
If you missed this year's festival, visit the festival next year and experience the real feeling.
RESFEST TOKYO 2000
Date: 24th – 26th November, 2000
Place: Laforet Museum Harajuku, Tokyo
http://www.resfest.com
Text: Aya Funaki
Translation: Mayumi Kaneko
[Help wanted]
Inviting volunteer staff / pro bono for contribution and translation. Please
e-mail
to us.