On the 2nd and 3rd of October, a fashion event called 'Creative Works 2001' coordinated by Shift was held in Sapporo. This show attempted to send out the creation of the new generation from Sapporo, mainly by Shift. It invited designers from four cities and three different countries in the world.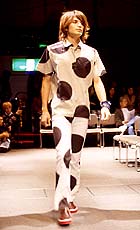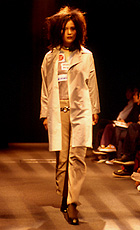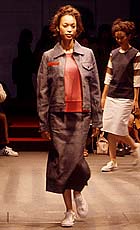 This 'Creative Works 2001' was a two day event. The first day was the fashion show entitled 'Next 4 Collection'. On the second day, the hair and make-up show entitled 'Beautizum 2001' organized by the local hair and make-up designers from a total of 8 salons was held. Shift presents the report focused on the fashion show 'Next 4 Collection'.
This fashion show was held at Sapporo Factory Hall located next to the Sapporo Factory shopping mall. The invited designers are: *rcb from Hong Kong, Utopia Planitia from San Francisco, Taishi Nobukuni from Tokyo and i/j from Sapporo.
Though it was drizzling on that day, large numbers of people like students, press people and creative people visited this fashion show. Aisles of the hall were partitioned with black walls and going into the hall along the walls, there were many seats divided into four blocks. And models would be walking between each block.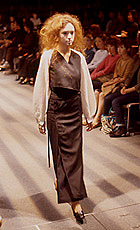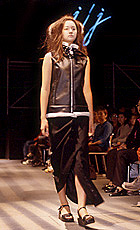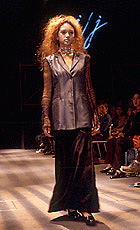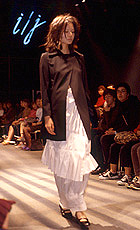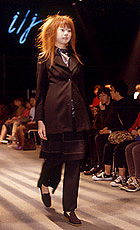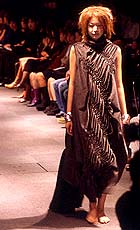 The first was i/j, the only brand participated in this show from Sapporo. It was the first big fashion show for them to showcase their collections and they "gathered what they wanted to make and let them out for this show" with 50 outfits of different style. Their whole collection had an impact using unique materials like synthetic leather and metals and the latter half of the show created a fantastic atmosphere. As a whole, their show presented us a power of a young and energetic designer.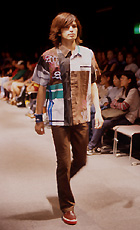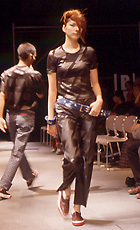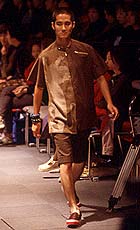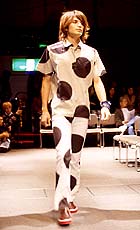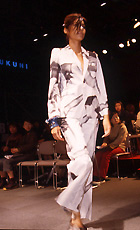 Taishi Nobukuni is in the middle of change. For this fashion show, they represented their consumer line that will be released next spring/summer. In the middle of change from their original image – bad boys/girls – to the basic one for adults, they gave us a glimpse of the change of their images. Like a monotone shirt with a bold print or simple suits for sophisticated adults, they're all well-balanced. The background music also made a sudden change from a rapid piece to classic. This brand gave us a cutting-edge sense and entertainment.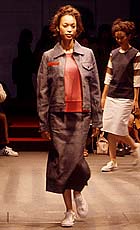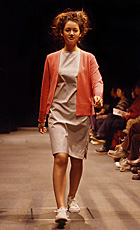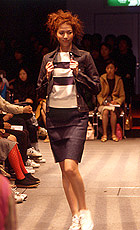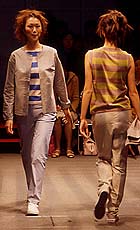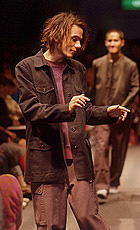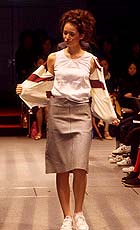 *rcb – real clothing brand, has developed into one of Hong Kong's leading alternative fashion labels for two years now. The clothes made by the designer Vicky Lam's own spontaneous emotional convictions in his everyday life are pop and casual. It's as if his lifestyle is reflected in those clothes. For this fashion show, he represented his collection of simple and casual style with a stripe shirt of pastel color with a simple jacket. As the designer's comment "I want to create something that make people who wear my clothes happy", models showed rough walkings and entertained the audience. His collection made us aware of the fact that we should just enjoy fashion as well as music.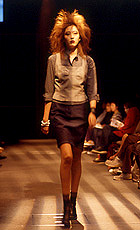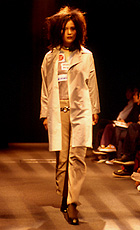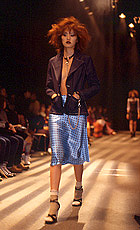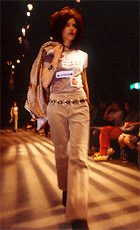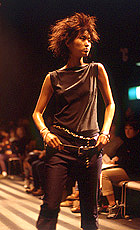 The last one was Utopia Planitia, the talented design duo of Minnie Yeh and Charles Burrows from San Francisco. They coordinated slip dresses, coats and jackets in simple materials like denim, corduroy and silk but in unusual cuts, with jeans, pants and skirts, and created a feminine style. Their collection gave us a sharp sense in simpleness and the 'strength' of women using metallic accessories as an accent. The background music of comfortable beats helped to make the show successful and it was a complete fashion show.
This was the first event with swith this concept in Sapporo. Though it was held on a weekday, more than 1500 people came to see the fashion show. Each show of the four brands was really successful with strong individualities. As a whole, this 'Creative Works 2001' that aimed to send out the new creation of the new generation became a great success. The future development of this event is worth checking.
CREATIVE WORKS 2001
Date: 2nd, 3rd Octorber, 2000
Place: Sapporo Factory Hall
Text and photos: Genki Sawazaki
Translation: Mayumi Kaneko
[Help wanted]
Inviting volunteer staff / pro bono for contribution and translation. Please
e-mail
to us.