The futuristic objets d'art by Ora-Ito were featured in Crash magazine and attracted Parisians' eyes. The name 'Ora-Ito' sounds like a Japanese name, but seems there's no Japanese in their group.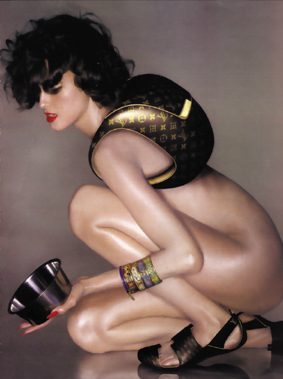 'It was named from my real name', Ito said. He is only a 23-year-old guy like a boy 'Le Petit Prince'. 'Ora' means aura and 'Ito' means a designer Ito, that is, Ora-Ito means 'aura of a designer Ito'.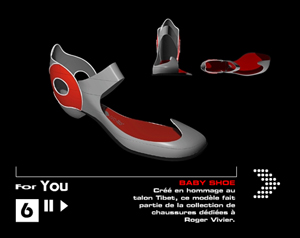 He has designed many products of well-known brands like Louis Vuitton, Nike, Apple, Levis as he likes. He showcased these products (which exist only in the 3D virtual world) on the net. Those futuristic objets d'art on predictions of the year 2010 were featured in Crash magazine. He has attracted a great deal of public attention in Paris.
Here's the short interview with him.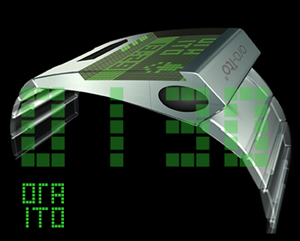 Is there any artists or musicians who has had an influence on you?
Not particularly.
Is there anything you keep your eyes on?
An overall view of things.
Is there any designers you're interested in?
Andre Stern, Andre Bruyer and Roger Viviera.
Will those objets d'art be commercialized in the future?
Secret.
Do you have any plans for the near future?
I'll participate in an exhibition produced by Yoji Nakamoto, in this autumn in Japan.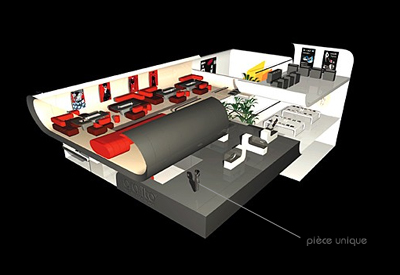 This summer, he held 2 exhibitions in Paris at almost the same time.
He presented 'FutureSpective1.0' at Musee de la Publicite, and 'My Ideal Room' at Patricia Dorfmann Gallery.
The most important point I would like to mention is about the Patricia Dorfmann Gallery. It's a new gallery in Paris with Ora-Ito for their inaugural exhibition. The approach of the gallery is a bit different from other art galleries.
The concept of the gallery is 'to develop for multiple fields with an original approach beyond a contemporary art gallery, regardless of genres like designer, fashion designer, artist and cook'.
And Ora-Ito invited furniture designers like Ronan et Erwan Bouroullec, Jean-Marie Massaud and Christophe Pillet, to actualize his 'ideal room'.
How will Ora-Ito create the next sensation to the world?
Text: Aki Ikemura
Photos: Mayumi Kaneko

[Help wanted]
Inviting volunteer staff / pro bono for contribution and translation. Please
e-mail
to us.