A performance by a French artist who names herself Michiko Kusaki was held. The concert planned by BURO was held at a very popular disco for Parisians called 'PULP', a place usually reserved for lesbians.
A typical French girl with coiffured hair started singing with a microphone by the stage. Was she the main guest? The totally different style from the ordinary BURO's, her singing in out of tune like karaoke, repeated incomprehensible lyrics, poor sounds, etc… These might give you a bad impression, but all of them made her music futuristic.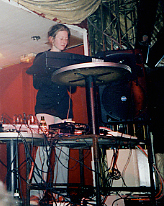 This style like 'Karaoke' reminded me of Sam & Valley. At the begining, people are stunned by the tune, but eventually, it begins to fascinate you with mysterious seduction.
It turned out just as I had expected. Similar to when I first heard Sam & Valley, I was intoxicated with her music before I knew it. (I was just told that Sam & Valley gave her the name Michiko Kusaki.)
She is a Westerner to her fingertips, but has an ordinary Japanese name. And I couldn't say that she was a pure Westerner. I somehow try to find something 'Japanese' in her. Her gestures are like Japanese and her shyness is Oriental. Maybe she's a quarter? She stirs my imagination and on a different day, I had a chance to have an mini-interview with her.
Why did you start music?
I'd been taking piano lessons in my childhood. Three years ago, I just went on a vacation during my summer holidays with a synthesizer. Then I started electric music.
Why the name 'Michiko Kusaki'?
I'm produced by a label called Angelika Koehlermann and I asked my label mate Sam & Valley to translate my name into Japanese. 'Michiko' came from my label mate Queen of Japan. (Michiko is the name of Her Majesty the Crown.)
I think your gestures are very Japanese.
Do you think so? I've never been to Japan.
What does inspire you?
Everything around myself at present. Cuvx Cuba, Nobukazu Takemura,Jacno, etc.
What are you interested in except for music?
Contemporary Art. I'd studied art at Paris 8 University.
Do you have any plans for the near future?
I'll take part in a project called 'PLACARD' that will be held at an apartment in July in Paris. In September, I'll take part in a concert in Brussels.
Text: Aki Ikemura
Translation: Mayumi Kaneko

[Help wanted]
Inviting volunteer staff / pro bono for contribution and translation. Please
e-mail
to us.