Through 18th July to 31st, "MATE-RE-INNO Exhibition" was took place in Idea Frames at Omotesando Hills, to commemorate the release of "MATE-RE-INNO – What to Hand Down to The Future Through Creating Products -", the record book of the activities of MATE-RE-INNO Project over 4 years.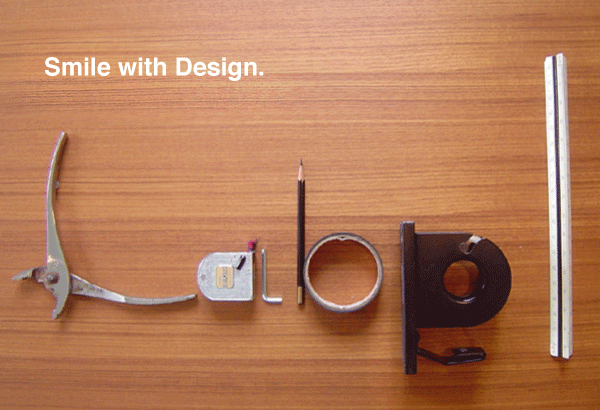 How designing get associated with environmental problems? Katsuya Iwamoto, the representative of Label Creators, got 2 ideas through the process of working as a spatial designer: manufacturing products must not be throwing garbage away, and the skill and knowledge of people on the line should not become scarce. That was the birth of Label Creators in 2004.
One of projects of Label Creators is MATE-RE-INNO. It is an abbreviation of Material Re-innovation. Its concept is to give value to mill ends which are undeniably output by designing or creating, and to design the structure of production and distribution. Though you might associate mill ends with the offhand pile of square or triangle pieces of wood, they includes remnants of cloth, surplus steal casing board at plate plant, extra stones in cutting building materials at stone industry. MATE-RE-INNO Project noticed among them high quality mill ends. I will introduce some handcrafted items made of such mill ends.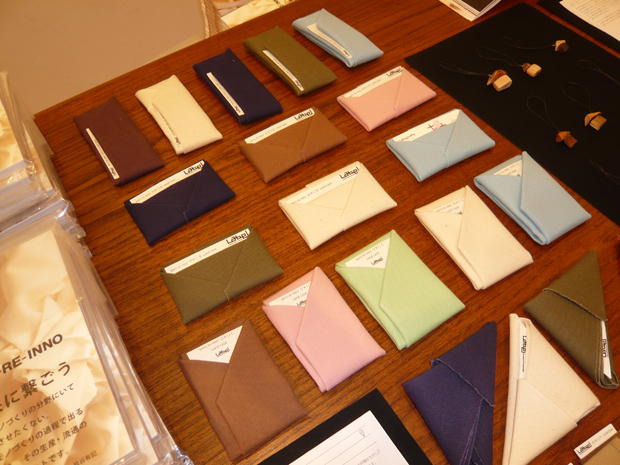 ORI Series are made of the mill ends of Shinzaburo Hanpu, the established bag shop in Kyoto. Taking advantage of the nature of the material that they are thick and stay-press as they are wax-impregnated, you can finish only by folding down. The more you use them, the more comfortably they fit in your hands. In addition, keeping costs low not applying buttons or zippers, they are set at an affordable level for customers. Mrs. Kumagai, the leader of this project, demonstrates how to fold them down with a practiced hand, from which you can perceive their affection to each production. Simple as they are, they are functionally designed, thinking of the use of customers. You can feel its familiarity and taste all the more because they are handmade.
With the support of Konjo Knit Goods, MATE-RE-INNO Project adds fabric production on its line, sticking to the details including supple texture, materials, strings, and sizing. But manufacturing cloths go with mill ends. But, thinking even if they are remnants of cloth they indeed feel good, they breathe life into them. The mill ends which are output through the process of manufacturing T-shirts or stoles, are sew together into cloths, and they are again sew up together, to be finished as a cushion "KOKOCHI". As their pattern are respectively a bit different, you can visually enjoy them. And as they are made from 100% organic cotton, the texture is quite soft.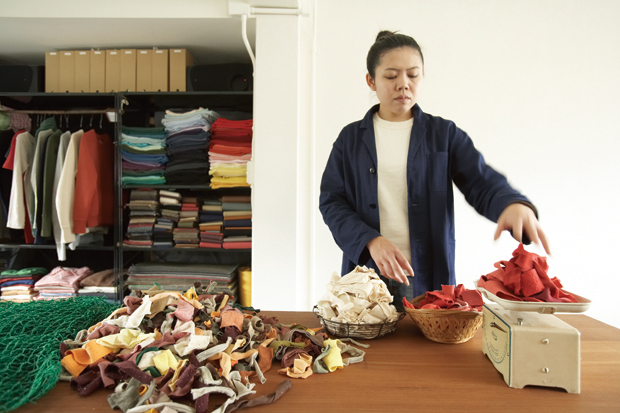 Konjo Knit Goods applies a special hoisting machine, which enables particular texture. But the obsessiveness makes lots of mill ends. In the spirit to somehow put the high quality ends to good use, "MUSUBU" comes into birth, which is made by tie the cloth ends cut in rectangle in a net. Honestly, when I heard this, I thought it seems easy for me to make it myself. The change in thinking—from throwing away to re-innovation—enables us to give new value to usual garbage.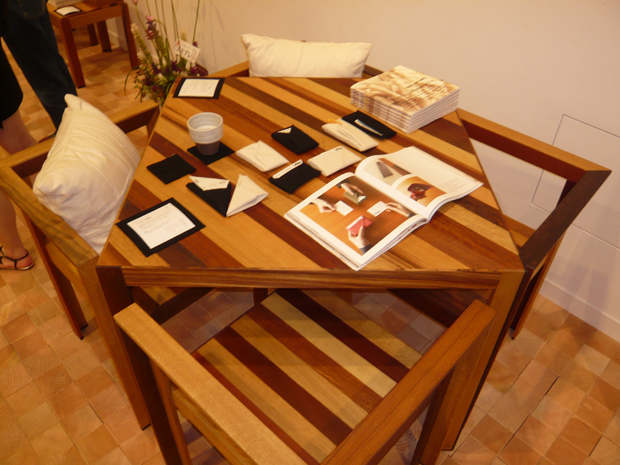 MATE-RE-INNO has got a great lineup of furniture, "TSUNAGU Furniture" by Yamamoto Kogei in Osaka. The products such as chairs, stools, tables are all made of mill ends of decorated plywood. What deserved special mention is the artisan technique. Because of the characteristic of the material, it needs a structure which produces increased intensity, and it takes much time and technique.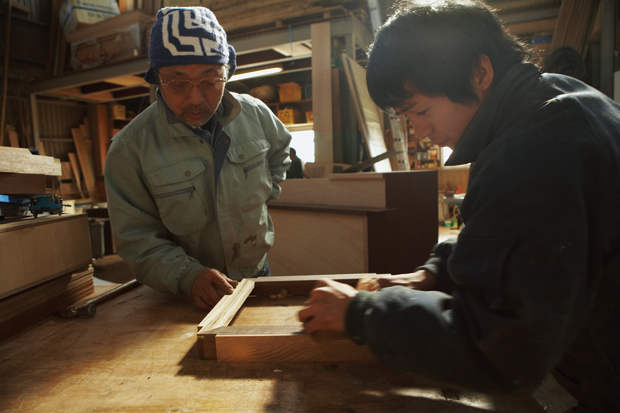 Mr. Yamamoto said, "I have much less opportunity to perform my great tools and skill, because almost all of the recent furniture are created only with tucker and wooden screws." He found growth potential in MATE-RE-INNO Project, and has been manufacturing furniture with lots of tips of a traditional craftsman. He is in addition trying to hand his skill down to his disciple through working together. When a relationship between a thing and a person and a relationship among people are added into one between things, the power explosively expands.
Do people really start to pay attention to environment? Though recently the word and idea of Lohas has been popular, the word ironically seems to have wings and to add the fashion side. Mr. Iwamoto said, "We will give stronger power against actual condition of Lohas in Japan through another context, that is, designing." When their obsessiveness, ideas, and relationship are put together, there may be some astonishing driving power.
MATE-RE-INNO Exhibition
Date: July 18th – 31nd 2008
Opening Hours: 11:00-21:00
Place: Idea Frams
Address: B2F Omotesando Hills, 4-12-10 Jingumae, Shibuya, Tokyo
http://www.label-creators.com
Label Creators
Address: 1-1-11 Nishi-Tenman, Kiya-ku, Osaka
Tel: 06-6366-1161
Text: Tatsuhiko Akutsu
[Help wanted]
Inviting volunteer staff / pro bono for contribution and translation. Please
e-mail
to us.