In Europe, summer comes with its batch of exhibitions and events, art bienniales and other cultural meetings. One of the most important art exhibitions of the summer, at least in France, will be held in Avignon. The theme of the exhibition is "Beauty". It is a recurrent concept in art but in the manner of the Venice Biennale, different artists works, set in different places, suggest different approaches.
The exhibition spreads in three main areas and many other lesser ones scattered around the city. The main interest of this kind of setting is to show a large spectrum of different works, tendencies from the most classical to the most modern, with its share of many good surprises…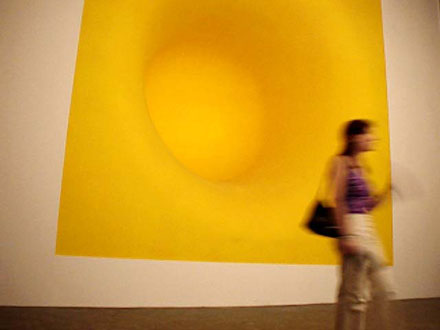 Anish Kappor, Yellow, 1999, Fibreglass and pigment, 6×6×3 m
Beside the main spots, a lot of artists exhibit in churches, bars or private mansions. One of them is La Monte Young who invested and modified the space in a church. When you enter the church, you can watch the video of a man playing the piano that runs for 6 hours non stop. Another exhibition is Jonas Mekas held in a cloister showing some personal family documents, slides and 16 mm films, that reflect a subjective vision of beauty based on the instant.
The main exhibition site is the "Palais des Papes", a huge historical fortress in Avignon in which sculptures, videos, photos, setups, and other artistic pieces of work have been displayed. The theme in this particular site is the romance between two local historical names, Petrarque and Laure… contemporary artists, in majority icons of the past decade, try to take over the history and the place.

Jeff Koons, Split-Rocker, 2000, Stainless steel, soil, geotextile fabric, internal irrigation system, live flowering plants, 1135×1227×1086 cm, Photo courtesy of Galerie Jerome de Noirmont © Jeff Koons
Among the most remarkable works, Jeff Koons monumental sculpture "Split Rocker" (2000) sitting in the inside courtyard of the palace,its head half horse and half dragon on which flowers grow, James Turrel's lighting effects "Wide Out" (1998) or Anish Kappor hollow architectural space "Yellow" (1999).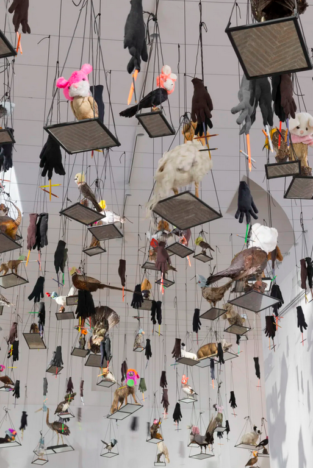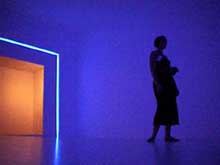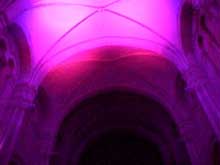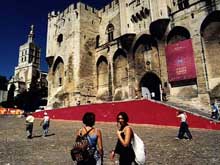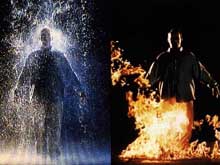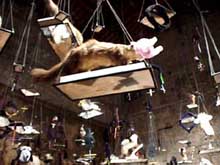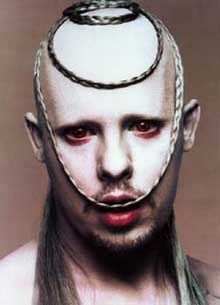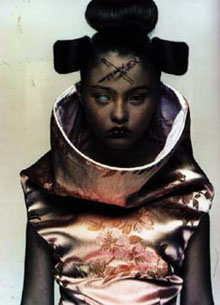 Annette Messager, Eux et nous, nous et eux, 2000, Gloves, colored pencils, mirrors, stuffed animals, plush toys, Overall dimensions variable, Photo courtesy of Marian Goodman Gallery © Annette Messager
Less spectacular, yet very interesting, are also Bill Viola's video creation relating water and fire "The Crossing" (1996), the french artist Annette Messager's interpretation of the Palace's tapistries, who has filled a room with surrealistic creatures hanging from the ceiling "Eux et nous, nous et eux" (2000), Pierre and Gilles revisitation of Indian divinities in a neo-kitsch style by means of touched up computerised images, Franck Scurti's humoristic "Dirty Car" (1997), a video showing a man washing his convertible car with his tongue… and also, a 18th century engraving representing "Radha and Krishna clasped in each other's arms", some photos from Nick Knight shot under the artistic supervision of Alexander McQueen and displayed besides pictures of astounding African headdresses.
On the whole, a lot of interesting work even though the beauty concept sometimes seems to have been an excuse to invite famous artists. The biggest disappointment of the exhibition is Chrisian Lacroix's decoration of the city. He obviously didn't push his talent to fulfill the task he was entrusted to do.
Read more ...
[Help wanted]
Inviting volunteer staff / pro bono for contribution and translation. Please
e-mail
to us.