"Japan might be the future of the world. And the Japan of today is SUPER FLAT."
The quote above is from the 'Super Flat declaration' by Takashi Murakami. The exhibition with the same name curated by Takashi Murakami has been held from April 28th at Shibuya Parco Gallery. (This declaration appears in the book entitled 'Super Flat Visual Book' which is now on sale at the exhibition.)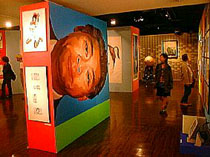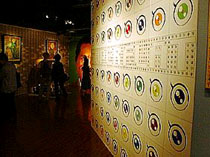 In this exhibition, artists from various genres are put together in one space for the first time. Works by each artist are exhibited in places and crossed with other artists' works. The surface of a wall is painted in red, blue and green with lime, and shining like a rainbow. It must be hard to have this kind of presentation in an usual 'art' exhibition. This 'Super Flat Exhibition' has a new proposition with such deviant space.
What the hell is 'Super Flat'? The declaration says "…everything from society and public morals to art and culture is super two dimensional. This feeling keeps flowing below the surface of Japanese history and it becomes obvious to understand, especially for art…."
'Super Flat' is a new concept to understand 'Japanese original culture' which art schools and society don't teach us. In Japanese art schools, students usually do sketches of plaster figures, learn perspective and Western 'art'. The two dimensional structure has been disregarded since the Meiji Restoration when Westernization started. But Mr. Murakami indicated that those two dimensional feelings have been handed down through the game, manga and animation culture that has been supposed to be 'below the surface of the history'.
And at the same time, we can see those 'super two dimensional feelings' in the current stream of graphic design, visuals and music.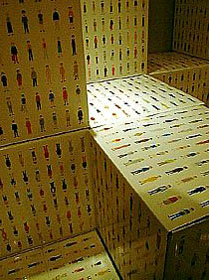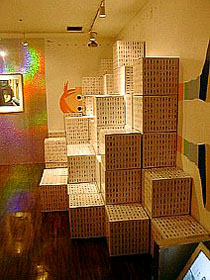 He talked about those feelings, "…in explanation of those feelings, there's a moment that put the different layers together when we make graphics on the desktop. Though it's not an intelligible example, I always feel the almost same reality for my physical feeling…"
In this exhibition, cultures belong to the different layers put together by Takashi Murakami. The combined space splendidly shows us a real fragment of today. I feel it paradoxically suggests a fact that it's wrong for museums and galleries to exhibit artists' works with the simple outline as 'art'. After I saw that exhibition, Shibuya street could be seen as a 'Super Flat' scene.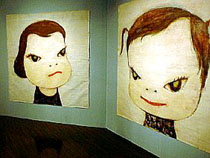 The key is for Japanese people to understand that creation is 'Super Flat'. It was impossible to understand it with our values imported from the West and it has just started for the future.
'Super Flat' is not a completed philosophy, it's a reset button for people who visit this exhibition to look back at Japanese culture. They live and start their creation with a new feeling.
Sometimes it's hard to understand what we are. You'll find the first step to look for yourself at this exhibition. If you are an art creator, and who isn't, you should see what's going on here. This exhibition will be open by the end of May.
Featuring artists: Masafumi Sanai, Chikashi Suzuki, Hiromix, Chiho Aoshima, Shigeyoshi Ohi,Aya Takano, Katsushige Nakahashi, Yoshitomo Nara, Mr., Takashi Murakami, Kentaro Takekuma, Tsutomu Nihei, Henmaru Machino, Koji Morimoto, Bome(Kaiyodo), Groovisions, Sleep, Hiro Sugiyama, Nakagawa Sochi (20471120), Zak
Takashi Murakami curation SUPER FLAT exhibition
Date: April 28th – May 29th, 2000
Open: 10:00 – 20:30
Place: Parco Gallery (8F/Shibuya Parco Part 1)
http://www.hiropon-factory.com
Text: Chibashi
Translation: Mayumi Kaneko
Photos: Chibashi

[Help wanted]
Inviting volunteer staff / pro bono for contribution and translation. Please
e-mail
to us.