Hong Kong design has made a big impact in Japan the last few months. You may have visited Tokyo's Spiral and saw the much talked about Expo "Bun Bun Show-Hong Kong Alternative Art Now". Maybe this show could have been broader in choosing "who" to exhibit. There are many other good designers around that should be given more credit. Life goes on…
Mun studied at the Shatin Technical College in Hong Kong and has been working as a designer for six years now. His most recognized portfolio was when he worked for three years at the Shya La La Design Studio and has just come out on his own as a freelance graphic designer. Before his Shya La La days, he worked at Double X Workshop.
Who are your influences and your heroes?
I like old things. I am not a trendy designer, in the sense that I prefer simple design. That does not mean I am not open to other things. I just don't like doing one kind of design. I like designs coming out of Holland and Germany. Like Wim Cornwell from Total Design in Holland.
How do you see Hong Kong designers compared to the world?
I think Hong Kong designers are too wrapped up in their own territory. There is not enough communication between designers, and not enough interactions. Overseas designers are much more open minded, that's how I feel when I see them, but in Hong Kong it's like "don't steal my work" meaning they are too protective of their own work and think credit will be lost if they combine talent. I am 29 years old, and being in Hong Kong for this long, I think that we have no particular culture. If we grabbed something from Hong Kong's history, then I think it's not too special.
Therefore, it's best left untouched. When I was working for a design firm, I did not need to think of this. But now, it is really different. For example, the record cover sleeve of Slow Tech Riddim's new album, I had no client, since I was open to do whatever I want. It's like, what am I to do? Then I ask myself, do we start from our surroundings?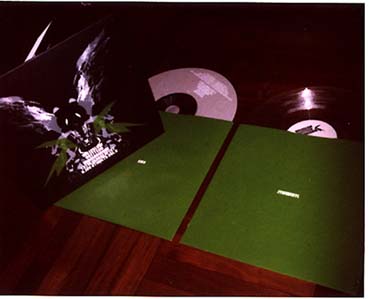 How do you approach a brief?
I approach a brief differently depending on the job. I use different attitudes to different design briefs. Some jobs you cannot put too much of yourself, which might not seem too appropriate. If I had the chance to, then I will. If the brief had a function, then I concentrate on the function and work from that perspective. But I think there needs to be a beauty in design, and that's important.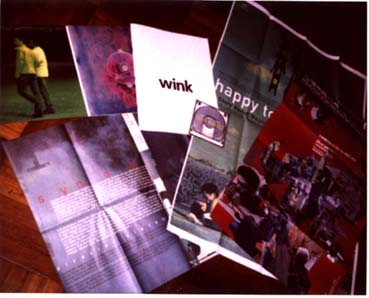 What's your most rewarding work?
… designing for the soundtrack of Happy Together, Wong Kar Wai's award winning film. We did 7-8 layouts until we finally made it! It might seem very tiresome, but it was the most rewarding. When I did one design, it was banned, then back to the drawing board, but it made me realize how healthy it is to reapproach the brief again, and it is a good experience. I never look back though at what I have done to see whether it needed any improvement. However, I have memories of good design that was trashed, work that the client did not like.
What are your projections for the future and what are you working on at this moment in time?
I will be doing some club promotion design, but I have not thought about my future as yet…
Text: Calvin Ho

[Help wanted]
Inviting volunteer staff / pro bono for contribution and translation. Please
e-mail
to us.