Shinichiro Arakawa has been developing his collections with innovative ideas and approaches (such as collaborations with Honda and Jenny) since he went to France alone in 1989. He made his first appearance in the '93 Paris Collection.
In this year's collection held in Paris this March, he showed an installation of wearable clothes in the style of a wall-hanging picture. This collection, which got into the domestic and foreign news, was held in Japan, and then went on tour in some galleries in Europe.
Shift visited this collection in Sapporo and interviewed him about the scene in Paris and his future developments.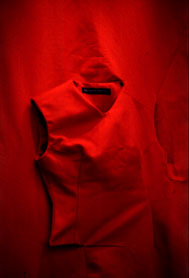 2000 A/W PARIS COLLECTION © SHINICHIRO ARAKAWA
Please tell us about this collection.
There's no reality for me in the usual walking show. There's no people actually walking with such a catwalk style. So I wanted to do in a form that allows us to communicate with people who will actually wear the clothes.
The concept of clothes itself is wearable as clothes in the form like a picture, and the clothes themselves are really simple such as the ordinary shirt or jeans. I wanted to look at clothes we're wearing everyday again by showing the popular items in complicated form like a picture, and rethink communication in ordinary clothes.
I've thought how people feel when they saw these clothes as important. I believe this is a sort of communication between creator and audience, communication with myself.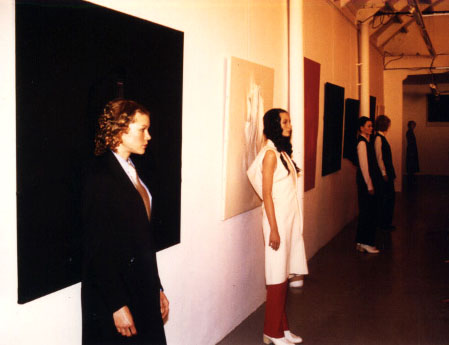 2000 A/W PARIS COLLECTION © SHINICHIRO ARAKAWA
In addition to the communication part, do you have a point of contact between art and fashion in mind?
I think art is more pure thing. What I'm doing is to produce, commercialize and sell. It's totally business, not art. All processes are over when they're completed as clothes. I don't feel I pursue it by myself after the process, so I cannot say it's art.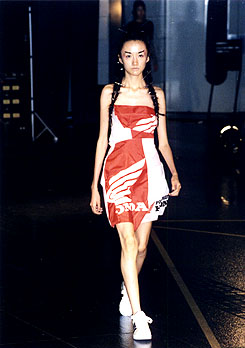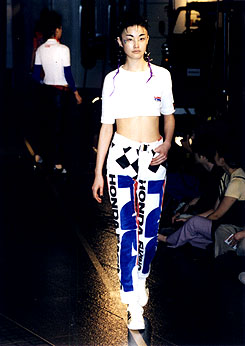 HONDA SHOW © SHINICHIRO ARAKAWA
You've gone through various collaborations with such as Honda and Jenny, are you working for such collaborations intentionally?
Collaboration is not an intentional thing for me, but I'm interested in various things so I want to do cultural collaborations in various fields not limited to one category.
Do you have any plans or projects for the near future?
I've never put what I've done, pictures and visuals together until now, so I'll work on them. I'll put a sort of atmosphere of collection including the collection itself together one by one looking back over the past.
What do you think about the Internet?
I've kept away from it because it seemed to be complicated for me, but I was able to find more interesting things than I imagined on the Internet, so I'm now being crazy about it. I'm checking various things out on the net and get lots of ideas inspired by them. It's one of the media that has a lot of possibilities.
I'll be able to explain this collection simply by using it and it has a big merit in that it can be leave as a record. People who visit the collection can only see the final stage of clothes, but I can explain the process in more detail on the net. It maybe ok if there's only pictures and visuals without languages. I'll be able to make a complete change in my way of thinking. Then I'll find other possibilities.
You've toured around the world. What country do you like most?
The places where I want to go are Tunisia and Morocco, but I like Venice most among the countries I've been to. I also like Berlin. The place I can think of something for myself is Venice at leisure and the place I can think of something with other people and discover something is Berlin. I wasn't interested in other cities so much, though I've not been to many countries.
Paris used to be exciting before, like Tokyo, but now I prefer Berlin rather than Paris. I might have gotten tired of Paris.
The last question. What is your schedule for the future?
I'll go on a tour in Europe. The schedule that has already fixed at the moment is the exhibition at W< Gallery in Antwerp, Belgium from around the 15th of September. And I was invited by an award ceremony of Michelangelo Antonioni Award for Art that will be held from the 1st of October in Venice and will hold a show there, and hold the 1999 version of the collection of Jenny that was held before at Contemporary Museum in Paris from the 6th of October.
In Japan a one-day exhibition including a show will be held in Tokyo in October.
Shinichiro Arakawa
Born in Gunma in 1966. Went to Paris in '89 and graduated from Studio Berceau Paris in '92. Made his first appearance in Paris Collection in '93 and Tokyo Collection in '95. Opened his only shop in Paris in '96. Showed the collection titled 'SPEED&CRAFT' collaborated with HONDA in '97. In March 1999, showed the latest collection titled '2000 A/W PARIS Collection' at Espace Commines in the 3rd district in Paris and the same collection at Laforet Museum Harajyuku in April.
Text: Takuya Minee
Translation: Mayumi Kaneko
[Help wanted]
Inviting volunteer staff / pro bono for contribution and translation. Please
e-mail
to us.