This month's cover design was produced by Imaitoonz as known for his works of MTV "Top of Japan" and the charactor design for CC.Lemon in Japan.
He has developed many projects including the charactor design for Fighting Bipers and the exhibition at BEAMS. The most attractive thing about his work is his own illustration, which create the world intertwining its cuteness with the complex forms.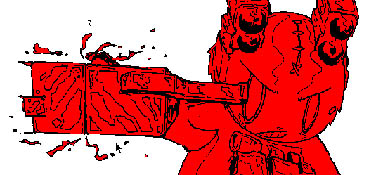 First of all, please tell us who you are.
Imaitoonz. Born in Aichi Prefecture in 1971. Completed the Department of Arts Graduate Course, Tama University of Arts. I'm working mainly on illustration and character design.
How did you step into the illustration world?
I have been in illustrated works since when I showed my scribbling of green caterpillar to an editor of a publishing company in Japan by chance. But I couldn't be satisfied with only illustrated works, and submitted my works to various contests, from visual to manga. Then I received recognition by a director at 'MTV Station ID Contest' organized by MTV Japan (the present VIBE) and did character design for the opening animation program for 'TOP OF JAPAN'. After that, my design was widely recognized and fortunately, now I'm working as a illustrator.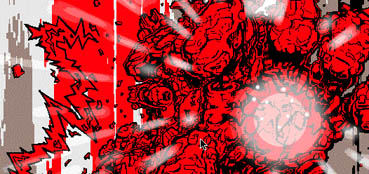 Is there any artists/illustrators who influenced you most?
From overseas, the Viennese fantasists, Bacon, Kenny Sharf, Mobius, Twist, Jamie Hewlett, Delta, George Lucas, distorted pictures of Japanese animation characters made by people in other countries, just to name a few.
In Japan, Osamu Tezuka, Shigeru Sugiura, Katsuhiro Ohtomo, Teruhiko Yumira, Yoshitomo Nara, just to name a few.
Please tell us about your recent work.
*1999/12/3-30 I exhibited my works as a guest at "done;did", a oneman exhibition of Yoshitomo Nara at Nagoya Parco.
*2000/1/11-30 I will hold a oneman exhibition of my works entitled 'WEARSWEAPONS' at a gallery 'C.A.I' in Sapporo. (This exhibition is connected with the advertisements and commercials for the promotion of New Year's sales of a fashion building called 4 Cho-me Plaza in Sapporo)
*2000/1/13-30 My works included in a work collection titled 'Devil Man Illustration' published from Kodansha will be exhibited at Shibuya Parco.
*2000/1/26- I was invited to the International film festival in Rotterdam, the Netherlands and will exhibit the animation version of 'SPIDEAD'. (Gasbook5 includes the sound-toy version of it. Check it out)
*I'm contributing a serial manga titled 'SPIDEAD bootleg to a comic magazine 'Nounouhau', published 1000 limited run in alternate months. The latest issue will be published late in January, 2000.
You are working on various fields from print and television to t-shirt and games. Is there any difference in working in each medium?
There's no difference in my basic stance, it's just a difference in output of myself. But I sometimes direct my work intentionally on some media by changing the patterns and designs.
Have you had any particularly impressive works you have been created?
The most impressive work is 'SPIDEAD' series starting from the exhibition in Beams Tokyo. It enabled me to develop many things including wear, animation, sound-toy, font, manga, etc. It was good to meet lots of works and people in domestic and foreign areas through this series.
Your illustrations have much speediness and presence as if we are actually there. Is there any concepts or personal principles you follow in your creation? And where do you get ideas and inspirations from?
I think the reason why my illustrations have a speediness and presence is because the process of my work that doesn't limit the image at the beginning of the work and my interest in such speediness. My personal principal is to weave some affection that can approach to others and impression that surprise others into one work. Though it doesn't always go well.
We would like to ask you about the process from the beginning to the finishing through one work. How much time does it usually take to create a design?
For example in illustration, I usually draw an image rough in pencil and finish it as a line drawing in pen and ink. Then scan it and color it on Mac. Some are done within 30 minutes, and others take three days.
When you made the cover design for Shift this month, what did you imagine and how did you work on it?
I used the leading character of 'SPIDEAD' series. 'SPIDEAD' is short for 'SPIRITUAL DEAD'. In the year 2000, I imagined that we can start again if our bodies and spirits are dead and everything come to nothing, we can start again if only we can feel the 'warmth' that was actually there, the hopeful end just before we go into a new world, or something like that.
Please tell us about the exhibition held in Sapporo at the beginning of 2000. What will it be like?
The title of the exhibition is 'WEARSWEAPONS'. There's something in common between the action that justifies oneself by wrapping oneself in too much fashion and the action that threatens others having weapons in one's hand for self-defense. They perform those actions in order to make up for their weakness, and at the same time, they are displaying their weakness. Four new works that represent such feeling like a dilemma and cycling shirts made with another vector as 'wears to attack' will be exhibited. Other works I have done until now will also be exhibited.
What are you interested in most now? And please tell us about your future projects. Is there anything you would like to do in the future?
Making efforts to have lots of output that represent myself over a wide range of genres. And I want to make a manga. I want to make fragments sticking to the surface of my brains for many years into real shape. In the future, I want to produce clothes as a brand name 'WEARSWEAPONS'.


Imaitoonz

Born in Aichi Prefecture in 1971. Completed the Department of Arts Graduate Course, Tama University of Arts. Major Works 1995 : "TOP OF JAPAN" (MTV) Character design for the opening animation program, "WINers" Digital Art Book LOVE & PIECE (Magazine House) Illustration. 1996 : Electronics Groove Concert Tour "Tour Spectacles"Production of the pamphlet, illustration, "C. C. Lemon CF" (Suntory) Character design and poster production, "The King of Shopping" (Fuji Television Network) Production of the program opening illustration, Ken Ishii's serial columns in 13 parts "Techno Diary" ("relax" Magazine House) Illustration, Production of the post card and mouse pad illustration for Beams' sales promotion, Tomoe Shinohara "Ultra Relax" (Tokyo FM Publishing Co.) Illustration "Cyberpunk Handbook" (BNN Publishing Co.) Cover design and text illustration, SONY's cassette tape "GIG" Package illustration. 1997 : SEGA's arcade game "Fighting Vipers 2" Renewal character design and official illustration poster, "K-1 Grand Prix" : Poster production, "Weekly Morning / New Magnum Special lssue" (Kodansha Ltd. Publishers) Devilman illustration.
Interview and Text: Taketo Oguchi
Translation: Mayumi Kaneko
[Help wanted]
Inviting volunteer staff / pro bono for contribution and translation. Please
e-mail
to us.