June 30th, the second anniversary since the handover of Hong Kong to China, and a year and four months since moving here. It's taken that long for someone to finally bring over some 'good' music.

Two years of putting up with 'hard' techno, or … 'hard' techno. Why go, you might ask. Hong Kong's a small place, you take what you get. Don't get me wrong, I can take the occasional commercial bangin techno track, or even better, the uncommercial bangin techno track (just go through my cd collection), but given the choice, it wouldn't be my first choice. Or second, or third… What's worse, and pretty scary, I was becoming what I used to hate. I wasn't going for the music anymore, but more for the 'scenery'. Believe me, there is some good 'scenery'. Finally I would get to go out for the music, …and a little scenery.
Okay, so I'll get on with it before you click the back button. The venue was Hitek, a commercial warehouse space by the old Kai Tak airport. Cool name though, …maybe. The night would be called 'Byss Bistro' ( don't ask me what that means ), but the most exciting part is who would be coming. Gilles Peterson, the man who started 'Talkin Loud' records and my favorite dj. He would be bringing along labelmates 4hero and United Future Organisation. The promoters getting confused and thinking that it was probably a 'mo wax' thing, also decided to add Futura2000 and Stash to hang around the dj booth and show some of their work which was definately an extra plus.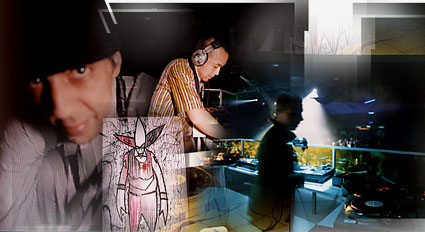 The night seemed destined to be a failure. I personally didn't care as long as I could hear the music, and besides, it wasn't my money being put up. Hitek was way too huge a venue first of all, there was no way in hell they'd fill that place up. The second problem being Ko Kimura, who plays a harder selection more suitable for and a crowd favorite playing on the same night.
Getting there early so I wouldn't miss anything, ( hey, a year and a half!) we walked into the venue and noticed that Jay and the guys at Robot had pulled it off by doing a good job decorating the place. A huge empty warehouse isn't exactly an easy place to stretch lycra. They were also behind the dj booth doing the warm up sets. The dj booth was risen up so everyone would have a good view of the dj with a video screen behind it. The numbers were respectable, but the huge space didn't help so the crowd was scattered and so it seemed a bit empty as expected. Deciding to go get a drink, walked towards the separated bar area, and passed the 'gallery' of work from futura and stash. Moved on after deciding there wouldn't be a way to pull up a van and load them up without anyone noticing. After about 15 mins in the bar, mr. Peterson was finally behind the decks so we quickly finished our drinks (you weren't allowed to bring drinks out of the 'bar area') and headed over to the dancefloor. There was a good number on the dancefloor, and surprisingly it was still a good number when Gilles, being typical Gilles, put on some straight up jazz. It'd been a while, and I was excited to hear his eclectic mixes of anything he felt like playing. With 4hero and UFO following, I was ready for it. Basically just good records. It'd definately be a good night. It didn't matter anymore where I was or who was there or how many people would show up… I was here for the music.
Text: Drafus Chow From Lemon
[Help wanted]
Inviting volunteer staff / pro bono for contribution and translation. Please
e-mail
to us.