Satoshi Tomiie is a producer who plays an active part in the underground and mainstream music scene having dealt with lots of well-known artists such as Mariah Carey, Madonna and Michael Jackson. He has also traveled around the world as a DJ, regularly gracing the turntables of lots of the best clubs in NY, UK, Germany, Italy. Satoshi's long-awaited album is 'Full Lick'. We interviewed him about his new album, a career spanning 10 years and the Japanese music scene from his international point of view.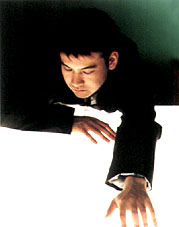 You're based in NY at present. How often do you come to Japan each year?
Three or four times. I'm in Japan for about one and a half months total and in Europe for about three months. So I'm in NY for two-thirds of a year.
This is the first album of yours you have produced. Please tell us about the reason why you hadn't produced your own work until now.
I think dance music isn't music for an album. I haven't cared about making an album for a long time. But I was thinking to do it in a different way about two years ago, then I tried to do an album. I've been fed up with doing the same things for a long time. I didn't do this because I was inspired by something by someone, but it's a natural stream in my mind.
The first press limited edition is a set of two discs titled 'Yin & Yang'. I think various things such as the double personality everyone has and your activity in both the major and underground scene feed back into this album.
Well, that might be so. There isn't such deep meanings though. It's just a contrast that there's a shadow because there's a light. We hope morning comes because we have night. Just like that. I don't want to do just one music. In fact, there were various kinds of music for the album, but I selected House tracks from among them. Maybe there're only a few tracks except for House, but I wanted to leave an impression with them.
Lots of musicians contributed to this album. Did you select them by yourself? Also, is there any musicians who left strong impressions with you?
Well, basically I did it by myself, though some were introduced by someone. All musicians gave me strong impressions, but Kelli (Kelli Ali) was unexpected for example. The music that I did was also unexpected. It was interesting. Dian (Dian Charlemagne) is a nice person. They inspired me in a musical sense when I was making music. I know what kind of sound will be born If I make it with the artists who I'm familiar with, and I wanted to finish with the results that I've known, but it was nice to collaborate with people who had never worked with me.
I think club music that has been considered underground is becoming linked to the major scene. What do you think about such a scene in Japan? Do you think this is a good trend?
I think it's good. If only core people is doing that, the scene won't expand at all. On the other hand, such people harbor ill feelings against the mainstream though. Of course music that is not-so-cool might be made and become popular, but strange-but-cool one will be born.
What is the greatest difference between the scene in Japan and in the US, UK, and Europe?
There's a great difference between the English and the Japanese languages. Music is a sort of an initiation ceremony for European and American young people. I think it's just like a karaoke in Japan. It's a great difference. In Japan they seem to be on their mettle to be a clubber.
In Europe, lots of dance music clips are televising on MTV, etc. in general. It's an ordinary music like popular music. Adventurous things in club scene can be accepted by European people. In Japan, it's difficult to run a risk because there's not many people going to clubs. For example, in some local cities sometimes it's difficult to do things we can do in Tokyo. It's ok as we can see they're trying to enjoy it though. The reason why people cannot come along with us when we do things a bit strange is because of the small clubber population. In that sense, it becomes more interesting when the number of people who are involved in dance music, including the major scene, increase.
Today there's many creators who are not interested in the Japanese scene and go overseas, and they're making their debut in different ways as before via the internet, etc. Did you go to America around 19…?
In 1988 or 89. It's hard to communicate to each other because we only had a telephone in those days. And a tape. It was impossible to send the data by burning to a CD. In that sense, the technology has progressed and also people who are involved has increased compared to those days. One of the reasons why I went to NY is there was no place where I could act in Japan and there was nobody who was interested at record companies. Even if there was someone who was interested, they couldn't easily understand it. I didn't think I could work in Japan. Going to NY was the quickest way to do things I wanted rather than stay in Japan.
Do you think it's good that the young talent is flowing overseas?
Well, it's not good in order to make a Japanese style and the Japanese dance music scene. It's a delicate balance. But I think they're going overseas because it's a quicker way, because they got nowhere in Japan. In other words, the Japanese scene has to depend on imported music software because dance music's success in Japan seems hopeless. But when the range of the Japanese scene is expanded and more people become to listen to and do music, everything will be covered in Japan and talent won't flow overseas. In that sense, I feel the Japanese scene is still young.
Then what should we do for Japanese music? Should record companies release music software to have ordinary people generally listen to more music?
There is no sense if record companies will just release such software. I think no one can give an answer to this question. Though I've never thought carefully about this, as I have no intention to change the Japanese scene with my music. Well, I don't know what to do…
For Europeans, dance music is a popular music. This is a difference between the culture of nations, so there's only one way to get over little by little. It's impossible that core club music quickly becomes the mainstream. Recently there're lots of R&B style singers in Japan, this R&B boom will die down soon though. It's important to let this tendency take root.
There was a Techno boom before, but it was a bit vulgar. Actually, Techno is not popular now in Europe compared with what it once was. Even in Germany, House music gains force rather than Techno, I think. Somehow I feel the disco style House that is now poplar in Europe cannot be accepted in Japan. This is my feeling by playing as a DJ in Japan. I've got reactions that weren't so good. I hope that the sounds just like NY Hard House takes root in Japan and everyone enjoy sounds not thinking about anything.
In a word, that ordinary people are listening such music normally. If a boom breaks out because it's new, it'll die down soon and nothing will be changed forever. It has became good little by little for these last 10 years, but large scale parties with audiences of ten thousand cannot be held easily in Japan. I think there's not so much difference between going to a large party and going to watch a soccer game for the English. If the large parties are held regularly and the scene is expanded, it becomes better.
Do you have any plans for the near future?
I'll go on a European tour this summer. Combined with the promotion of the same album which will be released in September in Europe. I'll go to Singapore next month then go to England, Germany, Italy, etc. until the beginning of autumn. I'm thinking to remix some records and produce 12″s when I have time to spare.
Text: Kyota Hamaya
Translation: Mayumi Kaneko
Satoshi Tomiie
Born in Tokyo and now living in NY. He started playing keyboard at the age of 13. In his school days, he made his first appearance as a DJ. The demos that he made when he was twenty years old were recognized by Frankie Knuckles, the great master of House Music, and he went to NY. He made his debut with Frankie Knuckles presents Satoshi Tomiie feat. Robert Owens 'Tears' released on PolyGram UK, and it won the No.1 position in U.S. 'Billboard' Dance Chart.
Since then, working as a member of Def Mix Production with Mix-Master' David Moreles, he has become famous in world-wide scale with remixes of Michael Jackson, Madonna, Mary J. Blige, U2, Simply Red, Mariah Carey, etc.
He has also traveled around the world as a DJ, gracing the turntables of lots of clubs in NY, UK, Germany, Italy, Greece, etc. His world-wide activity is outstanding among other Japanese DJs who play active parts overseas.
[Help wanted]
Inviting volunteer staff / pro bono for contribution and translation. Please
e-mail
to us.