I cannot write text at all and I'm frightened by text. Because I think text is an ultimate form of multimedia, and text is what all things in the universe are coded and visualized. Recently kanji (Chinese character) looks like a sort of graphic not kanji itself. I cannot write kanji as usual. It's a character made from every visuals and creates an imaginary visual. How cyber it is!! I think a person who invented the characters is great. Because human beings have remixed using this characters to tell something at any period. Today there're lots of problems such as copyright, common sense, copy, etc. in the world, but have people who is presenting such problems ever thought that they've been working remixing the characters? Am I alone thinking such things!? I might be erased from society by thinking such thing too seriously.
Taking this opportunity, I'd like to try to communicate with you in characters and study text with my respect to the character as an ultimate tool for communication. Would you like to go along with me for a short time?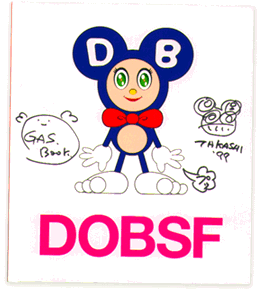 Except for characters, a brilliant work that stimulated my imagination and drew out a text not character exists in my brain is 'DOBSF DOB in wonder forest'. It's a work collection that has a principal part named DOB created by Takashi Murakami who continues abstract and agitate activities in the world of art. This work collection has been distributed as a catalogue of an exhibition with the same name that has been held by the end of this month at Shibuya Parco.
The advertisement is by Moog Yamamoto from Buffalo Daughter, edited by Kiyoshi Kusumi as Dr.BT and published by Art Publishing Company Inc. I don't know how I should exactly express this book as a text, but the figure of DOB eating up Japanese pop culture in 90's, transforming and expanding certainly expresses this age's holy and evil, simple and chaos through a book at a terrible speed. And the texts that are placed here and there blow away viewers to somewhere just like a mine.
Takashi Murakami created a destructive bomb that sink 90's to the sea of time or a Bible in 90's in this book and the special feature in Koukoku Hihyou 'Tokyo Pop'. I think such thing sitting at my desk in my room located at the side of railroad track.
Text: Akira Natsume
Translation: Mayumi Kaneko

[Help wanted]
Inviting volunteer staff / pro bono for contribution and translation. Please
e-mail
to us.