Immediate Profitability is very important in Hong Kong market therefore people put products which are in fashion into the market, one after another. As the result, so called trends change very fast. In other words, Hong Kong is not a easy place to see the light of day for those who create cool things with their own styles, which are not match to the mass-trend of the time. However, it doesn't mean that those talented young creators have been doing nothing.
This time, we had a mail interview with Otto Chan who's one of these young creators in Hong Kong and operates own web site '+01 Mix Media Movement'.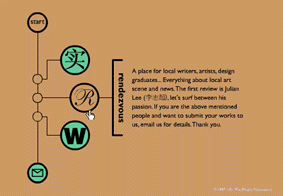 To start with, could you introduce yourself ?
I am Otto Chan, born and live and study in Hong Kong. I have been doing graphic design in electronic toy industry for seven years (in fact, it is boring), in recent years I started trying to do Mutli-media design and web site design.
Could you tell us about your web site '+01 Mix Media Movement'?
+01 Mix Media Movement was formed by me and a partner (MK Chan) in mid 1997. Our web site and was entitled "Macromedia Shocked site of the date" in early January '98. Inside our web site, we tried to do some experiments in interface design, something interesting and something new. In other words, we were tired of those left hand side navigation bar.
What kinds of works have you done lately?
We are doing a floppy presentation and a web site for a watch design company and I am now designing games and interface for Electronic Learning Toys.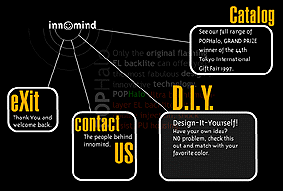 How do you feel about the current graphic design scene in HK?
Alan Chan may be the most well known HK graphic designer in Japan; but in fact there are many young and good graphic design people like The Amazing Twins, Wing Shya… Doing graphic design is not easy to make it profitable in Hong Kong. Customers are seldom willing to pay more to get better design; they always want to pay less and get a common design, this is even worse after the financial storm. And the overall art and beauty sense among HK people is so low that you can't imagine, nude sculptures are often classified as … erotic.
Have you been to Japan?
I have visited Tokyo twice, I liked it a lot. The first time I went to Japan, I saw a very beautiful lady in the airport's customer service center, this gave me a very good impression. Japan is a strange country, it have a very good fusion of new (technology) and old (tradition). Ah! I like 20471120 a lot.
Who are your favourite Web/Graphic designers?
Graphic Designer: Neville Brody (the most important contemporary graphic designer), Philippe Starck (only if he dose graphics), Web Design: Giant Robot
At the last, could you tell us what you like to do next?
I have too much plans but too little time. The coming project will be on-line-shop, it will be concentrate on local designers' products… anything from graphics to fashion to products.
Text: Shinobu Koike

[Help wanted]
Inviting volunteer staff / pro bono for contribution and translation. Please
e-mail
to us.