Marc Nguyen is a graphic designer who has developed the cover images for this month's SHIFT. His main area of creativity is in Paris, where he is in charge of the "Dotmov" site. multimedia design team, which are focusing on multimedia contents.
We spoke to him about the design scene in Paris, about Shaman and Dotmov.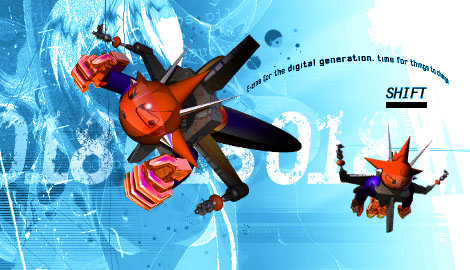 First of all, please tell us who you are.

My name is Marc Nguyen and I'm a 24 year old graphic designer.
When I was a teenager, I wanted to be a musician, although my involvement and my interest of design is the result of quite a long reflection upon electronic arts/ applied/ commercial arts.
Then I've been studying motion picture and broadcasting at the University of Vincenne, which is one of the sleaziest universities in Paris.
Later on I have started working for 'Grolier interactive' quite by coincidence, as it was starting it's own web departement. I've worked there as graphic designer for 2 years then started my freelance career.
Today, my biggest client is the Shaman design company, and I now work in their studio.
Can you tell us more about your web site Dotmov?
At the beginning I was more involved with it, as my professionnal work was strongly connected to web design (actually it was 90% web design).
Today designing websites takes up a lot less of my work time, and I've less and less time to spend on dotmov. I would like to work on very small websites, but very efficient, something like one idea, one feeling, a few words and 2 HTML pages, and that's what I'm working on.
Today, Dotmov is more a directory in the "computer" sense, than a website, a folder where to put stuff online. I'm currently working on a series of small visual poetry and I think that I'm going to put them on dotmov.
I know that it's quite disturbing for people not to have particular goals and aims when making a website, and that the popularity of a website depends a lot on the consistence of the content. I don't particularly care about it, as my goals and interests have changed a lot since I've started this personal project.
Actually, the global purpose of online "graphic design" stuff is less evident for me. It's the result of a very simple equasion between what exists on the internet and what is really useful. I see more and more heavy websites, perfect design, seven-like typefaces and all that kind of things, animations, innovative technology but I also read more and more superficial and dumb contents. I think that one side of the evolution of the web could be a return to fast and intelligent text interfaces, that will force people to produce real and meaningful contents.
Surprisingly, my favourite websites are not designers web sites, but content-based ones. One of them called "life with father" is the most intense experience I've ever found on the web; it also uses a clever interface, and an interesting way of editing a novel on the internet.
What are your ideas on graphics and design and which personal principles do you follow in creating a design?
First, I think that graphic design means so many things today from title sequencing to print /interface /object design that it simply becomes design and not particularly graphical. One of the last graphical things might be the graphical "interface" of your computer. In this sense, graphic design would mean something produced using a visual interface and a monitor.
This definition is quite important for me because it does not only describe a work based upon aesthetics, but work that pushes the designer to always reconsider what he has done in the past. For example, improving web interfaces with old works on print : a crossroad for different ideas and different realities.
My other "work state of mind" is that design is for the others, for the people who are going to read/see/ use it, and then it becomes a work toward and for the society with an important political dimension to it.
For me design, even more than an fine arts, is social and political. The web is a good example for this, considering its global financial goals and the model of electronic commercial society it's holding within its basic communication concepts.
The pity is that a lot of self produced graphic designers' or studios' projects are without any content and meaningless today. I've just read a French article in which it said that generally graphic designers just don't know how to write, because most of the time they've got nothing to say. The problem is that a lot of people have nothing to say, but they don't produce wide mass-distributed meaningless visuals that rule the way we see life.
In this context, I prefer the work of people like Auriea Harvey from Entropy 8, even if I don't understand or like some 'graphical' choices she has made because the heart of her work is based on important political questions like "women and black people in the united states of the 21st century"… and she has answers for that!
What are you most interested in now?
My main interest at this point in time is certainly the art of title sequencing, and all this motion design work. While studying at university I first wanted to edit movies, so it is a sort of return to my true passion, and to the art of cinema. I'm currently working on different TV projects and I've just finished with the shaman team, a work for Cedric Klapish, a famous French director.
What is your relation like with the shaman graphic design studio? What kind of work do they mainly do?
Shaman is a design studio that groups different abilities in design; there's product, print, multimedia and audiovisual design. They're quite unique in Paris, by their alternative way of considering every work from the most corporate client to a fashion brand. It is also a small company (9 people) with a very quick and logical state of mind. I think that this kind of structures are more usual in the United States, but in Paris it's very difficult to find studios like that. (Don't ask me why…)
As I've told you earlier, I work in their studio and I'm mainly in charge of the audiovisual and multimedia projects, which are often quite hot and interesting projects. I appreciate their creativity, and the way they understand, see and practice the wide field of design.
We'd like to ask you about the web design in Paris and France in general. What's hot at the moment?
I don't think that web design is something hot in Paris right now. There's a lot work shared between a few design companies, and a bunch of work addicts but that's all. This particular activity is becoming a bit mediatic, but the main problem is that "France" is more tired than wired.
Big telecommunication companies are currently trying to seduce people and to make them forget older communication devices like our obsolete minitel, but they have to face a more cultural problem. France is still the country of De Gaulle, and so the country of a deep aversion for the American culture and domination. As the web is mostly American, we're getting low-tech even at a European scale.
Anyway, there's some good innovative things going on, most of them in Paris but they're too small and too French to represent something on an international scale. I think that in France, the internet is going to be popular when all the "convergence" programs will be OK, when TV, real interactivity and Hi transfer nets are going to be linked.
If you worked outside Paris, where would you choose to be?
Actually, I'm leaving Paris tomorrow to see if the United States could be a good place to live. I'll spend one week in San Francisco and one week in New York, so maybe I'll have the opportunity to give you my opinion on these two distinct places later. I think that as a social act, design can be interesting in cultural environments that are very different from ours. I知 thinking about a friend of mine who has swapped Paris for two years for a job in a design company in India. He told me that his experience there had been very useful and interesting for him, very helpful in understanding other ways of thinking.
About Paris, I don't exactly know if I like this place. I think that I like it because I'm in it, which means that I know people, I have friends and memories here, I know what is challenging or not … it's my cultural environment and my home town. At the moment, I've things to finish here and after that I'll ask myself if I want to stay or not.
What do you think about Japan?
There's a lot of things and realities in the Japanese culture that I don't particularly appreciate, but I'm fascinated by the ability of Japanese creators to push concepts in their most extreme dimension.
I think about musicians like Keiji Haino, or Japanese fashion designers, or the buto (?) dancers: they all have this unique potential to mix deep cultural/traditional elements with extreme conceptual and contemporary art forms. Now, my favourite records are the "dumb type" collection, which are produced by a Japanese artist group, and they're a good example of that.
Who are your favourite graphic/visual designers?
There's a lot of people I truly respect for their personal way of considering their own environment. My influences came from famous designers like David Carson and Peter Saville, from people from the video art and animation field, like the Whitney brothers, Malcolm McLaren, Len Lye and (I forgot his name) the one who made this short movie called "the space between my teeth…
I'm influenced a lot by music and dance and have a great interest in the work of Merce Cunningham, Lassigue Benthaus, Bisk, Autechre and Dj Krush.
The last question. What are your plans for the near future?
I think that for the next four or five years, I will try to Finnish what I've started in Paris, try to turn these shaman web/multimedia activities into something bigger or maybe unusual for a French based company, unusual in the way they see this domain. I will also try to improve my knowledge into audiovisual production, and how this industry works. I'm amazed by what's happening today, by the fact that this business is getting bigger everyday and that our world is beginning to exist mostly through digital and video images. As graphic designers, we should definitely be a part of it, and might be able to influence, more than other people, its destiny and its own evolution. It's a challenging and positive stimulation.
After that I will probably try to spend more time on my other passions: music and the art of documentary through video, film and photography.
Marc NGUYEN
marc@dotmov.com
www.dotmov.com
Interview & Text: Satoru Tanno
[Help wanted]
Inviting volunteer staff / pro bono for contribution and translation. Please
e-mail
to us.