Contemporary Copenhagen [CC] is hosting Yet, It Moves! until the end of 2023, from May 12th to December 30th. This group exhibition is the result of two years of work between international artists and the world's most prominent research institutions with the theme of movement as the basic premise of everything in the universe – that includes both micro and macro scales going from individual cells in the human body to anything in the macrocosm of galaxies. When art and science meet anything can happen, especially with such an impressive array of institutions and artists involved.
Yet, it moves! aims to give a greater whole vision about how movement is part of our reality and its consequences. This is interpreted by each artist in forms such as scan style, geometric shapes and lines, explosions, particle interaction and so on. Complex phenomena like black holes, star formation and gravitational waves are used to set out these artworks of visual motion. Astrophysics, quantum physics, neuro and cognitive sciences, anthropology, and performance studies are used as guidelines to define the behavior of movement and motion patterns.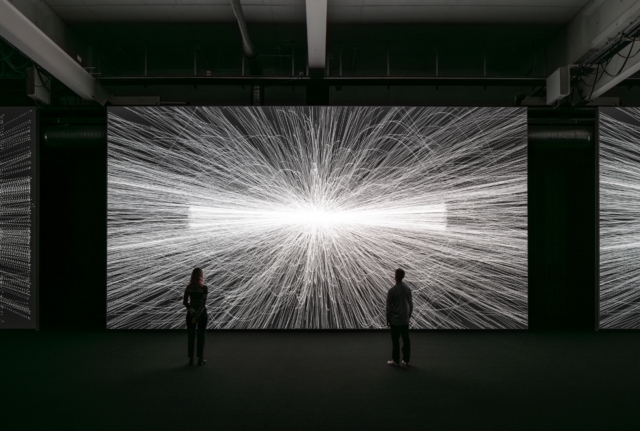 Ryoji Ikeda, data-verse 1/2/3 (2019 – 2020), Commissioned by Audemars Piguet Contemporary, Installation view Yet, It Moves!, Copenhagen Contemporary (2023)
Although it can sound quite complex, the result is straightforward, visually striking, rich in information and data, creating something very graphic and dynamic. Furthermore, the exhibition includes the work of some the pioneering artists exploring the combination of visual art and sound, such as the likes of Japanese Ryoji Ikeda, the Afrofuturistic queer black duo Black Quantum Futurism, and Argentinian choreographer and dancer Cecilia Bengolea, and Danish artist Jakob Kudsk Steensen who also works with sound and immersive installations. A few more artists complete the exhibiting group whose work has been exhibited in urban spaces across Copenhagen and some at CC. The title of the exhibition pays homage to Galileo Galilei (1564 – 1642) the scientist and philosopher who coined the phrase expressing the idea that no matter how human reality is, the Earth always keeps moving around the sun.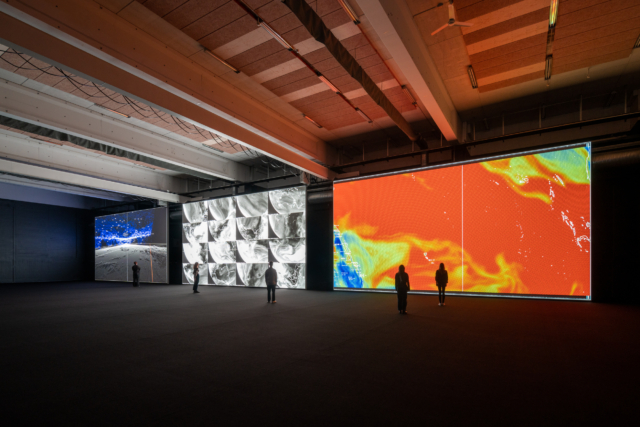 Ryoji Ikeda, data-verse 1/2/3 (2019 – 2020), Commissioned by Audemars Piguet Contemporary, Installation view Yet, It Moves!, Copenhagen Contemporary (2023)
Ryoji Ikeda presents "data-verse 1/2/3" (2019 – 2020), an astonishing work of motion and sound in sync over three gigantic screens in a cavernous space. He uses data as a source to create landscapes of particles and computer-like scanning results. In fact, he triggers open source data sampled from scientific institutions, including CERN, NASA and the Human Genome Project. Arguably, everything we know about the world and the universe we live in is based on data. We collect data and convert it into information that we use to understand the world around us, above us and within us. This remarkable visual installation immerses the viewer into a calm yet whirring atmosphere of geometric patterns, digital mappings and grids mainly using monochrome visual assets, everything enhanced by the masterful sync with sound design. The sound could be taken from a scene of Blade Runner or any dystopian sci-fi film, especially that moment when interacting with computing data, searching and scanning: low pitch vibrations contrast against the crisp bell-like sounds designed to sync with the visual data. In fact, these visuals could be taken from Wargames with a 21st century tweak. Ikeda is one of the most influential contemporary artists Japan has to offer working with visual motion and music composition. He has exhibited internationally and won some prestigious awards such as the Ars Electronica Collide@CERN Award in 2014.
Read more ...

1
2
[Help wanted]
Inviting volunteer staff / pro bono for contribution and translation. Please
e-mail
to us.