Stockholm Independent Art Fair "Supermarket 2016" celebrates its 10th anniversary. It is quite gratifying to see how the fair has grown during these years. Since 2015 Supermarket takes place in a larger venue at "Svarta Huset" (The Black House) located in the southern part of the town, which is actually a well-known spot for the savvy art-related ones due to this is right next to the famous Swedish Art School, Konstfack. The core of Supermarket has not changed though: an art fair run by artists. Hundreds of exhibitors and art galleries from different parts of the world networking and taking the independent art scene to a new level with Stockholm as a hub. We swung by the Svarta Huset and met a few interesting artists.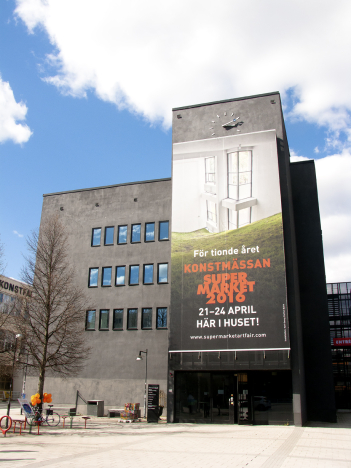 "Supermarket 2016", Svarta Huset
Former "Minimarket Art Fair" started in 2006. Ten years ago no one could image that "Mini" would evolve into a "Super" international art even that would return every year. "We artists saw this as a perfect opportunity to play with the fair's format, to challenge, criticize. Debate, and ultimately to develop it. The artist-run scene is not based primarily on money nor the desire to be profit making: it is about autonomy".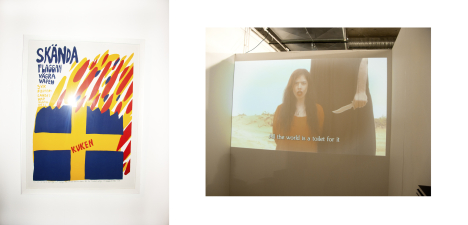 Booth of TEGEN2, Stockholm, Sweden, Supermarket 2016
TEGEN2 Stockholm, Sweden. Gunilla Sköld Feiler and Dror Feiler run this art gallery located in the southern part of town. They are interested in that kind of dissident art, activist artists who has transgressed society, politics or religion provoking somehow. This gallery were exhibiting censored Swedish artist Carl Johan De Geer iconic painting in 1967 of a burning Swedish Flag with the words KUKEN (COCK) and "Skända flaggan" (Desecrate the flag) written on it, which it was confiscated by the police right after exhibiting in a central gallery. Similarly, they exhibited Israeli artist Natali Cohen Vaxberg, who most recently publically pooed on an Israel flag and was arrested right away. Now it is up to you if you want to put her somewhere in between Pussy riot and Anna Odell. "The contribution of this galley focuses on the artistic freedom of expression and its price, albeit from a slightly different horizon", explains Dror Feiler.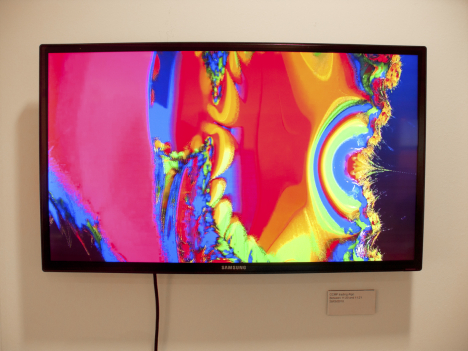 Booth of NIEUWE VIDE, Haarlem, The Netherlands, Supermarket 2016
NIEUWE VIDE Haarlem, The Netherlands. This Dutch gallery works with contemporary art, counter-culture, crossovers of disciplines and visual artists. They presented Focus Artist 2016: Toon Fibbe, who was showing a new version of his performance "The Birth of All Flesh", where a character tries to interpret the patterns in what seems to be an abstract expressionist painting as a market chart.
Read more ...

1
2
[Help wanted]
Inviting volunteer staff / pro bono for contribution and translation. Please
e-mail
to us.