Dancing tableware in a fantasy world.
I think it' for sure every one of you would put a smile on your face when you see those unique tableware which could come alive at any moment. As one of them who were fascinated by the lovely tableware, SHIFT has interviewed with the designer, Jorine Oosternoff, to look closely into her wonderland of fantasy!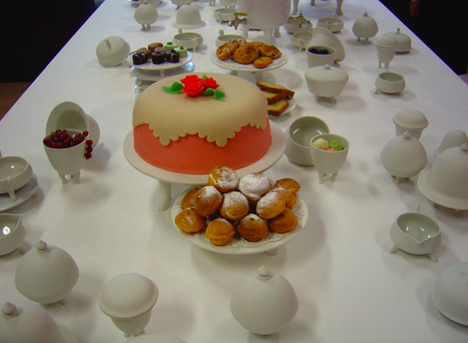 Please introduce yourself.
Jorine Oosterhoff was born in The Hague (The Netherlands) in 1981. From childhood on I had a special fascination for fantastic surrealistic stories, together with animation, characters and ceramics, Fascinations that are here to stay.
I make frozen stories in objects, families of products, things that are unique.
In 2005 I graduated at the Academy of Art and Design Arnhem. My design studio JORINE was also found in 2005 and is currently based in Arnhem, The Netherlands.
Here I create my own projects as well as projects for clients.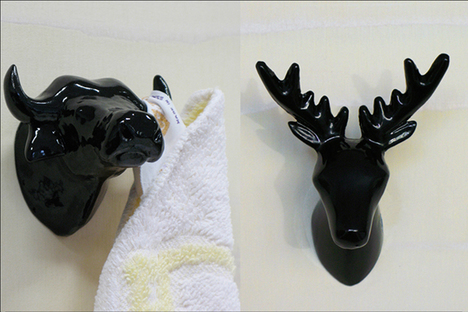 Buffalo, Dear Deer. Puhlmann
Can you introduce your recent projects and activities?
For an exhibition, Paper Zoo in MU in Eindhoven during the Dutch Design Week 2009 I made a serie butterflies out of play cards, The Royal Flush Butterfly collection.
For Puhlmann (a company based in Amsterdam, The Netherlands), for whom I also designed the Dear Deer, I designed 4 new coathooks, 2 piggybanks, a birdclip collection and a birdmagnet collection. They will be in stores soon.
For a contest of Musee Carouge, Switzerland I designed the Hotcup, a teacup and saucer that cooperate with each other. The saucer keeps the drink hot.
Some projects are still in process and I can't tell much about it yet. I can tell that it's about a 18 piece tableware set for a fairtrade company. With Egbert-Jan Lam I travelled to Vietnam to work with a local ceramic factory in Bat Trang (near Hanoi) for this project.
Also an upcoming product in the Canadian market for Imm Living, a series of cups for the gift shops/museum shops.
Next to this I'm developing new free work. This is also in the tableware branch.
How and why did you decide to pursue your career in product design?
From childhood on I was fascinated by creating things. I loved it. I knew one thing for sure; I wanted to go to Artschool. To do product design was something I decided later. I like products, they become part of your life. They help you with daily activities. But they also can make daily activities into special ones. If you have a special dinnerware, it can turn dinner into a feast meal. Getting a special atmosphere is something I try to incorporate in my designs.
Dealing with function and beauty, playing with details, making a product that is easy to reproduce, thinking about a product that can easely be made in production, these are things that make this job fascinating, challenging.
Please introduce and describe your past and recent works?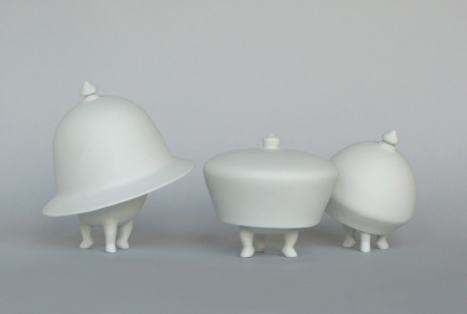 Tea Times
Tea Time is a high tea set based on characters. Build up to be a family. Each piece has its own identity.
With their character-like look they seem to come alive, living their lives on the table like soldiers in a little nation. Creating surrealistic moments like in Alice in Wonderland.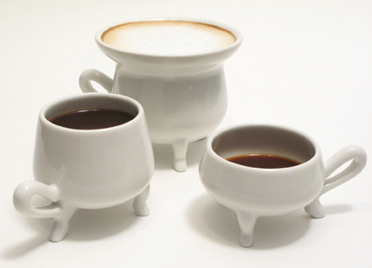 Cafe Pompose
Cafe Pompose is a coffee set consisting of a cappuccino cup, espresso cup and a ristretto cup. The cups are caricatural personalities. For example the cappuccino cup represents a fat lady, the espresso cup a stately gentleman with a large ego (but ridiculously short next to his wife) and the ristretto cup is their little child

Hotel Dinnerware, Tableware for Private Jets, De Ster, 2007
Hotel Dinnerware is a 46 pieces dinnerware set designed for chic hotels and/or private jets and private yachts. Derived from Tea Time, all pieces are different characters and turns dinner, breakfast and lunch into a playful yet chic feast meal. The set consist of a dinner set, breakfast set, tea set, coffee set, Asian set and liqueur set. Also the cutlery is specially designed together with the porcelain and glasswork and fits perfectly into this dinnerware.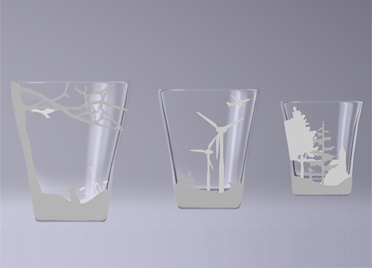 Babushka glass, 2008
Babushka glass is a glassware set with stories. Each glass has its own story to tell. Put together they create a see-through. Allowing you to create a different story every time.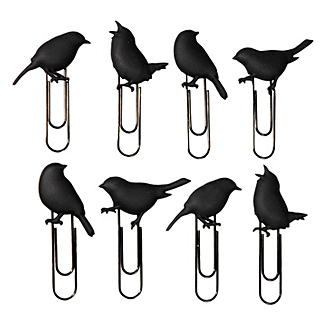 Birdclip, Puhlmann
For Puhlmann I designed several products for the gadget/gift market. Products that are refer to recognizable images and are mostly in the form of an animal.
Dear Deer, a coathook in the form of a deer. As this product has been a great success a buffalo, coathook followed even as a duck, horse, pig and bunny coathooks for a children line. I also designed a hamsterbank and squirrelbank (as piggybanks) and the birdclip, a serie paperclips with birds for hanging up your birthday cards. This picture refers to a bunch of birds sitting on a power line. Birdmagnets was a logical successor.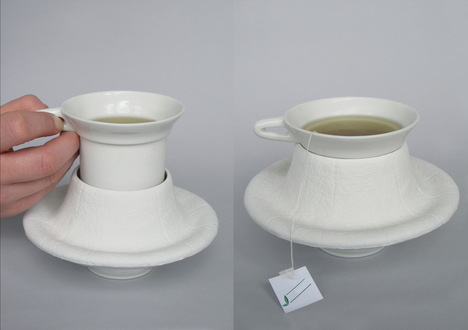 Hotcup
Hotcup is a cup and a saucer working together. The cup hangs in the saucer, the air between it works as isolation. In this way the saucer works as a warm blanket, keeping the drink hot.
I can feel various wonder stories hidden behind your products. Do you set a story to each your design? What do you concern the most when you work on your project?
I like to tell stories with my design. Frozen stories, like the time is standing still. Sometimes I use existing stories and put my own handwriting on it. Sometimes it is a story I made up myself. The stories I tell with my designs have to be clear at first sight. It's more about the atmosphere.
I like to create series, put more products together like a family. This gives me more opportunities to create a story.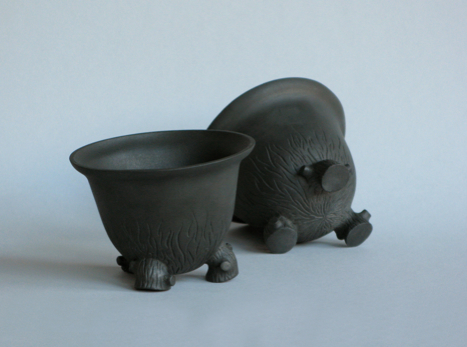 T(r)eacups
What's your inspiration for making your works?
Inspiration can come from everywhere, I mainly get my inspiration out of daily life, fantasy stories and nature. Especially the wonders of nature, but also community forms, how animals live in a group and the different characters in that group. Or animals that live in a special climate, groups of animals evolved to be able to live under extreme conditions. Or animals who adjust theirselfs to benefit by human created environment.
These are things I am fascinated by.
I think you can read it from my designs. I like to play with characters, giving a product a soul. And putting that character into a group, with its own place and role to fulfill.
What/who are you influenced by?
My boyfriend Egbert-Jan lam. His criticism is important for me. If I discuss my work with him he sees things I didn't thought about yet. It can be really an eye-opener.
I am also really stubborn, which, I think, can be a good quality in times.
Please tell us your favourite music, art, design, books or people?
I like the Eameses, because of their way of thinking and their long lasting energy.
A lot of artist: Matthew Barney, Katharina Fritsch, Damien Hirst, Rachel Whiteread, Hyungkoo Lee and others.
But it is not that I have a special idol in art of design. I like to see other designer's work, but more to see what is going on, not as inspiration. I believe that doing your own thing (and believe in it) is the only thing you need.
I do have some special books that inspire me a lot; Alice in Wonderland of Lewis Carroll is of course one of them. I like his weird way of thinking, putting everything in doubt, even long-lasting principles. Besides he created wonderful characters. Also Never ending story is one of my favorites. As you can see, I like fantasy stories.
Also clay animation is an inspiration source for me. I made clay animations myself and know how much work creating 1 second of a film can be. Aardman is a really good studio I like.
The face expressions and the personalities they make are really good.
People I admire are people who risk their lifes, or putting their lifes in rescue helpless animals.
Also my boyfriend, my mother, father and my sister are my favourite people.
The Netherlands is one of the leading countries for their developed product design including furniture, interior products. How do you think about design scene in the Netherlands?
Dutch design stands for clear, sober and logical products. Names as Droog, Marcel Wanders, Jurgen Bey, Gijs Bakker and others made this good name for Dutch Design. We as the younger generation benefit from this. For example we have very good education in art and design. Sometimes I notice the benefit of being a Dutch designer, people from foreign countries like it and it gives an immediate quality.
When you are in the business you don't think about it so much, it just is as it is.
On the other hand, being a designer has becoming a popular occupation. More designers graduate every year worldwide, and with all this new coming designers it has become more difficult to get a famous name. It is not my goal, I want to do my thing and create nice products, that's the main thing for me.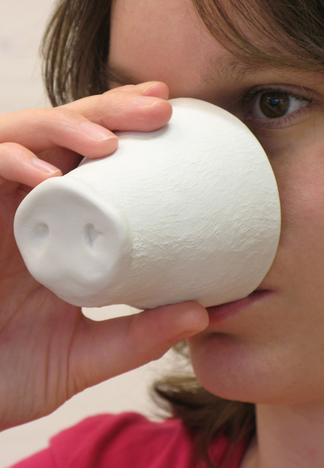 Koppen, 2006
Could you discuss a little about another collaborative design company Freaks United?
Freaks United is a cooperation between Egbert-Jan Lam and me and was founded in 2006, when a friend of ours asked us to make some products for an exhibition "the Human Freakshow" Greytones 2006. We decided to make something in cooperation. This cooperation was successfully. Egbert-Jan is more an engineer and Jorine is more a storyteller which can turn into really interesting products. In the meantime we did assignments for first class in-flight tableware, Interior products and giftware for the Canadian market, tableware for the fairtrade market etc. Working together can be refreshing. You work on a product you both like, make concessions and also let you get inspired by the other or the other way around.
What would you like to explore in the future?
Ceramics is a material with a lot of phases. This is why there is so much to learn about it. I do now only know a little, the basis. Enough to make my designs but there is so much more to explore in ceramics. I like to learn more to widen up the know-how and possibilities in my designs. I am working on it during making new designs.
I would like to work for/with big ceramic companies like Rosenthal, Nymphenburg, Wedgewood. Making a good design, ready for reproduction and accessible for a large group.
Also glass is a material that attracts me.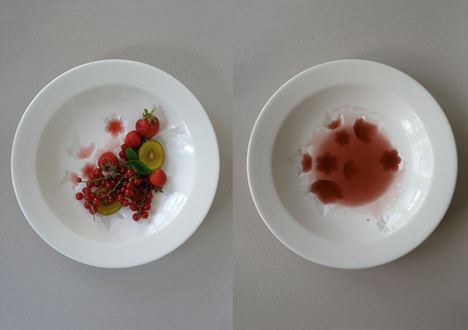 Left Over tableware
Please share your upcoming plans with us.
Upcoming work: The White Rabbit tableware serie. A serie in which I play with the different colours porcelain can have. Porcelain knows different kinds of white. Under ceramic designers it is a goal to get the whitest porcelain possible. They have all special tricks and techniques for it, which they keep as a secret.
In this serie I put all the whites of porcelain together in one tableware set. This makes the set playful, and unique. Each set will be cast ad random so each set will be different at the end.
Left Over tableware serie: a tableware which plays with the food. Dinner can be served in a great composition. However it looks nice for just a few seconds. When you start eating the composition will be disturbed.
The plates and bowls in the left over serie have a relief. During eating a pattern appears because of the juices, dressings etc filling up the relief. In this way a nice plate will be kept even after dinner.
These are just a few things I am working on right now.
I am also working on a project which will put some more colour in my collection.
Jorine Oosterhoff
Address: Statenlaan 8, 6828 WE Arnhem, The Netherlands
Tel: +31(0)26 4435349
info@jorineoosterhoff.nl
http://www.jorineoosterhoff.nl
Text: Mariko Takei

[Help wanted]
Inviting volunteer staff / pro bono for contribution and translation. Please
e-mail
to us.