Mike Kelley (b. 1954) was a figure of the early American underground interested in topics such as institutional power, the working-class, philosophy, and pop culture in American society – with a particular fixation on gender, sexuality, and class discrimination, along with his observations about criminality and perversion. He expressed his art through textile banners, collages, abandoned soft toys, installations, video art and transgressive performances. As a matter of fact, he was a member of the pioneering proto-punk band Destroy All Monsters, active between 1973-1985, becoming influential for other bands within similar genres such as the New York's experimental rock band Sonic Youth, who in 1992 used Kelley's knitted creatures for the cover and artwork booklet of their acclaimed album Dirty. Superman – another of Kelley's fixations – served as a vehicle for a number of his artistic projects, like the short film video in which Superman recites selections from Sylvia Plath's "The Bell Jar". The themes of Plath's novel – navigating mental health crises with attempts to commit suicide – resonate with Kelley's life: on January 31, 2012 he was found dead from an apparent suicide at his home in Pasadena. The film forms part of Ghost and Spirit, a retrospective at the prestigious Bourse de Commerce Pinault Collection right in the center of Paris, showing until February 19, 2024. The retrospective spans Kelley's career with many of his works in one place. The exhibition will be itinerant around Europe; in fact, it is organized in collaboration with the Tate Modern in London, K21 – Kunstsammlung Nordrhein-Westfalen, Düsseldorf, and Moderna Museet, Stockholm, museums where the exhibition will migrate in late 2024 towards 2025.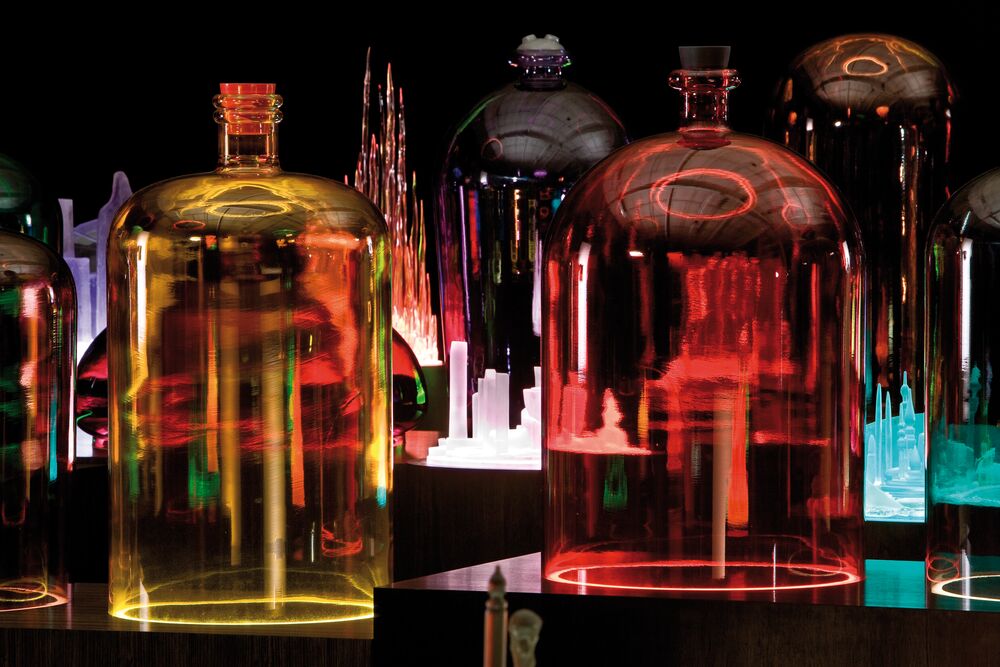 Mike Kelley, Kandors Full Set (détail), 2005-2009
In 1999, Kelley continued exploring his interest with Superman with "Kandor", one of his most ambitious series. Kandor is the city where Superman was born on the planet Krypton, as narrated in the comic first published in 1930. The way Kelley depicts the superhero's hometown is a modernist, colorist utopia. In the comic, the town is shrunk by the villain before the entire planet blows away, Superman escapes and keeps it preserved under a bell jar in his "Fortress of Solitude" as a reminder of his past. Kelley studied and created numerous artworks representing Kandor, which was never drawn the same way twice. Bourse de Commerce's central pavilion "Rotunda" hosted the Kandor Full Set, with 21 coloured urethane resin sculptures paying homage to the caped hero. The fictional cities float next to bell jars all set on backlit bases around this circular room with the wall covered by screens of more gigantic bubbling bell jars along with the aforementioned Superman-Plath short film on a TV monitor. This ode to the classic superhero responded to Kelley's interest in pop culture and class differentiation: a superhuman above the rest of us, but also conveys a message of melancholy and loss around the superhero's origins. The circular room where this installation takes place works as a bell jar itself for the entire exhibition.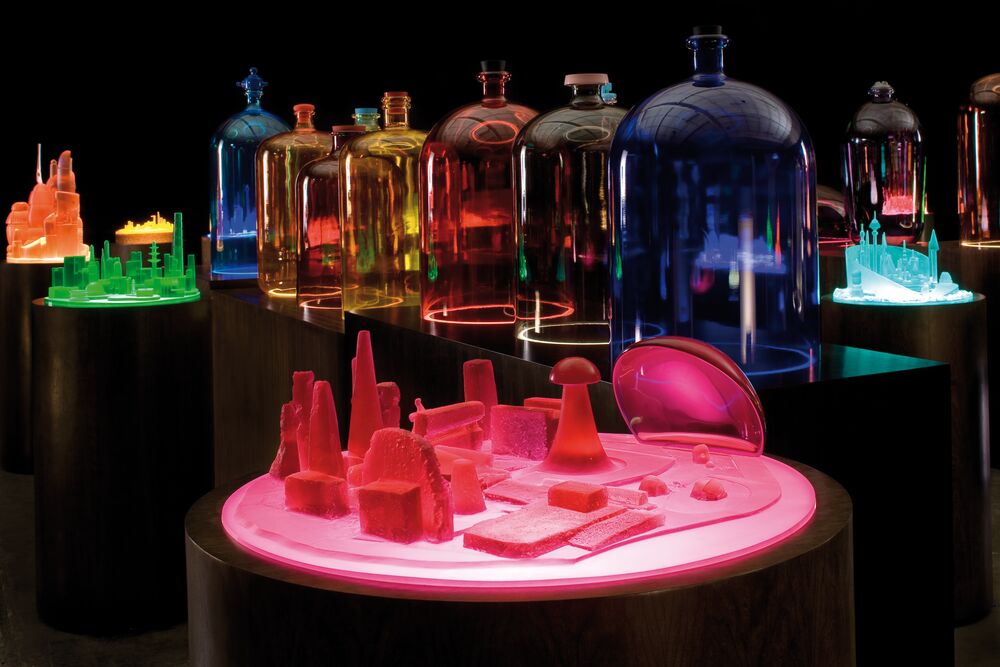 Mike Kelley, Kandors Full Set (détail), 2005-2009
On the second floor, the first room we find is Monkey Island, an installation which dates 1982-1983 dedicated to geometry and an obsession with symmetry as a symbol of comforting values and the power of X, crossing paths and the duality of things.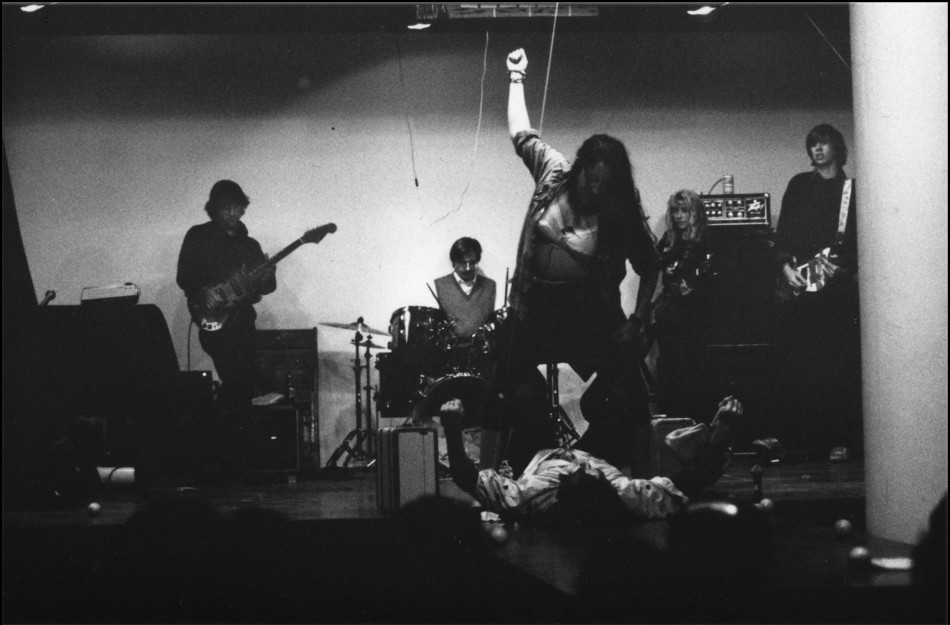 Mike Kelley + Sonic Youth "Plato's Cave, Rothko's Chapel, Lincoln's Profile". Artists Space NYC 1986. L to R: Lee Ranlado, Steve Shelley, Make Kelly, Molly Cleater, Kim Gordon, Thurston Moore. Photo: Paula Court
In a further room, there are several of Kelley's works including his collaborations with American noise rock band Sonic Youth. In an interview with Kelley and Sonic Youth member Lee Ranaldo at The Art of Noises Radio about what the terms "noise" and "experimental music" mean to both of you, Kelley responded: "I've always thought of experimental music as music where the outcome isn't predetermined". Lee Ranaldo – who attended Ghost and Spirit exhibition in Paris explained to us: "I've known Mike since our first collaboration together when Sonic Youth performed live onstage for his play 'Plato's Cave, Rothko's Chapel, Lincoln's Profile'. We performed the work in NYC at Artist's Space in 1986. It was amazing to be part of one of Mike's early theatrical presentations. Kim had known Mike in LA – maybe at art school – and that was our initial connection. We were in touch with him over the years and selected the work that became the Dirty album cover – which we had seen. We liked the idea that Mike included his own photo alongside the stuffed creatures, identifying with these lost and discarded, once-loved playthings. In 2009, I took part in a couple evenings of Noise/Music that Mike organized in NYC for Performa '09. We also recorded a conversation that was published in Performa's catalog from that year and later reprinted in my small book, 'Some Writings on Music and Musicians'. This show in Paris is wonderful – there are many works I'd not seen before. It is perhaps a little over-stuffed, but for those who don't know Mike's work it is a rare opportunity to see so much of it all in one place," Lee Ranaldo concludes.
Read more ...

1
2
[Help wanted]
Inviting volunteer staff / pro bono for contribution and translation. Please
e-mail
to us.