What's been the most challenging work so far?
Doodlestation from last year was quite the challenge to pull through. It's a huge synth station with a lot of fancy hardware, a custom made tape echo and a very complex real-time audio visualizer based on a rainbow-puking cartoon guy. I intended to add a custom drum machine / sequencer built from scratch, a big old school pin-based thing. But I never got it to work well enough. But the most challenging project by far has to be the MMXS, my miniature version of Martin Molins big marble machine MMX. I worked on it for over a year.

MMXS – A tribute to the Marble Machine X © Love Hultén
Is it true Kanye West has ordered some items from you? What have you built for him?
No, I think Kanye played one of my cabinets at his friend Kid Cudis place.

Sequential OB-6 module, Moog DFAM, Hologram Microcosm, Theremin setup, custom MIDI visualizer, Tape Echo, custom keybed. © Love Hultén
As a matter of fact, I've seen some of your work made for some musicians of the likes of Gregg Foreman aka Mr. Pharmacist. Please tell me about it.
I was commissioned for a synth trio for Kat Von D and her band members. Gregg is part of that I believe. He seems like a great guy!
I think some other recognized musicians are contacting you to build some new gear for them. Please tell me more about it.
I've created for some recognized artists over the years, sure. Celebs are kind of a fragile species and I'm not sure how much I'm allowed to share here, but I've made custom pieces for Eminem, ASAP Rocky, Kid Cudi, Michael B Jordan, Danger Mouse, Bizarrap, Kenny Beats, etc.
What is the usual timespan you need to build an instrument from start to finish?
That depends on scale and complexity of course, but a standard synth project may span over 8 weeks.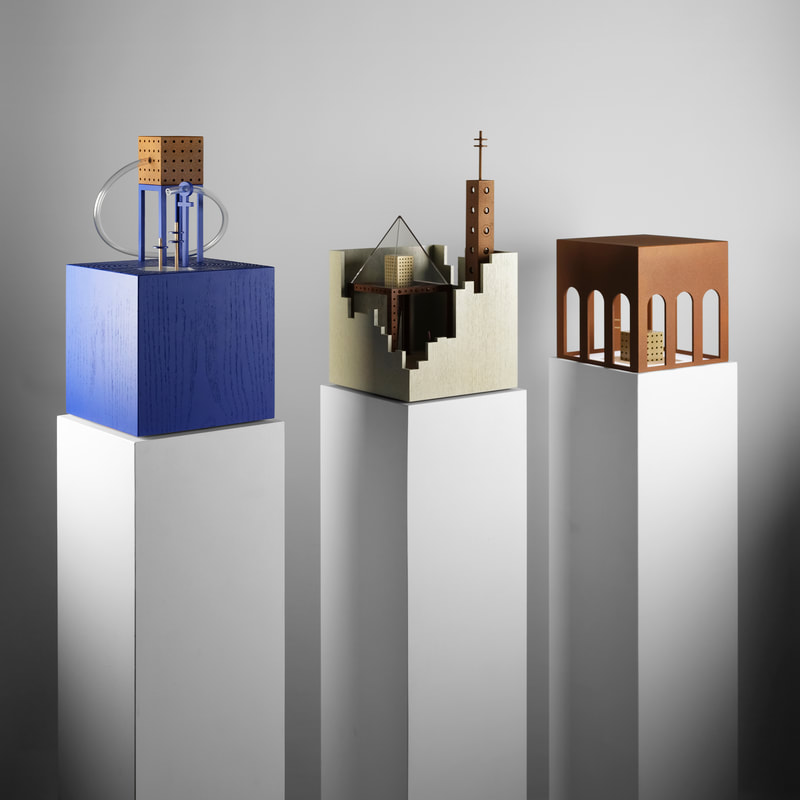 A collection of architectural​ sculptures vaguely based and inspired by the solar system © Love Hultén
You recently exhibited "Apparatum" in Stockholm at Konsthantverkarna. With this exhibition you explored a new route working with design and functionality. Please tell us a little bit about it.
I took this opportunity to try a less electronic approach, something I've been dreaming of for many years. More form and less function. Explore colors, combine materials and craftsmanship and see what happens. Just play around. I ended up with a collection of weird architectural sculpture pieces. Not sure what to think of them yet, but I really enjoyed making them.
What projects are you excited about in the future?
I have some very interesting projects coming up this year, but I can't really talk about them. But generally speaking I'm very excited about not knowing what's next. Just knowing that next year will probably bring as much joy as the previous one. This has been my living since 10 years back, and I'm sure I'll have decades of fun ahead of me. Sure, it's hard work being a one-man-studio, but I can't complain. I'm very fortunate to be able to do what I love, and I will continue doing so as long as my ambitions allow for it. Hopefully I'll inspire some people along the way.
Text: Victor Moreno

[Help wanted]
Inviting volunteer staff / pro bono for contribution and translation. Please
e-mail
to us.