The renowned international photography contest World Press Photo 2021 (WPP) kicked off in several cities around Europe this fall. Founded in 1955 in Amsterdam, the institution's main focus is to address the importance of storytelling and photojournalism by making it accessible for all audiences around the world and bringing important insights about our world.
We attended the 64th edition of WPP in the city of Bari, a gorgeous little city on the south eastern coast of Italy. The exhibition is being held at the Museo Teatro Margherita, a renovated theater from the early 1900's by the architect Francesco De Giglio. WPP 2021 showcases stories selected from over 4,000 photographers internationally. No surprise many works depict how COVID-19 has affected our society, but there are many other shocking and noteworthy stories.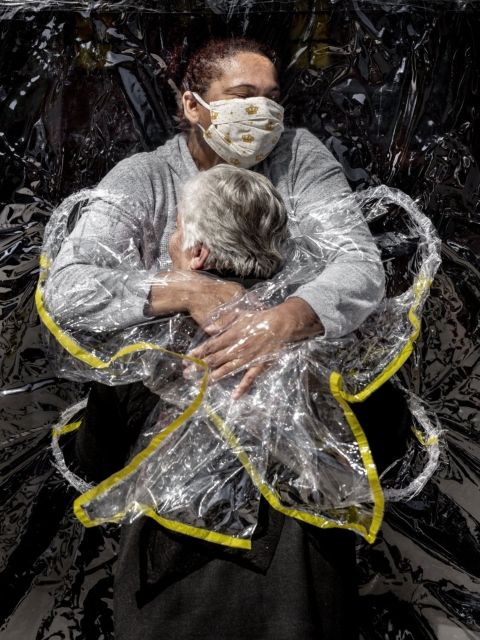 The First Embrace, Mads Nissen – 2021 Photo Contest, World Press Photo of the Year
World Press Photo of the Year is "The First Embrace" by Mads Nissen (Denmark) – who also won the same prize in 2015 – portrays people in the community of Vida Boa, outside Sao Paulo, Brazil during the pandemic who used hugging curtains made of plastic sheets to finally embrace vulnerable people in care homes who were ordered to keep physical contact to a minimum.
Most of the stories in the exhibition are inevitably quite bleak but there are some with a positive twist. Below you will find a selection with our favorites but you can review the entire exhibition via WWP online.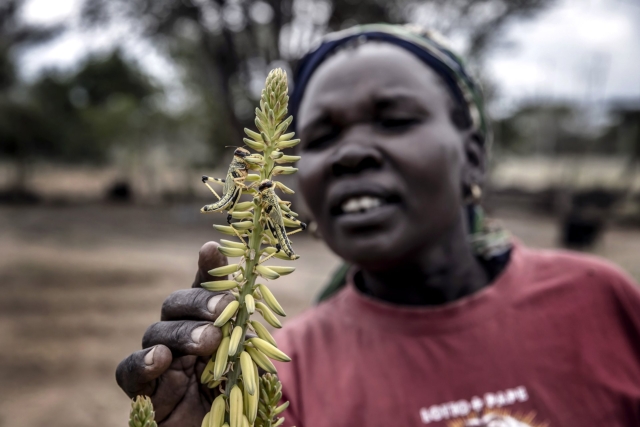 Locust Invasion in East Africa, Luis Tato for The Washington Post – 2021 Photo Contest, Nature, Stories, 3rd Prize
"Nature" is that type of image which needs a double-take in order to realize it is not a geometric pattern or grass but a plague of crop-destroying insects. In early 2020, Kenya experienced its worst infestation of desert locusts in 70 years, devastating farmland. Here the chief of settlement of Archers Post in Samburu County, tries to scare away a massive swarm of locusts ravaging the grazing area.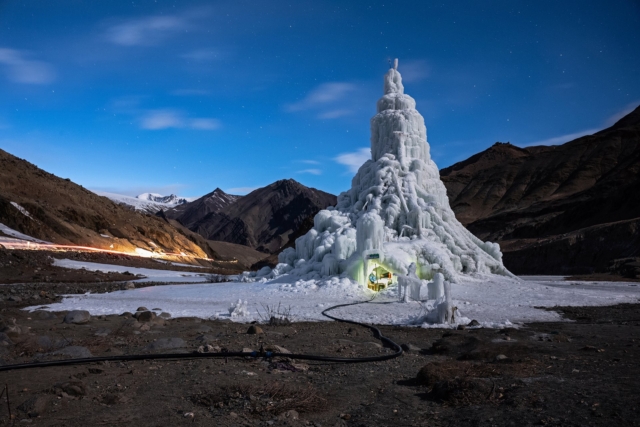 One Way to Fight Climate Change: Make Your Own Glaciers, Ciril Jazbec for National Geographic – 2021 Photo Contest, Environment, Stories, 2nd Prize
This story behind this image is an ingenious and creative solution to an old problem using natural resources. Communities in the Ladakh region of Northern India – a cold desert that faces acute water shortages, particularly during the planting season – are building huge ice cones that provide water into summer. Himalayan meltwater carried down from higher ground in underground pipes freezes in subzero temperatures to form a stupa of ice, the one in the photograph even has a cafe in the base. Stupas were established in 26 villages in 2020 and a pipeline is under construction to create 50 more.
Read more ...
[Help wanted]
Inviting volunteer staff / pro bono for contribution and translation. Please
e-mail
to us.