How would you describe the main differences or attributes between portrait photography and fashion photography?
Well, the basic fashion photography, in my opinion, is portraiture. We can see that even from the history of fashion photography. However, the main difference is the focus. Fashion photography highlight the clothes, especially if it has a lot of texture or movement or it can be about inventing the women (or men) character that portrays a particular editorial theme or fashion campaign of a brand through the choice of makeup, hair, model and styling direction, whereas in portraiture, the focus would be on how to depict the subject or person, whether in their personality or stature or profession, etc.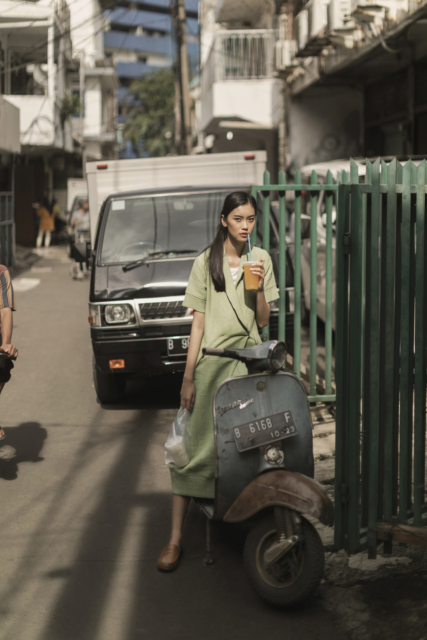 "Glodok Series" entitled Yen's Quick Lunch (2019)
Left) The image was very much a recreation of Riop's memories when his father took him to Glodok and they would have a quick lunch together and afterwards he needed to walk again while carrying his father's groceries/ shopping bag.
Right) On a hot day, a glass of orange juice is the staple in Glodok. One of Riop's observation was how people always carrying something with them.
Your award-winning work "Glodok" is a beautiful storytelling set in Jakarta's Chinatown. What did you want to explore with this work in the first place?
The series is part of the exploration of my identity. After more than ten years living outside Indonesia, I was having difficulty finding a connection between myself and Indonesia, particularly to Jakarta, even though I grew up here. I relate more to my childhood experience, when I immersed myself in Japanese manga, or when I spent my schooling years, I can relate to the western culture a lot. Yet when I went back for summer holiday to Jakarta, amidst the chaos, and partly because of my parents, I knew that this city is my home. However, I felt a disconnection with the culture and the way I think. I came back to Jakarta because my parents pleaded for me to come back for good and so I tried to learn their point of view. It took me years to find a way to connect to my identity. I knew I would spend a long time if not the rest of my life in Jakarta, so I thought I needed to reconnect to a part of Jakarta that I know, and that is "Glodok".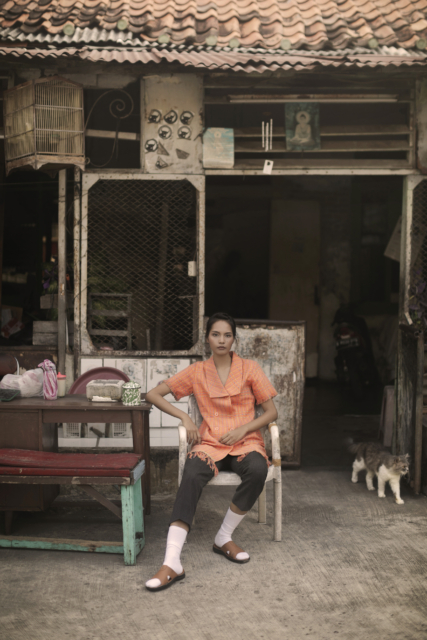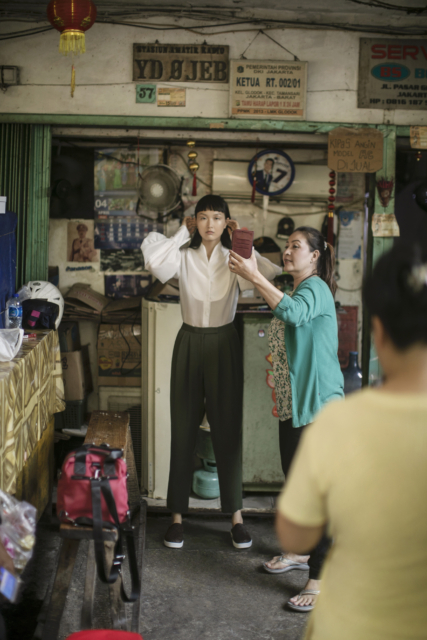 "Glodok Series" (2019)
Left) Many houses in this area are hundreds of years old and are still occupied by the Chinese descendants. At the time we took this picture, There were three families who lived in the same house. they would sit at the front of the house every afternoon, to drink tea and converse with the neighbours.
Right) Despite the many hardships and persecution that they had experienced (going back from the Dutch colonial era), the Chinese in Glodok remain some of the friendliest bunch of people. During a photoshoot, they happily talks and ask questions to us. The lady in green actually interrupted the model in the middle of the shoot to ask her to do a selfie together.
Like many Chinese fathers, mine kept a lot to himself, but I have always known that he cared about me. I recalled our weekly weekend trips to Glodok. Until now, Glodok is still his favorite place and through this project, I understood why. Despite its chaos, as a child, I had a good memory with Glodok because that's where my father showed his love by asking me to walk with him and buying me snacks, video games or toys. Apart from that, I realized that many great masters in fashion photography in the world use their location or home (wherever they are) as the background of their fashion scene and when I started the Glodok project, nobody was doing that. Most local magazines want me to copy or use American or European magazines as a reference for their editorial, and I want to get out of that trap. I want to lead by example that we should be proud of our own culture and our own city. Along the way, it's an avenue for me to learn to see my father's point of view of Glodok as an adult.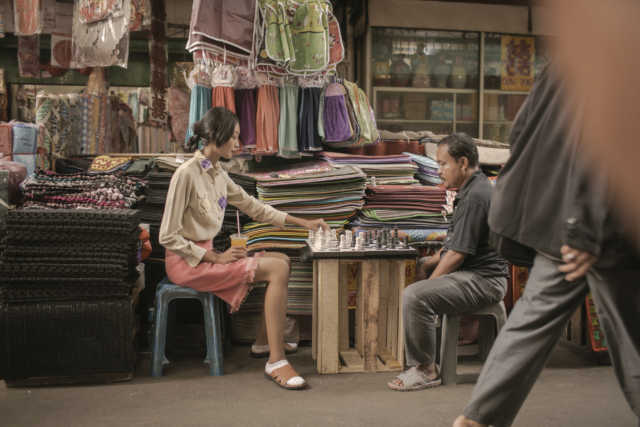 "Glodok Series" (2019)
A street vendor who sold bath mat and towels happily played chess with the model. A glass of orange juice in her hand and notice she's wearing the same kind of sandals as him. In this series, often Riop try to inject bits and pieces of the local fashion and put them on the models.
You are a filmmaker as well. Please describe how the process from still photography to filmmaking evolved for you.
When I was studying, I could get frustrated with only making one single picture, especially when I shoot on film. I already have a vision on how my images should look and I feel that some of my concepts would be better conveyed to the audience using moving images.
Do you use any digital platform to expose your film work?
These days, I am using Instagram and YouTube. Instagram is great because you can also use their carousel format to display multiple images. Usually my post would consist of 20 – 30 images and moving images.
Read more ...
[Help wanted]
Inviting volunteer staff / pro bono for contribution and translation. Please
e-mail
to us.