Set in a forest, "BOOTS" features a part-time karaoke store worker Ajisai (Ryo Ogihara), who lost her parents ten years ago. Kuko (Yuriko Kawasaki), Tsuyukusa (Natsuko Nakamura), Yoka (Ayumi Narita), Renge (Yoko Hasegawa), and Suzushiro (Ryosuke Isii) had plans to meet-up at a cottage house on the Christmas day. The next day, Yoka and Ajisai reunited at an abandoned station.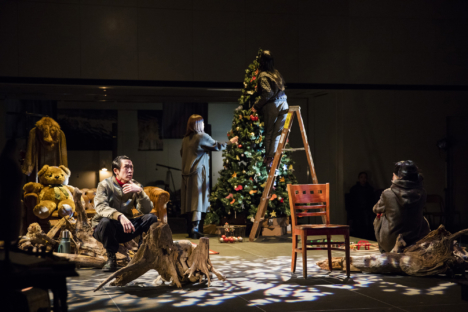 © MUM&GYPSY
By repeating the same speech and motion, MUM & GYPSY is famous in engraving memories in audience's mind and amplifying their emotional reactions.
As the rhythmic movements of monologues and dialogues switches often, the episodes change organically and visuals raise in the audience's imagination while they increase resolution. Heading to the end, the curtain closed with a refreshing aftertaste as if the thoughts of the six people had crossed.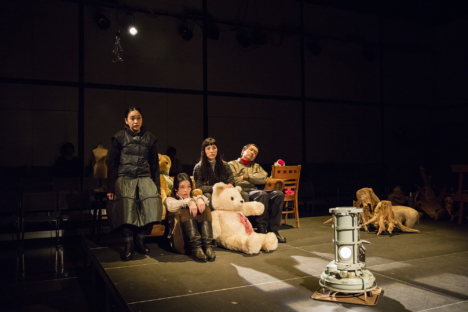 © MUM&GYPSY
Shoes are important to actors' costumes on stage. During the play for "BEACH" on November 16, 2018, Mr. Fujita said, "Trippen's shoes are very characteristic and may not suit everyone," but it's interesting to know how the selected shoes seemed to be a resolution to the actors. Placed at the centre spot of the performance, Trippen's shoes are also blended into the backdrops, including the forest and ocean scenes.
Furthermore, "BOOTS" employed shoes as a medium to propagate the pain of death to the audience. As a line in the prologue says, "Once upon a time, even this was a beast", the leather boots and an image of animal accident in the play overlaps and sticks on one's skin, which implies to a sensual illusion of death.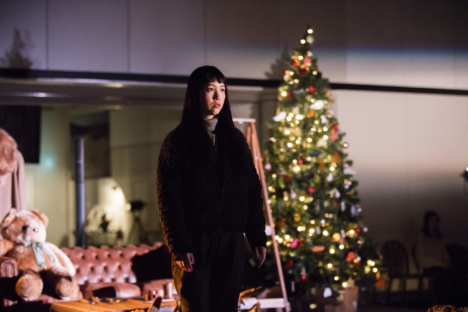 © MUM&GYPSY
The ever-presented, spectacular Christmas tree on the stage was decorated by ornaments using Trippen materials. During the sharing talk about performance on Christmas Eve, Mr. Fujita mentioned, "I have never been so conscious that leather is used [for boots]. There are probably scars on these ornaments, from when [the animal] was alive." His words contrived an image of the body damage and hurts behind a pair of beautiful boots, made by the hands of a craftsman stitching multiple pieces of leather together.
Mr. Fujita realized that Trippen, which allows customers to select shoes' materials and colors, also shares the element of "customization" in theater, and customised "BOOTS" is ensuring to please the audience with a certain 'je ne sais quoi'.
While holding links to the main set of "BOOTS"', "BEACH" develops as an entirely different story. While each play is undoubtedly enjoyable on its own, only by watching both shows consecutively can audiences experience the synchronization of the "BEACH" and "BOOTS" worlds. Triggered by the actor's shoes and gestures, scenes in "BEACH" that were burnt into memory through their refrains which may revisit the audience during "BOOTS". Both plays are currently on tour in four cities.
MUM & GYPSY × Trippen "BOOTS"
Date: December 21st – 29th, 2018
Created and directed by Takahida Fujita
Place: LUMINE0 (5F, NEWoMan Shinjuku)
Cast: Ryo Ogihara, Yuriko Kawasaki, Natsuko Nakamura, Ayumi Narita, Yoko Hasegawa, Ryosuke Isii
http://mum-gypsy.com
Text: Noriko Ishimizu
Translation: Zhuoyan Li
Photos: Sayuki Inoue


1
2
[Help wanted]
Inviting volunteer staff / pro bono for contribution and translation. Please
e-mail
to us.