THE 20TH JAPAN MEDIA ARTS FESTIVAL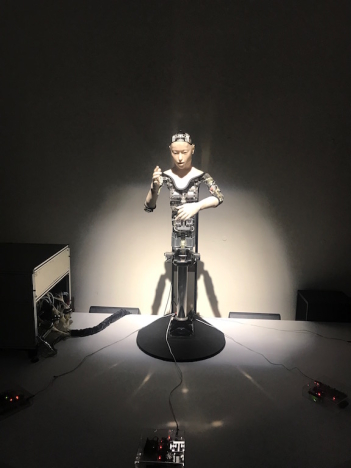 "Alter" Production team (Represent: Hiroshi Ishiguro / Takashi Ikegami Laboratory)
Another Excellence Award winner was an artwork called "Alter," this consists of a strange robot which is very different to some of the cute robots we have got used to seeing. Production team member Hiroshi Ishiguro explained that it has a face of indeterminate age and gender that "could be anyone's," and about the exposed machine parts that "even though they are exposed, that the control system is regulated by a complex neural network, which makes this work have life-like attributes. It is a challenge to the possibilities of to what extent a robot can express human-like life." There are sensors around Alter which detect light, sound and distance in the robot's surroundings, and which cause the robot to autonomously react to this data and move. Alter has smooth fingertips and lithe arms compared to other robots, and although its appearance is extraordinarily chaotic, it is an artwork that through Alter makes us think whether we can see a glimpse of something like humanity.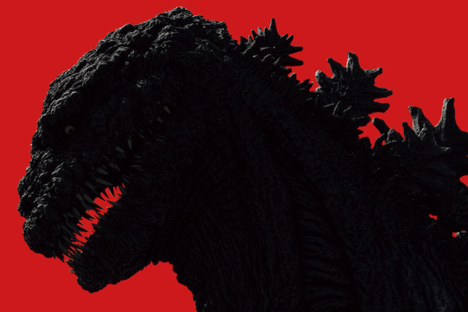 "Shin Godzilla", Hideaki Anno / Shinji Higuchi, © 2016 TOHO CO.,LTD.
This was the first new Godzilla movie to be produced in Japan in the last 12 years, and when it was released last year it attracted a lot of reaction. The movie "Shin Godzilla," that Hideaki Anno was both screenwriter and co-director for, was chosen for the prestigious Grand Prize award in the Entertainment category. This movie considers how politicians and bureaucrats tackle the problem of Japan being attacked by giant creatures like Godzilla. The story progresses from a largely political perspective, for example with the mobilization of the SDF for self-defense and the establishment of a national crisis center, following the emergence of a gigantic creature in Tokyo Bay. Its faithful portrayal of actual social conditions gives a documentary feel to a realistic disaster simulation that addresses the question, "How would the Japanese respond if Godzilla appeared in Japan today?" This approach, which deviates from the kid- or family-friendly style of past instalments, appeals to an audience segment that is less interested in special effects or monster flicks. For this exhibition trailers of the movie, information around the characters, and model templates from the second iteration to the fifth iteration were displayed.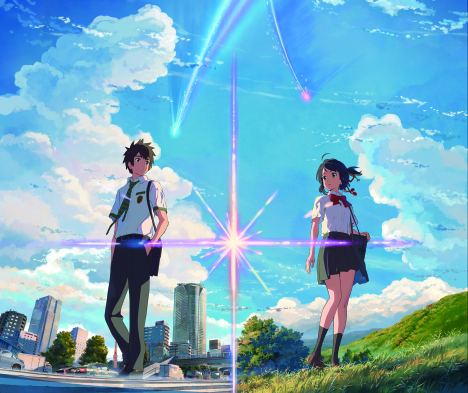 "Your Name", Makoto Shinkai, © 2016 TOHO CO., LTD. / CoMix Wave Films Inc. / KADOKAWA CORPORATION / East Japan Marketing & Communications, Inc. / AMUSE INC. / voque ting co.,ltd. / Lawson HMV Entertainment, Inc.
The Grand Prize for Animation went to "Your Name" by Makoto Shinkai, this movie was a massive worldwide hit in the latter half of 2016. This movie was a big shock to the animation world as through an interesting story that combined racing elements of youth culture and science fiction, Japan proudly showcased its animation digital technology which could create stunningly beautiful images. In this exhibition scenes from the movie were screened, and scenery panels of the city and countryside were displayed.
Art and technology have a mutual influence on each other, and this media arts festival is really a culture within which you can really see or feel this, which is achieved by increasing expressive artworks or even themes which are progressively cool science. These artworks, which incorporate the ideas of 'now' for these artists and creators, really seemed to point a way forward for our future.
The 20th Japan Media Arts Festival – Exhibition of Award-winning Works
Date: September 16th – 28th, 2017

Place: NTT InterCommunication Center [ICC], Tokyo Opera City Art Gallery, and other locations
Address:3-20-2 Nishishinjuku, Shinjuku-ku, Tokyo

http://festival.j-mediaarts.jp
Text: Aya Ono
Translation: Mike Sullivan


1
2
[Help wanted]
Inviting volunteer staff / pro bono for contribution and translation. Please
e-mail
to us.