Poetry Reading video: Yumi Fuzuki the first collection "An inappropriate myself, in an appropriate world"
While you publish poem collections, you do many readings. What would be a difference between expressing your feelings in writings and readings?
Sometime, it's a bit difficult for people who are not used to read poems to understand "poems is not something to tell information or meanings," so they stop reading. But if they are read aloud, entire poems are naturally accepted by audiences via voice. So I receive feedbacks like "When I heard of it, I was able to understand the meanings that I couldn't really get when I read your poems."
Poem has an aspect which "it's a word, but not word." I think that poem is a challenge to "scoop up feelings that I can't express with only words by using words," so I try to imagine to pass something that's not a word to audiences via voice when I read.
When I had a every Monday morning slot to read poems aloud at FM radio station, J-WAVE, I tried to avoid using words with difficult kanji and/or add subjects so that people who start listening to the middle of the show can understand it.

Poetry Reading video: Yumi Fuzuki, Hikaru Cho & Mayu Saaritsa @ Annikki Poetry Festival
You released Finland edition of your first collection in 2016 and did readings in Finland this June.
To promote the Finland edition release, I participated into two poetry festivals in Europe with body paint artist, Hikaru Cho. Although I read aloud my poems, no one translated Japanese writing styles, rhythm and/or nuance. But since the sounds of Japanese was new to these audiences, some told me "It's my first time listening to Japanese readings. It sounds so beautiful."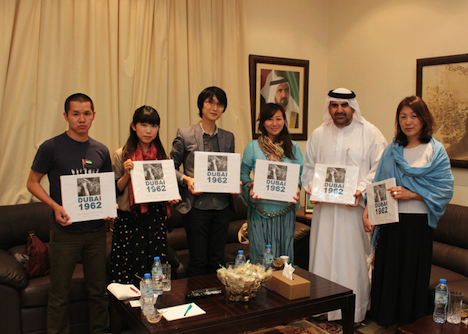 From "Dubai Kankaku Kiko" (Gentosha Plus), a serial essay about her Dubai stays.
You went to Dubai in 2015 as a poet. Any specific reason?
UAE has developed so much last fifty years. Since they can't really introduce their culture to other countries, I decided to join a program organized by Dubai cultural foundation to exchange authors between Japan and Dubai. Dubai's culture believes "literature means poems" and actively supports poetry readings. There are many children and their parents at poetry readings in Dubai, and they applaud, call names out and sing along during readings. Probably, they are well-known poets in their area so that everyone knows their poems. They hold a place the same as pop singers in Japan. I was amazed that poets are demanded this much in a different country.
Read more ...
[Help wanted]
Inviting volunteer staff / pro bono for contribution and translation. Please
e-mail
to us.