Tetsuya Noguchi is an artist who establishes a fascinating world of which is neither fake nor reality, through Japanese armed warriors created by the modern technical use of resin and plastic. He had an exhibition entitled "ANTIQUE HUMAN" at Gallery Gyokuei, Tokyo from December 15th to 24th, 2016.
Some pieces such as "CHANEL SAMURAI" (2009), a figurine that sports a CHANEL logo on his helmet and armor with a family emblem and "SAMURAI with a cat" (2008) have got attention through SNS. Especially, the exquisite quality of the art work makes some people misunderstand that it is a historical Japanese painting.
There are collectors of his works both inside and outside of Japan and solo exhibitions are highly evaluated. Now, his first collection of works "Where The Samurai Are" is on sale from Seigensha. At Gallery Gyokuei, some sculptures and paintings and new pieces created for the exhibition were exhibited.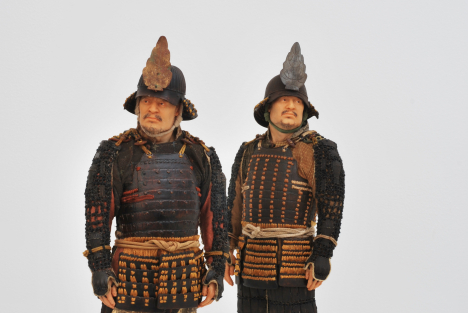 "Avatar 1・2" Tetsuya Noguchi (2016) © Gallery Gyokuei
Sometimes, he paints very similar portraits on purpose to show their blood relation. Even though he is supposed to paint the same person, he represents the particular person very differently based on painter's individuality and his purpose. Also, each different samurai who renders distinguish service represented as one samurai. On the other hand, one samurai shows up in episodes of several people. It is very complicated. For the piece "Avatar 1・2" the two exactly alike human figures who wear different armors are created. Their facial expressions, which are difficult to clearly interoperate, seem to get tired and annoyed by the unknown historical fact.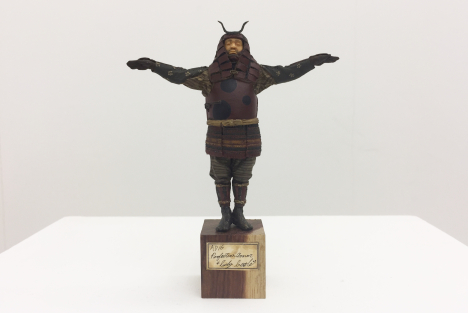 "Lady Beetle" Tetsuya Noguchi (2016) © Gallery Gyokuei
In this piece, a middle-aged samurai looking up at the sky puts a ladybug-like armor on with a helmet which has antennas. The title of this piece is "lady beetle." This seems to be created based on the image of a ladybug with beautiful patterns, which flies to the sun. At first glance, it's difficult to notice the difference because of the fiction thoughtful made. This piece makes us go back and forth between reality and fantasy because as a historical fact, helmets which symbolized animals did exist and perhaps the ladybug armor and helmet might have existed too although I mentioned it's fiction.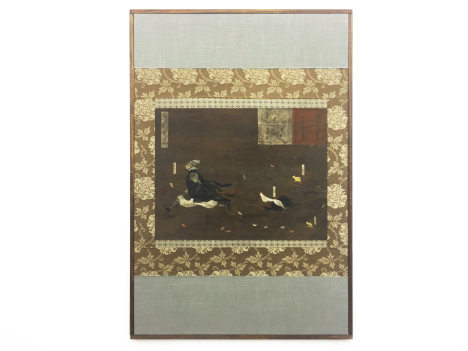 "Chojin-Torikabuto" Tetsuya Noguchi (2016) © Gallery Gyokuei
All descriptions for this exhibition are written by Tetsuya Noguchi. For example, a painting entitled "Chojin-Torikabuto" is explained as "When an innocent man caught in the tail offers a pure prayer to Keitou Taisha shrine, Chojin-Torikabuto will come with blowing lotus petals." He tells an imaginary history through fake descriptions called dummy caption as if the imaginary person would have existed. The painting also might confuse viewers as a historical Japanese painting because of the contents which seems to span a long history.
His world is both old and new. In the imaginary world which seeks the truth, he depicts universal human beings which are unchangeable with some jokes. His artworks make us realize that the essential part of human beings do not change even if the time changes.
Tetsuya Noguchi Exhibition "ANTIQUE HUMAN"
Date: December 15th – 24th, 2016
Opening Hours:10:30-18:30
Place: Galley Gyokuei
Adress: 6-8-3 Minami-Aoyama, Minato-ku, Tokyo
http://gallerygyokuei.com
Text: Kengo Michizoe
Translation: Hanae Kawai

[Help wanted]
Inviting volunteer staff / pro bono for contribution and translation. Please
e-mail
to us.