"cyan", 2015, clubFm
You're an illustrator, but there are elements of graphic design in your graphic depictions, and there is a rougher hand-drawn style reminiscent of modern French artists like Chagall and Matisse in your work. Has this always been your style?
When I first started out, I liked manga by Shigeru Sugiura and early fashion illustrations by Warhol, so I used them as references for hand drawings. In addition to those influences, I played around with Photoshop and graphic tablets, and realized that I wanted to "simplify" my style. I then incorporated aspects of graphic design — the acme of simplification — using Illustrator and working with a mouse.
If I had to categorize my style, I think it can be called a result of manga + fashion + graphic design. (Regarding the rougher touches in my work, it's something I picked up when I was experimenting, and attempted to replace pencil drawings with graphic components. But as you've rightly pointed out, I think I was influenced a great deal by Matisse.)

Illustration for "HAIR MODE", 2015
Are there any memorable experiences among your past work? Has anything influenced you?
I did illustrations and design work for a column in a monthly professional magazine for beauty salons called "HAIR MODE". That project, which looked back on the history of beauty (it was very serious), had a profound influence on my creative outlook. Everything from a single hairstyle to the puff of a skirt has a historical backdrop, so I would do research on period fashion every time to avoid making errors (and to search for new ideas). I've become accustomed to thinking about the "meaning of forms", and my radar for little facts like those you mention in the next question has grown stronger.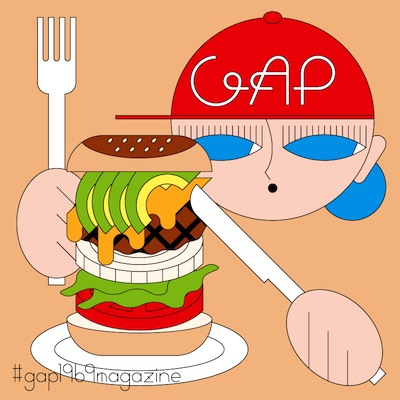 "#Gap What day is it today?" campaign, 2016, GAP Japan
I found your Instagram very interesting with the little facts accompanying your illustrations, and not just for the GAP Japan (#Gap What day is it today?) campaign.
I want my illustrations to be as terse as possible. But it's hard to maintain such a cool demeanor, and my talkative side peeks through sometimes. I hope people enjoy this different side to my work as well, like dessert after a delicious meal.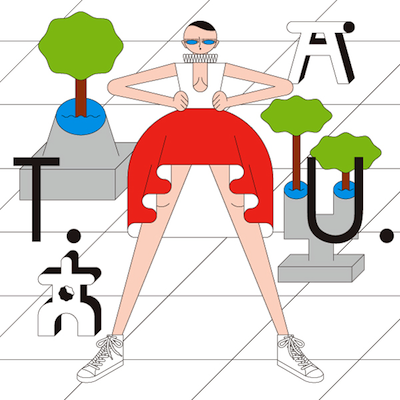 "tEIEN", 2016
Do you have any future goals (or any announcements to make)?
I'd like to try creating larger works that are 3m, 5m, to 10m in size (including projection mapping and large Buddha statues). At the moment, I don't have the funds, the skills, or the connections — nothing. It's just a dream, but I'm looking forward to receiving an invitation to do an advertisement or an event!
Text: Ayumi Yakura
Translation: Makiko Arima

[Help wanted]
Inviting volunteer staff / pro bono for contribution and translation. Please
e-mail
to us.