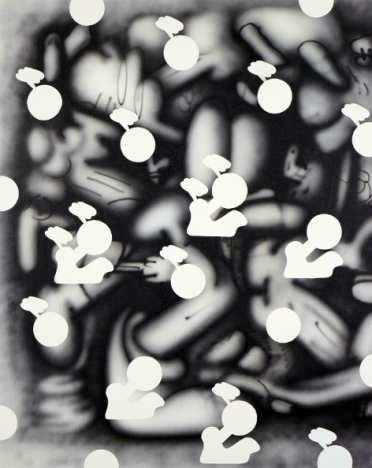 © Lung
What were you absorbed in when you're a teenager?
Mostly masturbation, art and recording noises. I always wanted a band to play in, but I'm kind of glad that came later, as I mainly experimented with recording things and made some pretty awful paintings, much the same as today in fact. The only difference is I have to talk about it sometimes now, where as then it could just be a hobby. In my mid to late teens I got into metal, and metal and thinking don't mix, I've read loads of books attempting to approach metal academically, and I stand by my initial statement. If your doing metal right, you don't do anything else. So there was a definite black period when looking back.
The best time I can remember from then was one summer when I was maybe 15/16 years old, recording drums and making sounds on a four track. I didn't see another face apart from my mums for 6 or so weeks. I try and retain that feeling because it was for nothing apart from learning, as soon as there is a client, buyer or deadline attached to things it becomes work and somehow not as useful to me in the long run. That's not me shirking the system or trying to be clever, I'm just not good at working like that. The only thing I learn is not to do it again. So making stuff for no reason or being able to make things for no financial gain is the thing I still aspire to and I see that as an achievement in 2016. The more that goes unseen or unheard probably the better for everyone. I used to envy people in prison because they had all that time to think and make things. If I ever have money I'll make a cell and have someone slide food under the door. I would cut a bigger hole to one side to fit through a tofu burger, I would need them occasionally.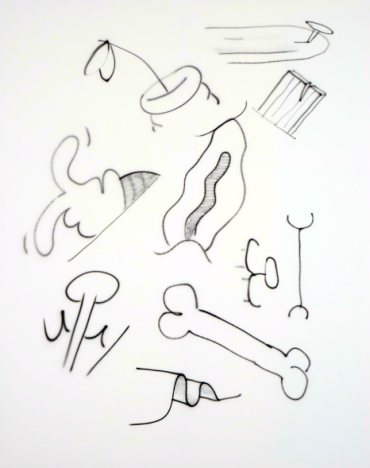 © Lung
Tell us about people, art, music or anything that interests you right now.
In the last week: Musically I'm buying a lot of "footwork", it's the closest I have heard to ridiculousness in sound. I've been a big fan of ghetto tech and juke for years and the latest incarnation sounds like a kind of proto-future sample exercise that hits everything just right, it's not cool, it's not anything other than reckless samples triggered without much pre thought. I don't dance to it (anyone who can should be rewarded then sedated), so the reason for me listening to it is maybe different from its hardcore fanbase, the reason I like it I think is it embodies the same ethos as what I try with painting, load up the samples and then wack the MPC until you've filled up 3 minutes of sound. It's like a hundred jingles sped up and chopped into bits. Its a bit like Stockhausen chopped up and compartmentalized in the amazon warehouse. Or a skipping CD of 90's midi jazz. It's dumb but clever.
I've recently got into hiking through a friend over the last year and I am very much into it, I've just got off the phone to him, he's been in Mongolia for three months and just got back, he is a constant inspiration because he epitomises the ethos of dumb but clever, he is footwork personified. We have scaled icy mountains and walked across the UK, and he never ceases to amaze me with his carefully measured stupidity. We have just planned a trip to Nepal which will be on the right side of acceptable.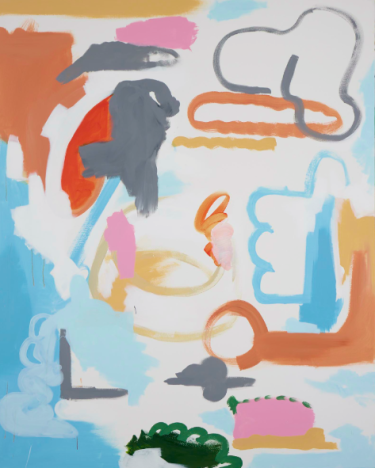 © Lung
In the last week I've watched tonnes of standup every night/morning when I go to bed. Returning to it from when I use to watch it growing up, I'm not sure I've laughed once but I'm into watching the process and systems of performing, the become interesting when you watch a few sets a night by different people for extended time, you see the craft and non craft at the same time. The acting involved is somehow unsettling when the currency is humour. I find it a strange source of entertainment and slightly creepy. I think I'm interested because the majority of it is extremely contrived but done in a way that they have to hide the planning for it to seem a success.
I've just made a table but its too long to get home, I've never made one before and probably won't ever again.
Do you have any comments for readers?
Don't be precious we are all going to die.
Don't judge me when i say flippant things like that.
Or that.
I feel like I'm going to puke.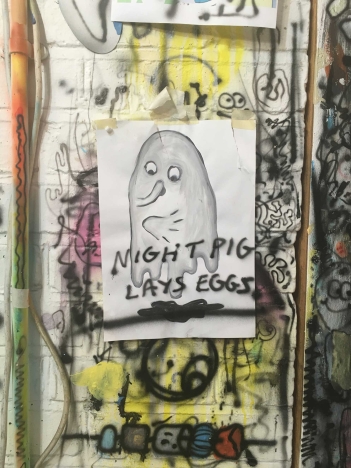 Main visual of Lung Exhibition "Night Pig Lays Eggs", CALM & PUNK GALLERY,Tokyo © Lung
And…. recently I heard the word -"the Comic Abstraction movement". Do you know this word? Just I'm curious.
No but I imagine its mangled cartoon business, I'm not great with movements or genres, I can't even find my library card. There are a tonne of people using comic and cartoons as source material and have been doing for decades, but now it seems more than ever the graphic is twisted into new resource for graphics/art, it seems like a natural place to work in and from, its like a reflection of a reflection, traditionally the comic look is one step from reality and by referencing them you have a whole vocabulary right there. Its the most strangest form of entertainment when you look deep into it, there are rules are still being followed decades after they first appeared. Its a creepy world. Now you have artists and book makers who are heaping layer upon layer making it even more of a muffled graphic language, its exciting to look at and watch and even the bits of it that don't grab you are still interesting as a kind of like a spot the reference exercise, there's a lot of it so its become a thing in itself, like rubbish thrown into the sea all clumps together to form a land mass and eventually given a name. Sometimes I'll look at a traditional cartoon from 60 years ago and I'm convinced its come from a bad place and more toxic and weird than any new wave version since. I think I should book in with a professional. Or maybe you should for asking the question in the first place. I don't feel well.
Lung Exhibition "Night Pig Lays Eggs"
Date: October 15th – 30th, 2016
Opening hours: 12:00 – 19:00 (Closed on Monday, but opened on 30th)
Opening reception: October 14th, 19:00 – 22:00
Place: CALM & PUNK GALLERY
Address: 1F Asai building, 1-15-15 Nishiazabu, Minato-ku, Tokyo
Tel: +81 (0)3 5775 0825
Admission free
http://www.calmandpunk.com
Text: Noriyuki Abe

[Help wanted]
Inviting volunteer staff / pro bono for contribution and translation. Please
e-mail
to us.