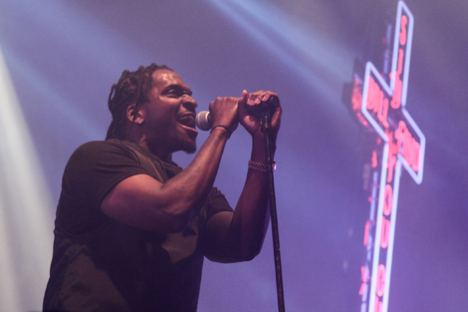 Pusha T
Pusha T, just one man and his (Dj) on stage… that is the only thing an artist like Pusha T needs to succeed in a festival that is know for the participation of big bands ( I mean in terms of members). Pusha T has a bag full of rimes, charisma and talent, so there's no need for anything else to make up the space that this powerful hip hop artist fulfilled with his presence. A deep bass line for a sharp voice and the energy of the artist that left the audience exhausted with his performance -"Untouchable".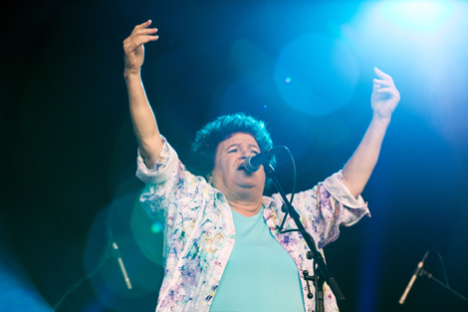 Selda Bağcan
Selda Bağcan, the veteran turkish singer was able to get the people dance and enjoy at the RayBan stage, the singer felt like home supported by lots of Turkish fans that came to the show to see their legendary star. Selda's concert was so magical that surprised a lot of people that never heard about her before. But the truth is that Selda (now 67 years old) is an institution in his country where she published a big amount of records from folk-rock to psychedelia and what is called Anatolian Rock (Psychedelic) progressive Turkish folk music and also a rebellious figure known for hers sharp protest lyrics.
…I guess if you are reading this chronicle you are wondering how it was the Radiohead concert (I must say that at the same time there was other bands that were more appealing for me but yes, I went to check Radiohead before they started. I cannot tell exactly how the concert was because it was a crazy experience just to get there, there was too many people and it was hard to even see something… also i think that many people that went to see the band was there only to talk about it later or to take the picture for instagram, cause the audience (at least where I was) was talking so loud during the show, so it was a real annoying situation…after a few songs there it was time to leave the place just to be able to breath.. on my way out that it took about 30min walking through the crowd I hear the classic "Karma Police" and I was already far out in a place where you can actually see everything better so I was able to enjoy that song… but that was my whole experience with Radiohead… I think there has to be a lot of reviews of that concert on internet:)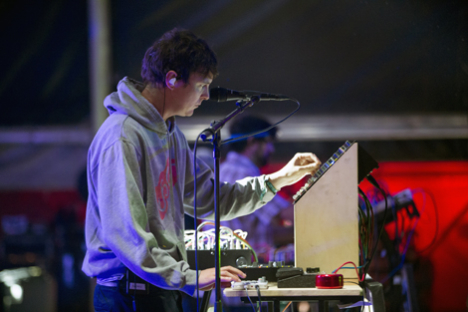 Animal Collective
Animal Collective, is one of those bands that have influenced so many groups around the world with their colorful psychedelic music. We cannot say yet that the band is a classical, but it definitely had a big impact on many independent musicians in the sound and their performative style, something similar that what it happens with Black Dice. Animal Collective is a band that have a really powerful approach as an art project itself creating a discourse that is not only based on the music but the image, the design and aesthetics, so watching Animal Collective's is always so much worth it and it was this time at Primavera once again.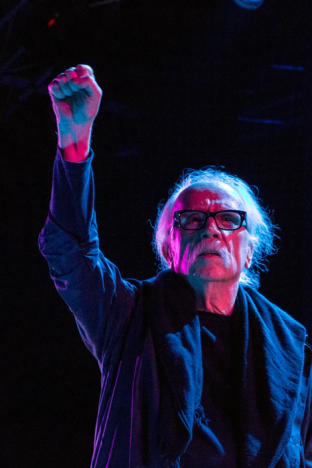 John Carpenter
John Carpenter, the legendary Filmmaker transported us to the set of his movies with a and those classical soundtracks that we keep in our memory. Carpenter was solid on stage and looked like a badass grandpa delivering speeches, some jokes while together with a young band (his son -Dave Davies- included) delivered some  80's Rock attitude and some primitive electronic to accompanying creating atmosphere of suspense that was supported by the images of his movies on screen. Really wonderful!
This year, Primavera was really special and fun, with a great balance between the new and the classic, the local and foreign and a special care of the line-up, plus, during the festival you can really enjoy the best weather of the year. We just can wait to see next year line-up and enjoy another Edition of this epic Festival.
Primavera Sound 2016
Place: Parc del Fòrum, Poble Espanyol, Barcelona
Date: June 2nd – 4th, 2016
http://www.primaverasound.com
Text: Julio Cesar Palacio
Photos: Primavera Sound


1
2
[Help wanted]
Inviting volunteer staff / pro bono for contribution and translation. Please
e-mail
to us.