This year edition of Primavera Festival will remain in our memory because of many facts: one of them is the real diversity of the music line up, and I can say this after attending the festival for the last 12 years and writing about the Festival for almost 10. I mean this because for the ones that doesn't knows about the Festival, many people will describe it as a indie-rock related kinda festival ( which in fact it was and still being in about 60%). But the world-music, hip-hop, flamenco-rumba, avant-rock, little bit of jazz and IDM and Electronic Music now have an important parcel in the festival line-up and on the stages. So, I found this year to be one of the most equilibrated by days, so there was always something special to watch everyday and it was difficult to say which day was the better one.
Another fact was that depending on your musical taste and the big amount of program is on, this year seems that there was one Primavera for each of us. If at the end of the 3 days you happen to found some of your peers, they will tell you about a completely different shows they saw and really like each of us attended a whole different festival. 
During my years of writing here about the Primavera, I tend to be positive and found the most joyful experience to share, even thought I have been getting more specialized in sound art and "experimental" music, which is some form that is not very represented on the Festival, but I can see the joy and happiness that this Festival brings to the city and to the people who come from everywhere to attend it. Primavera has won that prestige and you can feel it not only on the public but also on the artist and the way they perform… the feel is something special and important, so that hour they gonna be on stage is gonna be really intense and you will see artist trying to give their best (for the most part).
This year unfortunately I couldn't take pictures at the pit because there was too many photographers (due to Radiohead concert I think), but this wasn't that bad after all cause for the first time and many years I didn't have to run from stage to stage and instead I was able to watch more and full concerts.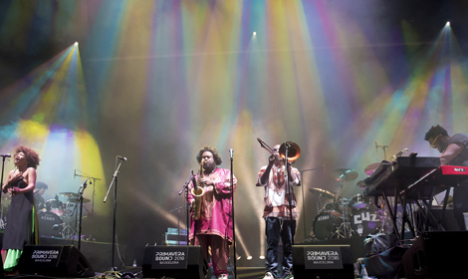 Kamasi Washington
Here I'm going to name some of the most special concerts in this Edition of Primavera Sound:
Kamasi Washington, the festival started really powerful with the presence of this great Saxophonist at the Auditorium. Kamasi was accompanied by a excellent band on stage and they manage to deliver one of the best performances of the whole festival with their mixture of Jazz Soul and Funk.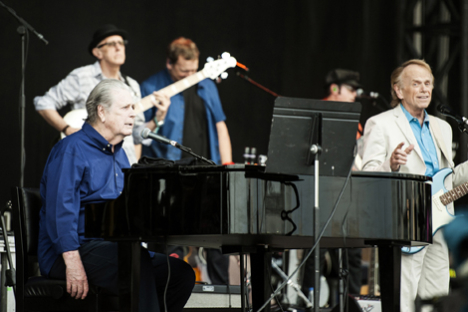 Brian Wilson
Brian Wilson, this concert was truly a gift, to be able to see a "Beach Boy" performing the classic "Pet Sounds". Its true that Mr.Wilson is obviously not in his best shape (but we all know the facts) but leaving that apart and focused on the fact that the music is emotion, memories and feelings, we couldn't be more happier to listen to this happy songs in an environment so special, near to the beach in an open air stage. Joyful anthems like "Wouldn't It Be Nice", "God Only Knows", "Good Vibrations", "California Girls", "I Get Around" and "Surfing USA", where completely enough to make this concert remarkable and a beautiful experience.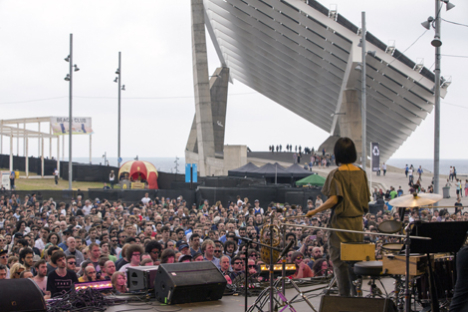 Boredoms
Boredoms, this was particular exciting, because the Japanese band lead by Yamataka Eye are a big institution in the experimental scene for so long with many projects and their music/sound/art. Also the drummer Yoshimi P-We is a very influential musician with their other projects OOIOO and Free Kitten (together with Kim Gordon). So the Boredoms are a seminal band and one of the jewels of this year Festival. This year the band performed in the big Primavera Stage around 6pm on Saturday, perfect time and perfect atmosphere to be delighted by their beautiful compositions lead by Eye's screaming trough vocal effects and Yoshimi creating sound by hitting some metal bad and later with arrhythmic percussion the concert was evocative and marvelous just like their were some invoking  Gods from the ancient Asia.
Read more ...

1
2
[Help wanted]
Inviting volunteer staff / pro bono for contribution and translation. Please
e-mail
to us.