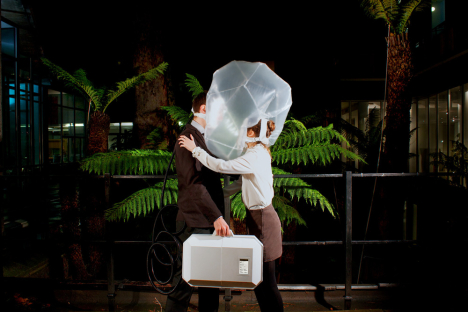 "The Extreme Environment Love Hotel, Carboniferous Room", 2012, © Ai Hasegawa
Are there specific points you consider or "bars" that you set for yourself when you create ethical works that question our understanding and sense of values, such as The Extreme Environment Love Hotel, Carboniferous Room"?
This piece does not put forward a sense of values as aggressively as the Dolphin piece. I was trying to think up of methods to shake up our sense of values while also focusing on reality and seeking empathy. And I wondered, "what can I do to hold useful discussions with many people, and what does it mean to be neutral?"
What I've gained the most from this piece is the realization that "everyone is biased, even scientists". Everyone holds layers of prejudice, and even if you recognize that you are biased in one area, it is often difficult to realize your prejudice in others. It's difficult to realize such prejudice without others pointing them out to you, and perhaps that's why discussion is necessary.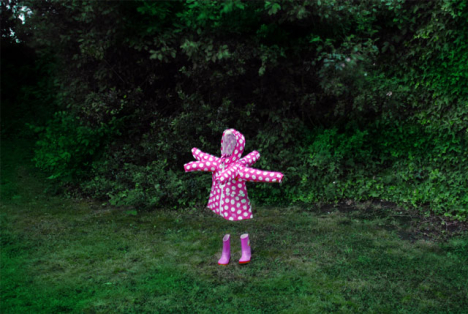 "Shared Baby", 2011, © Ai Hasegawa
What do you do when you are not working on your work or researching?
In general, when I'm not actually creating things, research takes up my time. It encompasses everything—from books, the Internet, mangas, movies, and anime, to going to events, taking trips, eating delicious meals at restaurants, and even going on dates, because I don't know what will turn into an idea for my work. But I do try to experience new things. Last year, I tried ice hockey, bouldering, sailing, and snowboarding. When I was in Boston, I exercised a lot.
Are there any "issues" that interest you at the moment?
Evolution and instincts (especially related to desires for sex and food) have always intrigued me. I'm interested in questions that have to do with humans, where instincts come from, nature vs nurture, and genetics vs. environments. More recently, I'm especially interested in aging populations and declining birthrates. I'm also interested in democracy. And in the area of science technology, I'm interested in gene editing technology.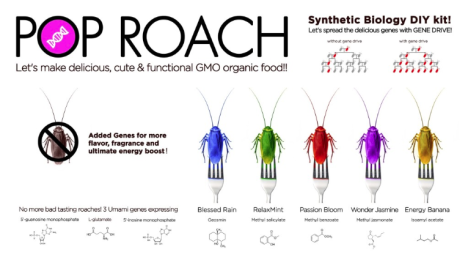 "POP ROACH", © Ai Hasegawa
Lastly, can you tell us about any upcoming projects?
For now, I'm working on developing my conceptual piece "POP ROACH"—which uses synthetic biology to turn the universally loathed cockroach into a food of the future—to the next level. Also, I want to advance projects that have to do with designer babies and gene therapy. I'm taking DIY bio classes, so I also want to create works based on my studies in that area.
The 19th Japan Media Arts Festival Exhibition of Award-winning Works
Date: February 3rd – 14th, 2016
Opening hours: 10:00 – 18:00 (Open until 20:00 on Fridays. Last entry 30 min prior to closing)
*Closed on February 9th
Place: The National Art Center, Tokyo
Address: 7-22-2 Roppongi, Minato-ku, Tokyo
Other places: TOHO CINEMAS Roppongi Hills (6-10-2, Roppongi, Minato-ku, Tokyo), SuperDeluxe (3-1-25 B1F Nishi-Azabu, Minato-ku, Tokyo), Institute Cervantes Tokyo(2-9, 6 bancho, Chiyoda-ku, Tokyo)
*Closed days and opening hours vary according to venue.
Admission: free
Organized by Japan Media Arts Festival Executive Committee
Tel: +81 (0)3 5459 4668 (Information center of Japan Media Arts Festival Exhibition of Award-winning Works/19:00-20:00)
http://festival.j-mediaarts.jp/en
Text: Aya Shomura
Translation: Makiko Arima

[Help wanted]
Inviting volunteer staff / pro bono for contribution and translation. Please
e-mail
to us.