Residence Programs as a Medium.
Artist-in-residence programs, which are sometimes referred to as residence programs, originally aimed to provide professionals in certain fields to leave their ordinary work environments for a designated period of time to focus on their research. However, these programs evolved and took shape as a platform for the arts, including contemporary art, in Europe and the US in the 1960s. In Japan, this experimental movement was active in the 90s, especially in regional areas. However, programs focusing specifically on the arts within Japan did not develop much.
Against this backdrop, a group of curators and individuals working in the arts formed Arts Initiative Tokyo (AIT) in May 2002. AIT created a platform that didn't exist in Japan at the time, which included educational programs, residencies, and exhibitions that came together organically. Since then, AIT has been providing a space in flexible and free formats for people interested in contemporary art but do not know how to get involved. The initiative has welcomed over 70 artists and curators, and in 2011, started a new bi-national exchange residency program as part of the artist-in-residence programs supported by the Japanese Agency for Cultural Affairs. In its first two years, AIT invited artists from Scotland and Mexico. From Japan, artists like Taro Izumi, Masahiro Wada, and Hiroharu Mori have resided abroad through this program. In 2014, Poland was selected as the third partner country, and curator Anna Ptak, along with contemporary artists Franciszek Orlowski and Jan Szewczyk came to Japan. In July 2015, with aid from the Backers Foundation — a longtime supporter of AIT — the program teamed up again with Poland. This time, the organization invited Marianna Dobkowska, curator of the residence program at the Centre for Contemporary Art Ujazdowski Castle (CCA). I caught up with her as she was wrapping up her one-month stay in Japan.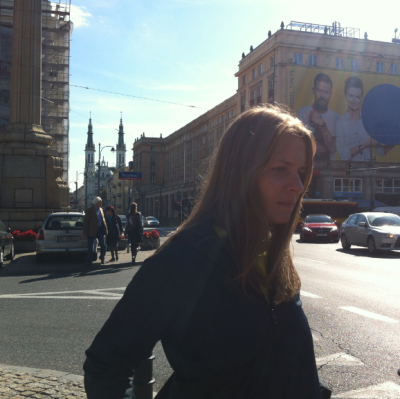 Marianna Dobkowska
Tell us a bit about your background.
I was born in the southern part of Warsaw, surrounded by nature. I studied art history at the University of Warsaw, and curating at the Jagiellonian University in Krakow.
When did you become interested in art? Was there a specific instance that made you interested?
My father was an artist, which may have had an influence on me. In the early 80s, Poland was under martial law, and artists at the time resisted by forming underground organizations. My father's studio was located in a building that housed artists and critics, so I felt like I was always surrounded by artists and people associated with them. Art was not a particularly unique or complicated thing, and perhaps that's why it became a part of me so naturally. When I was growing up, I went through a period when I wanted to become a veterinarian. But when it was time to apply to universities, I took exams for both philosophy and art history. I received the top score for philosophy, so everyone around me recommended me to pursue philosophy. I decided to study art history, however. In hindsight, I regret not having studied both. Of course, at the time, I thought I wanted a job that had to do something related to art. Still, I wasn't interested in becoming an artist. I saw my father taking on his creative activities so diligently and with such self-discipline that I probably felt like it wasn't a realm in which I could set foot so easily.
At university, you studied art history and then curating. Was that a natural progression?
CCA, where I work in Warsaw, held considerable power in the 1990s. The fact that it was the first organization for which I worked probably influenced me greatly.
Compared to other art organizations in Poland, what was special about CCA?
In Warsaw, there are traditional art museums, such as the National Museum in Warsaw and the Museum of Modern Art in Warsaw, but programs at these museums tend to be similar. CCA was established in 1985 as the first center that focuses on contemporary art. The expansive art center located within a 13th century castle functions in multiple ways, including as exhibition spaces, a library, a café, and a theater. It also houses a permanent collection, of course, but that's not the aim of CCA. Its main mission is to be a space for both producing and presenting art. I think that's what sets it apart from other art organizations. Based on the philosophy of the founder of CCA — who passed away two years ago — the center was modeled after the Institute of Contemporary Arts in London. Therefore, its activities span a wide range of subjects from exhibiting Polish artists, naturally, but also to theater, dance, international exhibitions, educational programs, and even publishing.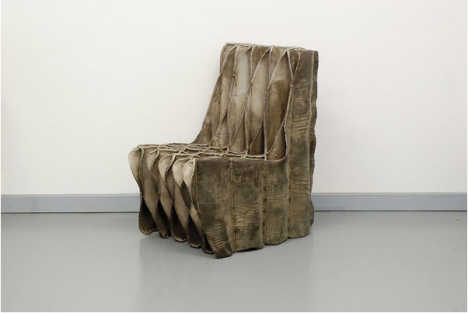 Rooted Design for Routed Living project, 2008-2010, Jakub Szczęsny, Photo by Nicolas Grospierre, Courtesy of CCA Ujazdowski Castle and the artist
And that's where you work as the curator of the artist-in-residence program. What kinds of projects have you coordinated?
The "A-I-R Laboratory" program was established in 2003, and welcomes around 30 residents a year. I've been involved since 2004, and I believe that the 11 years of implementation and experience have been fully integrated into the residence program. A single project can last as long as 2 years, and we've worked with over 100 artists and designers from both within Poland and abroad.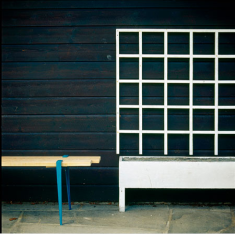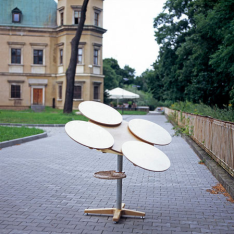 Rooted Design for Routed Living project, 2008-2010, (from left to right) Trond Nicolas Perry, Oscar Magnus Narud, Photo by Nicolas Grospierre, Courtesy of CCA Ujazdowski Castle and the artists
For example, the joint project between Norwegian and Polish designers, "Rooted Design for Routed Living," examined material culture in the 2 countries and entailed 2 years of production and research, which began in 2008. The project developed while seeking new options that could be proposed to the world of design, which deeply rooted in tradition. Nordisk kunstnarsenter Dalsåsen (NKD), which is located in the village of Dale on the western coast of Norway, partnered with CCA, which is located next to a park in central Warsaw. In these two geographic locations and facilities with completely different regional characteristics and cultures, participating designers sought the essence of their respective cultures, and created specific strategies and techniques through their residencies. In 2010, the project held an exhibition to showcase the project outcomes, and a book was published as well. The designs that came out of this project belong to the artists, but CCA houses the prototypes produced during the residency. The designs were presented to a furniture maker, and some of them were even used to create actual pieces.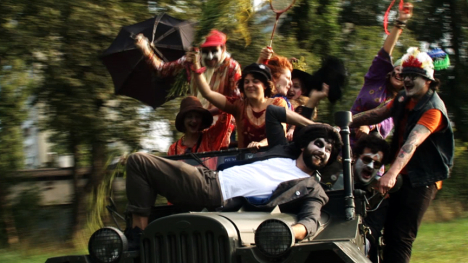 Tropolicalia, Christoph Draeger, 2007, Courtesy of CCA Ujazdowski Castle and the artist
Another project that has left a strong impression on me is "Hippie Film ¬— Tropolicália" by Swiss artist Christoph Draeger. He resided at the center for three months during the summer of 2007 when he focused on completing the final piece in his video trilogy. In his work, Draeger envisages an imaginary hippie movement: "Tropolicália." The piece is a satirical take on the "Summer of Love", the socio-cultural movement that started in the US and spread throughout the world in 1967. It is also reminiscent of the late 1960s countercultural movement "Tropicália" in Brazil, which chiefly revolved around music, but also influenced art, theater, and film. The project also actively involved the local community, by holding peace protests during military parades that were still held in Warsaw during Draeger's residency, organizing music festivals, and opening psychedelic clubs. All of these activities were recorded, which were then produced as a DVD and a book, and an exhibition was also held. It is a project that covered a range of activities, flourishing from an idea, developing into production, and continuing into post-production, screenings and exhibitions.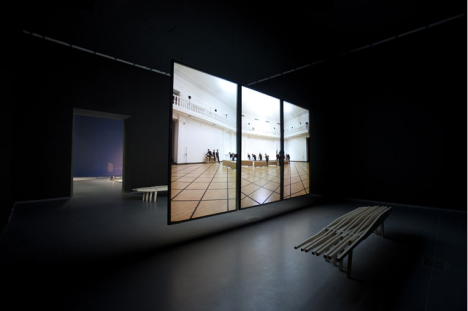 The Allies, Jesse Aron Green, 2011, Photo by Michał Grochowiak, Courtesy of CCA Ujazdowski Castle and the artist
An exhibition, held at CCA from July to September 2011, showcased work produced by Jesse Aron Green during his residency. The story is based on and is a reenactment of the 1917 Battle of Cambrai during the First World War. The psychoanalyst Wilfred Bion, a leading expert on the theory on group dynamics who had lived during the war, plays a crucial role in the piece. In an interview for Artwrit, Green acknowledges that violence and war, as well as his insights on psychoanalysis influenced this piece. At the same time, the artist shares that the piece could also have stemmed from his thoughts on relational aesthetics, which compels him to consider the linkages between his own creative activities as an artist and the contemporary history of theory.
In addition, a recent project included "The Allies" by American artist Jesse Aron Green.
This project, which developed out of a partnership with the artist who resided with us for three months from the end of 2009 into 2010, is an example of a wonderful collaboration that formed despite a limited budget and a tight production timeline. Many people appear in this piece, and the casting process, which entailed both professionals and amateurs participating in auditions and workshops, was akin to building a community — it was very complicated and took a lot of time. At the same time, however, it was a project that received support from various people and organizations. Warsaw's historical Grand Theatre offered its space for free, and an excellent cinematographer lent both skills and equipment to the project. I look back of this endeavor as a kind of "love project": it was brimming with relentless positive energy from the artist, staff, and supporters "to drive the project forward." This is why such wonderful results came out of this project.

The Allies, Jesse Aron Green, 2011, Photo by Michał Grochowiak, Courtesy of CCA Ujazdowski Castle and the artist
When inviting new artists, do you already have a general direction in mind? Is there anything you keep in mind as a residence program?
It depends on the project, but we try to provide an environment with as much freedom as possible so that the artist can concentrate on the project. We never coerce artists into producing, because we want the residents to create naturally in their own styles and rhythms. We often have existing relations or links with the artists we invite, and it's quite rare that we invite an artist with whom we aren't acquainted. Most of the time, we know about them through studio visits and their other projects. There are also cases where partner art organizations, such as the Mondriaan Fonds, recommend residents. However, many of the projects have small budgets, so it's also often the case that we first consider what can be done within a given framework. Still, that's not always a restriction, because we can find more funding as we continue the project, if necessary.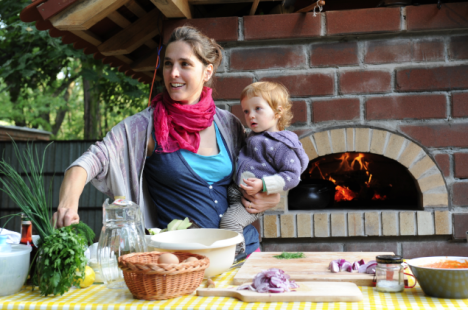 Bread and pizza baking oven project, Juliette Delventhal and Paweł Kruk, 2011, Photo by Michał Grochowiak,
Courtesy of CCA Ujazdowski Castle and the artists
While providing as much freedom as possible for the resident, working together, you seek and draw out the best direction for the project.
That's right. I believe residencies are a medium. That's why the projects are so different from commissioned works. Ideas burgeon through the process of interacting with the artists who stay on site, and by understanding their thoughts and recognizing what they want to do. Of course, there are artists and projects that come in with preexisting ideas, but we never require clear, detailed plans from the outset. A good example is Juliette Delventhal's case. Delventhal is a chef who has resided at CCA twice, producing two different projects. One was "We're Like Gardens," in which she created a sustainable permaculture garden based on the experience that CCA's location and environment — almost inside of a park — provide.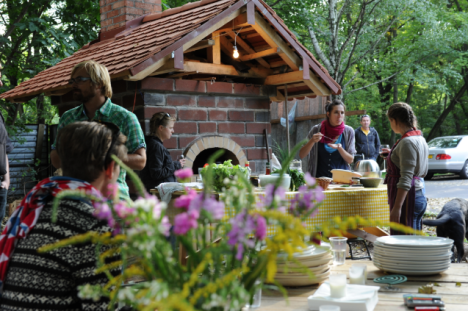 Bread and pizza baking oven project, Juliette Delventhal and Paweł Kruk, 2011, Photo by Michał Grochowiak,
Courtesy of CCA Ujazdowski Castle and the artists
The wonderful "Bread and pizza baking oven project" was Delventhal's second project. It linked with Warsaw's community by connecting with farmers and produce from local markets. It also made us think about local foods, and from there about the earth that keeps us alive. I also think Martin Kaltwasser is an interesting example. He is an artist who designs public spaces and deals with social issues. To be honest, I had no idea what kind of project his work would turn into. But the first thing he did was conduct interviews of CCA staff. Based on replies to the question, "what's missing here?" he created "The Eldorado Summer Resort," which set up several recreational facilities in the CCA entrance space. The project offered a place where staff and guests could actually experience recreational facilities, such as a pool and an open-air theater. An amazing use of space was realized, and materials used for it consisted almost entirely of waste from the center's exhibitions.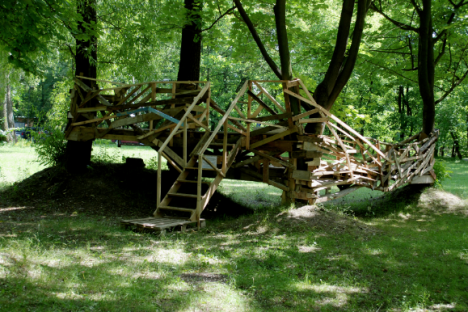 Platforms, Folke Köbberling & Martin Kaltwasser, 2009, Photo by MG, Courtesy of CCA Ujazdowski Castle and the artists
"Residencies are a medium" is an interesting observation. According to Trans Artists, over 1,000 residence programs exist. Why do you think residencies continue to increase? And why are residencies necessary?
I think for an individual to move away from one place to another, and for that individual to consider the context of the different perspectives during this transportation is beneficial to both the artist and the local community. Those who stay at CCA all come with their own views, but since they are so different from our existing perspectives, they realize things that we usually don't, and they help us realize that. Also, the time and space provided by residency programs offer opportunities for artists to create something new. It's an environment for focusing on their projects, away from mundane routines. Even if it's a local residency, and not in a different country, I think it has the same effect. The valuable time afforded to artists becomes a medium for them to self-reflect and reevaluate their creative practices. By staying in Japan as a resident, I was able to experience this firsthand.
Can residencies help art transcend boundaries?
That may be the case. There are diverse ways to practice art. Residencies become a medium for all artists who experience it, and they benefit artists in some way. However, there are several perspectives and approaches, and the results vary as well. I don't think there are any two similar outcomes.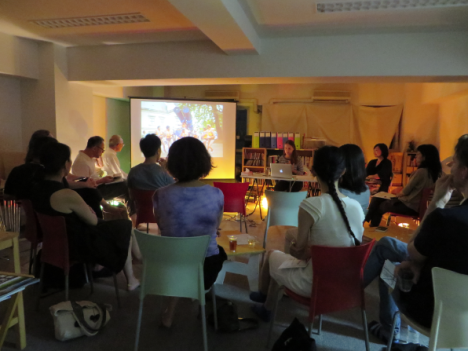 Marianna Dobkowska giving a talk at AIT's "A-I-R and the City / Laboratory of relations"
Afterword
During her short one-month stay, Dobkowska actively visited museums and arts organizations, and interacted with staff at arts-related organizations and festivals all over Japan, including Kyoto and Kyushu. She took time to talk at length with artists like Ryuta Ushiro of Chim↑Pom, Futoshi Miyagi, and hyslom (Itaru Kato, Fuminori Hoshino, and Yuu Yoshida) to learn about the concepts and thoughts behind their work. The artist presentations she saw at "hyslom Tour 2015" left an especially strong impression on her. AIT curator Nahoko Horiuchi analyzes Dobkowska's experience as follows:
"By actually watching a video of hyslom's performance and listening to their talk, and through their performances that are carried out while they intervene with architectural sites and materials, she was able to learn about urban planning and changing landscapes seen through their eyes, which struck her. She may have drawn similarities between what she saw at hyslom Tour and her own experiences in Poland. Dobkowska, together with architects and artists, is trying to revitalize a space that features socialist realism (socrealist)* interior and used to be a hat store called Porthos."
※1 The official art form under the socialist state. It became the official art style to contribute to the revolutionary development in the Soviet Union, and influenced other socialist countries as well as some non-socialist countries.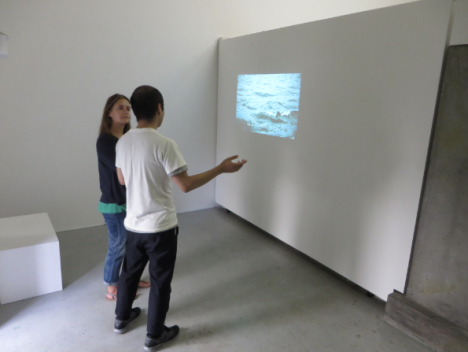 Dobkowska talking with Futoshi Miyagi at XYZ collective exhibition "Japanese Nightingale Doesn't Sing At Night."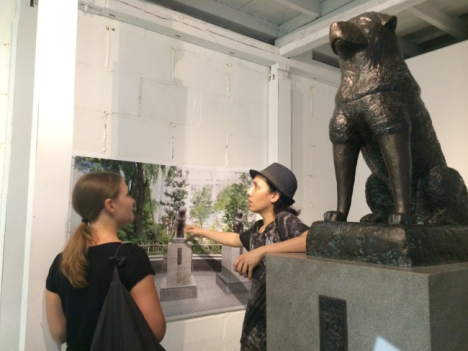 Dobkowska talking with Ryuta Ushiro (Chim↑Pom) at Sion Sono's exhibition "Whispering Star" at Garter artist-run-space.
Based on AIT's experience of carrying out residence programs for more than 10 years, Horiuchi had this to say:
"Inviting artists back is the first key element. Many artists and curators who have participated as artists-in-residence in the past have returned to Japan, and have planned and participated in exhibitions and projects. This has become a common trend in recent years. In 2012, we invited back 10 artists who had been supported by the Backers Foundation in the past, and held an exhibition at the Hara Museum of Contemporary Art. It was an opportunity to enjoy the artists' transformations in their thoughts and forms of expression, while examining their work from their first stay in Tokyo as well as their later works that developed after their stay here. Residencies aren't short-term associations. It's important to build long-term relationships through exchanges in information and opinions, as well as learning experiences. Second, it's critical to diversify the residents' expertise. Recently, programs have been inviting not only artists and curators, but also writers. By expanding programs to include different fields of expertise, new relationships are formed. When we invited Christy Lange, associate editor of UK-based art magazine 'frieze,' we not only ended up getting an article written by Lange on Japanese contemporary art in 'frieze,' but we were also able to disseminate information in ways other than the usual exhibitions and projects, such as by getting a Japan-based writer to contribute to 'frieze.' In the future, we would like to include architects and designers as residency candidates in order to provide a space for Japanese artists and the public to learn about different perspectives and practices of expression."
As Dobkowska related during the interview, residence programs lead to various outcomes. Perhaps the power of residence programs is in the fermentation and maturation of thoughts and approaches that occur by first finding the time and space to become intimate with one's self, by undergoing such self-reflection, and through years of experience that follow the residencies. The arts residency platform will probably continue to evolve. We can look forward to projects and works that are still to be produced by artists who will continue to mature, either back home or in new settings, after experiencing the medium of artist residencies.
Text: Noriko Yamakoshi
Translation: Makiko Arima

[Help wanted]
Inviting volunteer staff / pro bono for contribution and translation. Please
e-mail
to us.