There might not be that many people who have taken time to consider the many bubbles around us, such as those that we played with in the bathtubs of our childhood, those in a fluffy meringue, or those in beer. At the 17th Japan Media Arts Festival, which honors art in the four Divisions of Art, Entertainment, Animation and Manga, Soichiro Mihara won an Excellence Award in the Art Division and presented his installation piece "the blank to overcome" which creates "bubbles" with an air pump, water, liquid soap, glycerin, ethanol and electricity. This art work provides a chance to think independently with the wise use of a constantly shape-changing bubble, and was made as a part of Mihara's 2011 project "blank." Mihara is active in the media arts nationally and internationally using sound-based systems and the like, and this interview touches on his feelings toward his art work and creation process.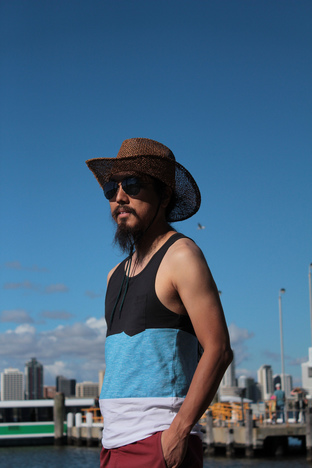 It is summer in Australia where Mihara is currently staying. Some days surpass 40 degrees, so he goes to his lab in such an outfit everyday.
I was told that this bubble-generating installation "the blank to overcome" which, at first glance, looks like a science lab class, was created as a part of the "blank" project launched in 2011. Which characteristics of "bubbles" did you focus upon and express in your artwork?
I've been thinking about my country's situation from various perspectives since March 11th, 2011. At first, I felt like the scale of the incident made it difficult to grasp the idea of how big and deep and continuous the developing situation was. Since having this impression, I began to look for fluid matter of an indeterminate form. After much trial and error, I chose bubbles for their vague texture, and how they seem to both exist and not exist when wrapping air. The word "blank" came out of this naturally. Most bubbles were lost, but thinking of the idea of blank versus emptiness, I'd like to capture their current condition. I think bubbles provide depth as a metaphor for organic matter as they are unable to sustain a fixed form unless they continue to grow. I feel that I must keep inquiring just as my art work is constantly forming bubbles.
My ideal would be for the audience to complete the art work. It's my wish that, after experiencing it, my art work be a trigger for natural feelings and audience discussion, neither to impute the responsibility of the creator nor to leave interpretation to the audience. Just because, it seems a little difficult to for an individual to capture the event in the present. I believe that the characteristics of the involved parties are related. In an administrative sense, it does not apply to me, nor does it directly damage me. However, many people recognize me as an affected parties once I leave the country. Aside from that, there is also my own consciousness. I cannot necessarily draw the line and believe that every individual has their own characteristics. Each has an individual opinion and they all should be respected. Many people feel that there is a way to seize the sense of distance for each pass through this experience.
Even though it is abstract, I believe that the bubble is ideal as a shared trigger because of the depth of a bubble's impression for changing its accumulation.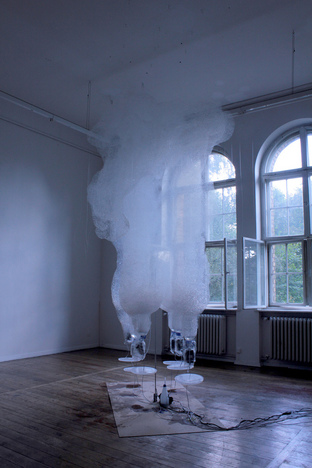 The 17th Japan Media Arts Festival Excellence Award winner in the Art Division " the blank to overcome" by Soichiro Mihara
Your art work has a strong image of using sound and digital aspects. How do you obtain the inspiration to work with new material constantly?
First, I think the only way to confront the original question is to recognize the frame which regulates the present expression, what expression is and what art is. By considering that the frame is a topic linked to various subjects including art, I became very interested. While there's no need for the frame to be something new, I'd like to explore many possibilities since I an interested in the whole field of technology and, currently, how the potential for non-professional individuals to handle various technologies has expanded.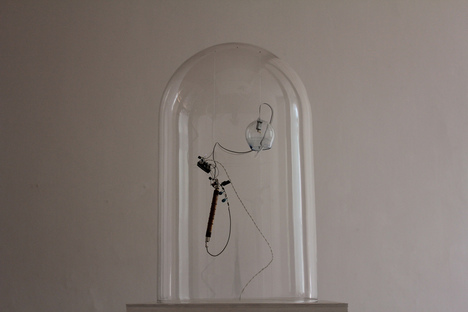 "bell" (#2 project of the blank)
There is a constant amount of natural radiation in the world. I started to wonder about the sound of that which can not be perceived, and, coincidentally, I learned that the origin of the wind chime was to get rid of invisible miasma, so I connected a radiation perception circuit and a wind chime. It suggests a current disposal method which still allows the sound to go through while at the same time interrupting the wind by wrapping with glass.
What's the reason behind your decision to become an artist?
There are so many things that I don't understand for me to ponder. I tried to understand them in my own way and this led me to become an artist.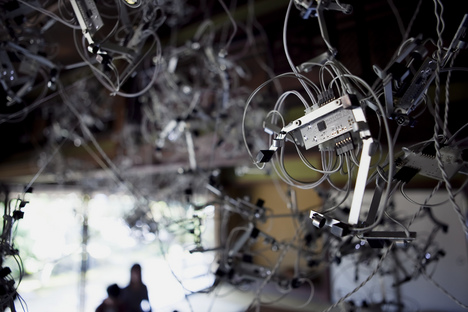 "molds ver.2. – acoustic emergence structure" by Ryuichi Maruo
A collaboration piece with Kazuki Saita and others. We sought answers for these questions, to see if it's possible to create a material with another texture whose image is not the grand total of 1+1+1+…+1= by combining one sound of 1, and how much we can let the space and material in which we exist into the process.
To you, what is the potential and the charm of biomedia art, which is at the borderline of art and biotechnology/ life science?
The part that I find interesting is to think if, by questioning what life is, technology could become art. Of course, I have an interest in the materials that are engaged in the expression of art themselves. I believe that biomedia art is one of the mediums which currently has the most social nature due to its lively aspect and the ease of handling. Though being new makes it a valid topic, this does not guarantee its value. This is the part I find the most interesting. With biomedia as art, it can present the positive, negative and more complicated aspects of technology. Along with the topics of bioethics, I became interested in the potential to convey messages from individuals at a stage before enough discussions have performed. If I can elicit effective questions, biomedia art will become an aesthetic paving the path to life in the future.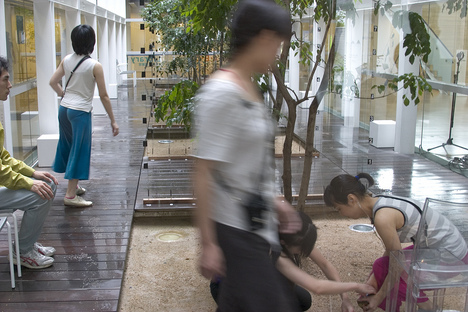 "vexations – composition in progress time travel exhibit" closing event, YCAM by Soichiro Mihara
Can you please tell us if you have points that you focus upon during the creation process.
I try to take a break so it'll keep me from trying to think too much. Although it's difficult, I try to do one new thing that I have never done every day.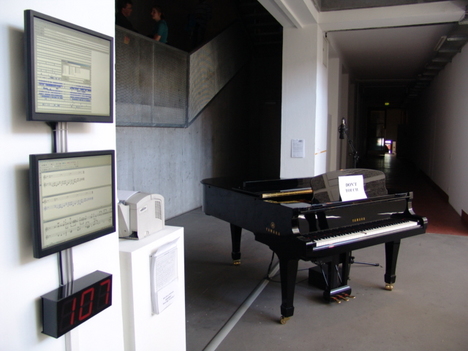 "vexations – composition in progress"
A collaboration work with Yuko Mohri. Historically, Erik Satie's vexations is one of the songs that requires an extremely long time to perform. By repeating the process of playing, recording, analyzing, re-playing and recording it 840 times through a computer, the structure and tone of the song will change while also adopting the characteristics of space and chance of noise at the venue.
How is the reaction to your art work different between Japan and overseas?
I've mainly shown my work in German speaking countries and a few countries in Asia. However, I believe that the role of and recognition of art plays a part, and the value of each individual's opinion varies depending on the areas. I also believe that the balance of realization and concept reviews are varied as well. Overseas, when I am told that myself and my ways of expression are Japanese-like or non-Japanese-like, I am curious as to why that is.

「"Techtile Tool Kit"」 by TECHTILE
This is the result of over two years collaborative reserarch with antenna researchers at the "YCAM InterLab" where I was until last year. We created a tool kit for the public that allowed kids to make a touch sensor with the use of vibration, allowing them to apply it in art, and to popularize the latest touch sensor technology which has been attracting attention since touch devices, such as smart phones, have become available. Until last year, workshops were being held at engineering and/or phenotype research colleges and museums.
Could you tell us if you have been influenced by any artists, designers or musicians?
I love people who give the impression of understanding philosophy, and who seek extreme thought. There are so many people like that, but, these following five people are very special to me: Shusaku Arakawa, Rei Naito, Yoko Ando, Werner Herzog and Stan Brakhage.
Although you currently continue to study biotechnology, is there anything else that you would like to pursue in the future?
My stay in Australia will end in August next year. After that, I'd like to think about the beautiful consciousness of energy with a theme of stability. In the long term, I am interested in discovering places where I've never been, and also want to work on an art project in space or on another planet.
Have you considered continuing to create collaborative art work within different areas not confined within the media art world?
It's a pleasure to work with professionals from different genres as it expands my knowledge. I'm also not sure sometimes how wide of a range media art covers. I try not to get hung up on the definition, and express myself with the things that come to me. There's no reason that I must do this in a specific way.
The 17th Japan Media Arts Festival
Date: February 5th – 16th, 2014
Place: National Art Center Tokyo, Tokyo Midtown, Cinem@rt Roppongi, Super Deluxe (Opening hours vary according to venue.)
Admission is Free for the entire program.
Organizer: Japan Media Arts Festival Executive Committee
Tel: 03-5459-4755 (9:00 – 20:00)
http:j-mediaarts.jp
Soichiro Mihara
Born 1980 in Tokyo. Providing a system based on sound as art work to open a door to the world. Since 2011, he has been developing a project researching the relation between the "blank" and the technology that organizes this society with the theme of blank. He currently resides at the bioart lab "SymbioticA" in Perth, Australia.
http://mhrs.jp
Text: Satsuki Miyanishi
Translation: Yumiko Miyagawa

[Help wanted]
Inviting volunteer staff / pro bono for contribution and translation. Please
e-mail
to us.