Why is Berlin famous and seen as one of the major centers of contemporary art? I think the reason is because there are so many galleries in Berlin that attract many artists and art people. Now that Berlin has reached economic crisis, some important galleries have closed, and an anxious atmosphere covers this town. Many art people feel insecure in this situation. But despite this, new galleries open. Some of them have not only youthful energy, but also longer-term vision. If they manage to survive in this situation today they can become major players of art world tomorrow. I want to introduce one new gallery called "Greusslich Contemporary" which has opened in Berlin 2012. I talked with the owner Andreas Greusslich about the gallery, the program and his future vision.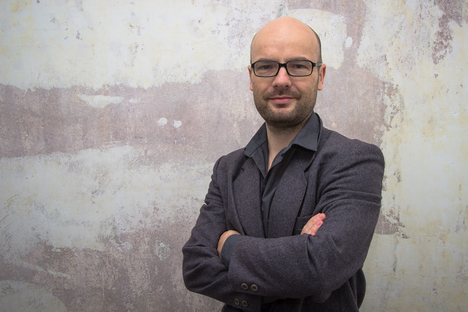 Portrait: A. Greusslich © Martina Magno
Why do you want to be a gallerist?
My personal character has let me become a gallerist. I started my career by becoming an artist. I realized that my artistic questions are about the necessity and desire for art and the people around the art work. I produced platforms where meetings and discussions came into existence. My mission is to provide a platform for artists and to support art friends. After experiences, I decided to be gallerist since in this way I'm fundamentally connected with all participants: the artists, the art friends, art professionals and the art work. I like that.
As a former artist do you like to express something with your exhibitions like artists try to do with their work?
I'm not a curator who is great in producing contextual meaning through exhibitions. For me, interesting and clever art work is important – working together with excellent artists and talking with friends about it. Sometimes I have fun to bring different artists together in an interesting way. That's all.

Kunstverein INGAN
What can you tell us about your gallery history?
The history of my gallery is strongly related to my personal development. As art student my fellow students and their works were strongly involved in my artistic approaches. Later in an artist house with about fifty members, the open studios were organized by me. This led to the founding and leading of the non-for-a-profit organization Kunstverein INGAN and I stopped making art. After organizing the Kunstverein INGAN, being employed in a blue chip gallery for several years and finishing a master program for business, I started Greusslich Contemporary. September 2012 it had its launch as young professional gallery.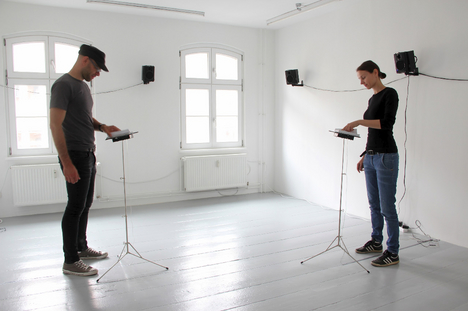 Installation view: Iván Abreu "Multiple Vortex Tornado" 2013, © Ivan Abreu, Greusslich Contemporary
Can you tell us about the change from Kunstverein INGAN to Greusslich Contemporary? You need to sell art works now, no?
Of course, but also it is in the current situation of the art market the best way to support the career of artists. I see it as a crucial thing – presenting artists at art fairs. This is the most international platform for all kind of art professionals and art friends who all want to explore interesting art. Non-profit organizations have no access to this kind of platform and usually don't work with artists together for a longer time. Galleries are very important in the art world.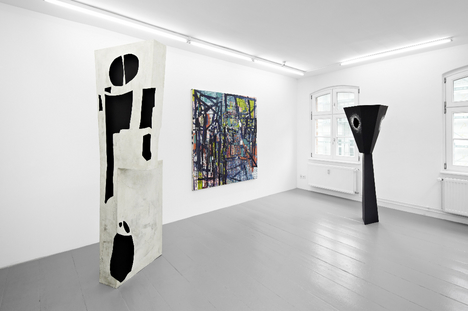 Installation view, "Matti Isan Blind + Vanessa Farfán", Greusslich Contemporary 2013
I know that your private life was involved in your undertakings, which is why I want to ask you about your passion or "Leidenschaft".
Indeed after Kunstverein INGAN I had started to make exhibitions in my own apartment. Since I really reduced my living space for the art I suffered and showed passion or "Leidenschaft". But to be honest it was great fun to do. I changed my passion from private to professional to have more possibilities to go public. A gallery is hard work but also you have more reputation.
Do you have a gallery residency program? I have met an artist who once worked in your space…
I try to help my artists best as possible with work and living spaces in case they come to Berlin. Sometimes it has many aspects of a residency. It isn't on a regular basis but improvised each time.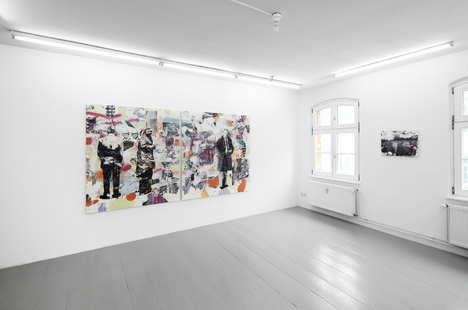 Installation view: Peter Rollny "Afloat on a Flood of Being − New Paintings" 2013 Greusslich Contemporary, Berlin
Can you tell us something about Rollin Beamish because I remember his show as very realistic and important?
Of course his technique of realistic drawing completely created by free hand is, at first impression, an irritating moment. You think of what he is investing such an amount of concentration and power of will and technique. You realize that most inners aspects of life are his topic expressed through these translations of internet photos into enlarged hyper realistic drawings. They have surrealistic aspects in terms of the used size and space. He remembers the viewer for topics of human rights, justice, love and ethics through portrayals of his researched and selected figures of the public and half public life.
Also he chooses for his drawings carefully special film characters or corpses of unknown people who died by human hand. He is a whistle blower of special kind and is not making pleasant art. He enriches his installation compositions with wall drawings, graphite pieces like tombstones and drawings of engraved wall pieces with sentences and mind snippets generating poesy, black humor, desperation and quotes.
He investigates the representation and production of meaning in the media nowadays and encourages everybody to be careful in believing the truth produced by media. He will have an important solo show called "Ghosts" in the Kunstverein Mönchengladbach in 2014.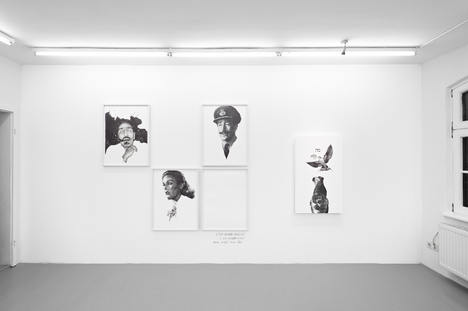 Installation view: Rollin Beamish "few people", 2013, © Rollin Beamish, Greusslich Contemporary
How do you find your artists?
I met one artist twelve years before I opened the gallery. In general my own network is very important for trustful artist-gallerist relationships. Also I find new positions during my research. In 2013 I made contact with an extraordinary artist during Art Brussels at an interesting project called "Poppositions". In general I'm open to all channels and all medias for networking, but I never had a positive experience with speculative applications. But I had a beautiful anecdote with one artist.
Once I was riding the bike from one gallery to the next and an unknown person joined me. During the ride we found out about our profession and I received the artist's catalogue right away on the fly. We didn't have time to talk at the destination, which took only 5 minutes to reach. Then the catalogue has been lying on my table the next days and I started to look inside and investigate the artist's web page. I became interested and started to email questions. Now the artist is part of my program. That's life…
Can you tell us your plans about the future of your gallery?
The direction of the gallery will follow its current internationality. A French young artist will expand it this fall. I plan to research the new meaning of the Internet and its possibilities to use the latest developments for the visibility of my artists. In the near future I wish first to participate at art fairs and secondly my gallery space should be expanded in Berlin or a branch founded.
Greusslich Contemporary
Address: Buchholzer Str. 11 10437 Berlin
Opening Hours: Wednesday, Thursday 16:00 – 21:00, Friday, Saturday 13:00 – 18:00
Tel: +49 30 5367 2850
http://www.greusslich-contemporary.de
Text: Kiyohide Hayashi

[Help wanted]
Inviting volunteer staff / pro bono for contribution and translation. Please
e-mail
to us.