HILMA AF KLINT EXHIBITION
An exhibition was held at Berlin's Hamburger Banhof Museum of Contemporary Art focusing on the Swedish female painter Hilma af Klint. The exhibition, which showed major works including paintings by af Klint, was a retrospective of the artist's works. Held at one of Berlin's top museums, the exhibition received much attention and surprised visitors.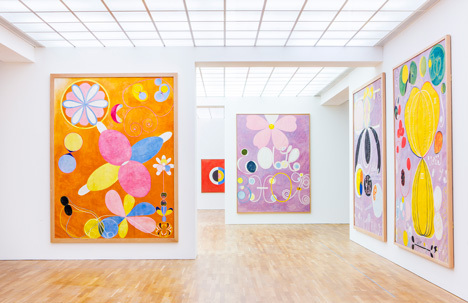 © Stiftelsen Hilma af Klints Verk, Photo: David von Becker
Most people probably learned of Hilma af Klint's name at this exhibition. She was born over a century ago in the mid-nineteenth century, but her name has been buried in history. As the title of this exhibition "Pioneer of Abstraction" suggests, af Klint is considered one of the first abstract painters. However, she did not reveal her abstract paintings to the public during her lifetime. In fact, her will stipulated that her works not be made public until 20 years after her death. And so her innovative works remained unseen and unnoticed. This exhibition, which rediscovered a forgotten artist from the past, was held at a museum that exhibits modern art. To understand why works by an artist from the past were displayed at this venue requires a look into the artist's life.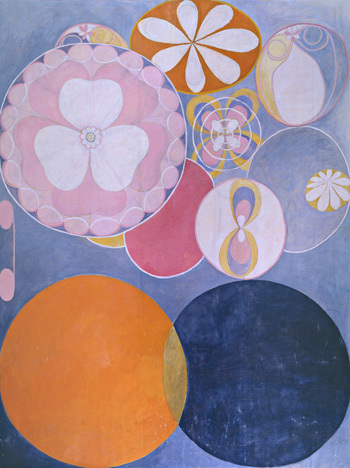 © Stiftelsen Hilma af Klints Verk, Photo: Moderna Museet / Albin Dahlström
Hilma af Klint was born in Stockholm in 1862. She studied art at the Royal Academy from 1882 to 1887. While she received formal training in art, it was not art education that influenced her, but mysticism—in which she was interested before entering the academy. Her first encounter with mysticism was at a séance. Her interest grew as time passed, and by the time she was in her mid-thirties, she formed a group called "De Fem" with four female friends. They threw themselves into mysticism, and they would make drawings unconsciously. In other words, they attempted to draw out subjects and existences that were not connected to their consciousness. Hilma af Klint, who used to depict landscapes and vegetation, began expressing the influences of mysticism in her work.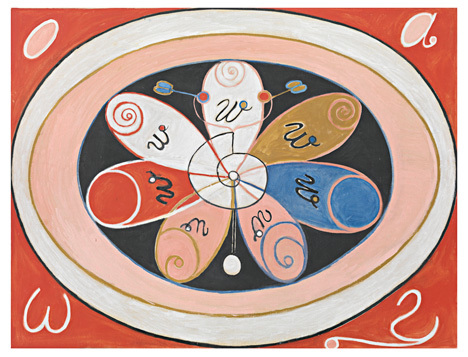 © Stiftelsen Hilma af Klints Verk, Photo: Moderna Museet / Albin Dahlström
As af Klint became more involved with the spiritual, she decided to paint intuitive paintings to express such messages. This was in 1906 when af Klint was in her mid-forties. Ridding herself of her formal training at the academy, she began painting new works. Letters and geometric shapes began to appear on her canvas: a spiral shape appearing from repetition of circles, colors like blue and yellow used symbolically, and color changes and hues emerging from colors mixing. What we see on the canvas are not the realistic landscapes and subjects to which we are accustomed. Spiritual existences and their messages—which we usually cannot see—cover the canvas as symbols. This is how Hilma af Klint created abstract paintings by distancing herself from the material world, and by throwing herself into the spiritual world.
Read more ...
[Help wanted]
Inviting volunteer staff / pro bono for contribution and translation. Please
e-mail
to us.