Mika Ninagawa, a photographer and a film director, produced a new restaurant called "Shanghai Rose" on the 1st of March in the Shanghai area of the Bund. The atmosphere of this new restaurant is quite bewitching. Hidemasa Otani, who is president of a production company called "LD&K" that manages a cafe known as "udagawa cafe" in Shibuya, Tokyo, once worked for a music label company, was the owner of a dance school and a publisher. The designer of the restaurant was Akira Takahashi, from "Kloka".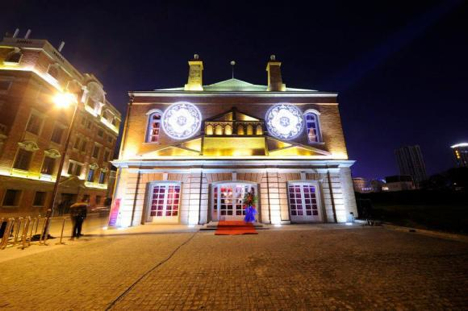 © 2012 LD&K inc. Shanghai. All Rights Reserved.
Currently there is a reconstruction project ongoing on the north side of the Bund. The purpose is to reproduce buildings that were originally built in 1905 using documents from that time. The'Shanghai Rose is a two storey building which was the former Shanghai Rowing Club, it benefits from 488m2 of inside space while outside, in the place where Shanghai's first indoor swimming pool was located, there is a 300m2 area where a beer garden is planned in the summer time. As per the restaurant name, the inside has been decorated with many roses, also there are cushions featuring goldfish, flowers and praying mantis which were printed by Ninagawa. You can also see her large printed work in the ceilings and trimmings which completes the atmosphere of being in Ninagawa's world.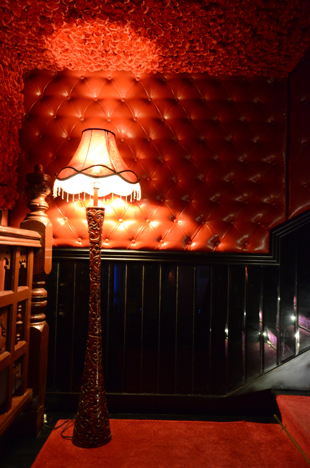 Stairs towards the second floor are filled with burning red roses.
So that visitors can enjoy chatting there is a large seating area on the ground floor. On the stairs leading to the second floor there are many roses and through a thick curtain decorated with the Shanghai Rose's symbol or motif, a goldfish, you are welcomed onto a stage. At that point if you direct your eyes upwards you will see a luxurious red chandelier which seems to be almost like the image of a rose. You may also notice two cranes. On both the stage and the bar counter a pole has been installed, I expect that this is in preparation for future events in the Shanghai Rose.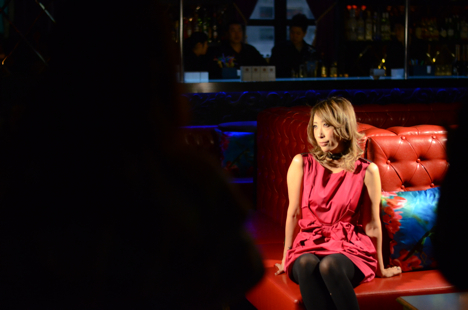 Ms. Ninagawa was busily responding to the interview from some press, changing her dress for each.
What made you open "Sahnghai Rose"?
Otani: Otani: I have visited Shanghai many times in the last ten years. I feel a huge and wide energy here in Shanghai. I think the residential tension around here is higher than that of other areas, especially as European and American people also live in this area. Tokyo is not so lucrative recently so I made a decision to open it here in Shanghai. The exterior of this building is restricted from reconstruction because it is a historical building. I felt that Ms. Ninagawa's coloring could make a gap between the exterior and the interior, and so I asked her to create it.
Ninagawa: This is my first time to decorate the interior of a restaurant. I always put my ideas into photographs, artworks for shooting a set or for promotion movies. However, all of them are just temporary and soon after a shoot they are gone, so that is the reason why I have been interested in one day creating the interior of a restaurant. I love Shanghai and the Bund area looks extraordinary, it is like a romantic place from a foreigner's perspective. When Mr. Otani, president of "LD&K", discussed with me about opening a new restaurant, I feel like one of my dreams, which is making a restaurant with a stage, had come true.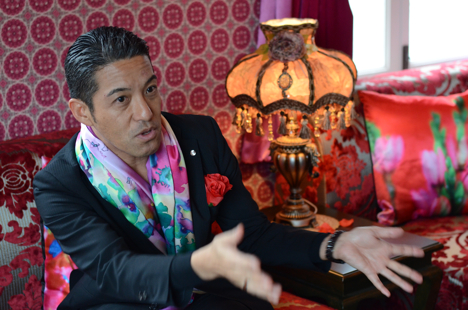 Mr. Otani told us "I got this scarf at silk product shop near here just a few minutes ago, and this rose ornament was taken from inside of Shanghai Rose." That made press staffs laugh during the interview.
Why did you choose Shanghai, not other cities around the world?
Otani: I have searched in Hawaii, Vietnam, Berlin and others. A few years ago in China, a law on restaurant businesses was changed which allowed business people to start a business by joint venture. That kind of rule pushed me to decide on Shanghai. Moreover, this was the most ideal property which I have found so far, so that's my main reason.
Some people says that "Shanghai Rose" is like Liliko's room, the main character from your film "Helter Skelter". Is that right?
Ninagawa: I never intended that, however the film might have affected the restaurant because the planning period for both was so close to each other. I could make my favorite place, away from reality, exactly the same as in my world of film, only in Shanghai.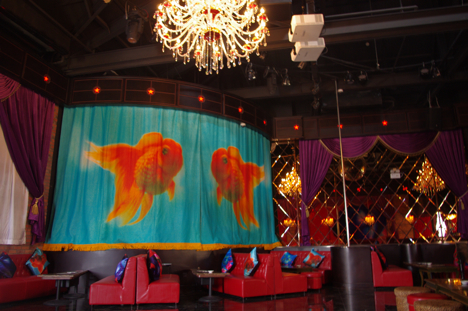 © 2012 LD&K inc. Shanghai. All Rights Reserved.
Shanghai, here especially called "city of magic", and I feel it from interior of "Shanghai Rose".
Ninagawa: I agree. I like Shanghai because it is a little suspiciously charming. I have privately visited Shanghai many times, and when I thought of having a restaurant in Shanghai I also had that image in my head.
Otani: In Shanghai, there are both new and old, both European and domestic things which are all mixed up. I always feel that the sense of balance was wrong as if I was in a dream. I felt that I wanted to express those mysterious feelings and "well being."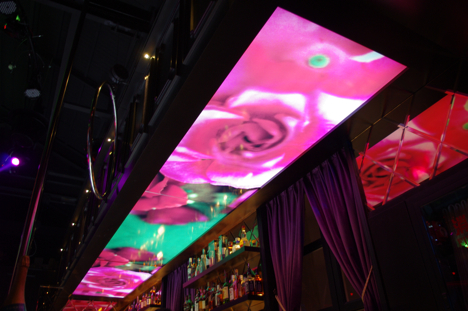 © 2012 LD&K inc. Shanghai. All Rights Reserved.
What is your most favorite thing in the interior here?
Ninagawa: It is the drop curtain. When talking with Mr.Otani while having some tea, we suddenly thought "How lovely if there are goldfish kissing each other from both sides of the drop curtain?" then we decided quickly. Actually it is finished perfectly and I hope it would be an icon of this restaurant.
Are there some original dishes? Do you manage the food?
Ninagawa: I'm not involved in the cuisine; however, I designed the tableware like the cups, saucers, pots, coasters as well as the mandarin dress for the service staff.
Otani: Our dishes are based on a fusion of Chinese and European cooking, however, I think the performances are more specialized than the dishes. They are like a space production with a crane operated by remote control, and the stage performances.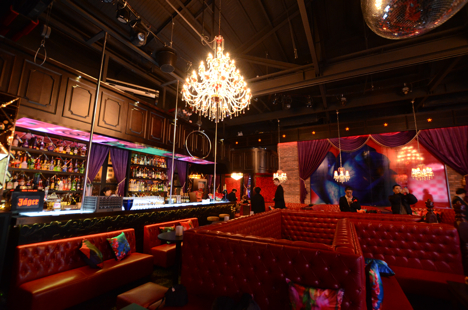 Inside of "Shanghai Rose"
I think in the future you will be offered more work like this, at that time if it is a similar project would you decline it?
Ninagawa: I have my mind clearly to do everything about photographs, even if it looks difficult whatever the work is I will try to do it. For other work such as a new challenge, I think I want to do it and show my own willpower. For work where I can stake my own life, I feel that I want to do it with my heart and soul, if I think I can do it then I want to challenge myself to do many things.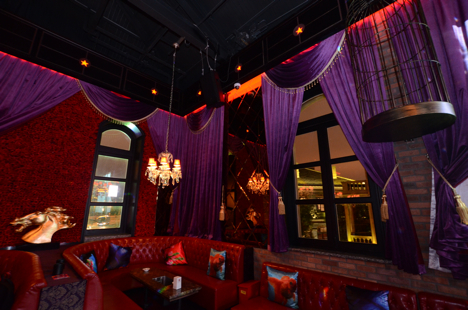 "birdcage" and "girl dancing at ceiling" from Ninagawa's imagination became real.
Do you have a vision for the 'Shanghai Rose?' Is there anything that you want to achieve?
Ninagawa: It is a big dream of mine to shoot a movie focused on Japanese, Chinese, and many other Asian people in Shanghai. I think it would be interesting if in that story something happens in the "Shanghai Rose." However I have no idea right now, a passionate affair happens, a spy could have his base here, or something like that. I am sure that this place could work in any story.
Is there anything you want to try to do, or try to challenge next?
Otani: I am interested in producing performers, or burlesque dancers. Not just here, because any small place would be fine if I could train up someone. Also in Tokyo, I am thinking to start a bar in Shibuya where the guest can experience carrying a portable shrine.
Shanghai Rose | Bar & Cafè on the Bund
Address: 76 Nan Suzhou Lu, Huangpu district, Shanghai
Opening hours: 9:00 – 27:00
Tel: +86 21 6052 7171
http://shanghairose.com
Text: Hiromi Nomoto
Translation: Eiko Kondo
Photos: Pingpong

[Help wanted]
Inviting volunteer staff / pro bono for contribution and translation. Please
e-mail
to us.