We had an interview with ten_do_ten, an artist who works with dots as a pixel design originator. He works actively and widely everyday in cross-genre media with a domestic, sexy, crafty, and crazy-stoic attitude.
On "ten_do," the artist's website started in 2001, new artwork has been updated every week, for over 600 weeks!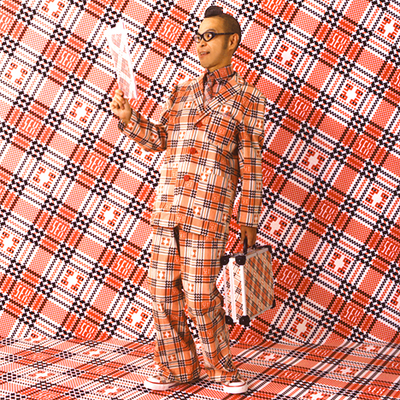 tarten_check_business_man (self-portrait, photo: Norio Kidera)
First of all, please introduce yourself.
I am ten_do_ten, Japanese pixel-designer, who connects dots to dots and designs with pixels!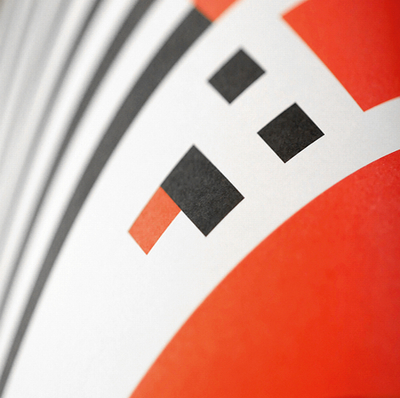 stripe_dog (from "点 ten_do_ten" CALM&PUNK book #1)
When and how did you start designing pixels?
As for computer-based pixel design, there was a DIY movement called Megademo, where people distributed self-produced graphics and animations that were recorded on a floppy disc, using computers called Amigas. I started designing pixels for graphics and animations for Megademo. At the time, there was only pixel-based graphic software, so creating graphic works on a computer meant designing pixels. It was when I had just entered art school. As for pixel design without using a computer, I designed something by breaking up Lego blocks that I got for the first time, "#345 Modern House (it's a masterpiece!)." I think I was around 4 years old then.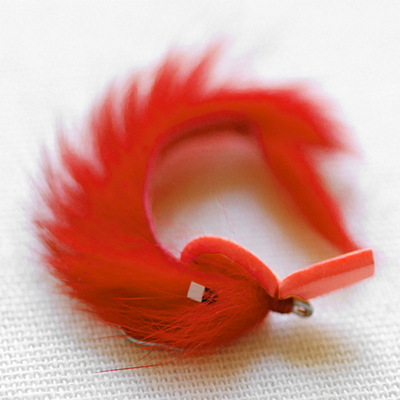 bachi_fly_with_pixel_eye (pixel eye on "Bachi Gagular" tied by Hiroyuki Maki)
What do you think are the strengths and weaknesses of pixel design?
To be honest, this is a really tough question! My answer would be long. [laugh] I think the answer would be totally different according to which of the "strengths and weaknesses" are compared. But let me answer in comparison with vector design, the so-called graphic design, which is supposed to be focused mainly on paper-based media, using software like Adobe Illustrator. First of all, I believe that pixel design has the advantage when a design is fixed on a monitor screen, because the field of the design and the media itself are same. Nowadays, screen resolutions are getting very fine, which makes the story more complicated, but I think the pixel design is most effective under the media restriction of low-resolutions, while the vector design tends to fit with any media. For example, pixel design is suitable for the screens of early types of video games or mobile devices. It's also suitable for new media, which will appear in the future, such as smart devices in the form of glasses or watches, and stitching on cloths. It might be an easy way to understand that vector design involves printing on cloths, while the pixel design is making a stitch and being conscious of each stitch of a cloth or knitting. Embroidery or knitting sometimes are more charming and have more presence than a print on clothes. I believe that's strength of pixel design. I always design with a sense of making stitches on the monitor screen. At the same time, however, when there is no restriction on media, in a sense, the pixel design has the weakness to become merely a decoration as modern design calls (however, I do not see it as a weak point. I want to talk more about this, but may be next time. It will take long time and be dull. [laugh]).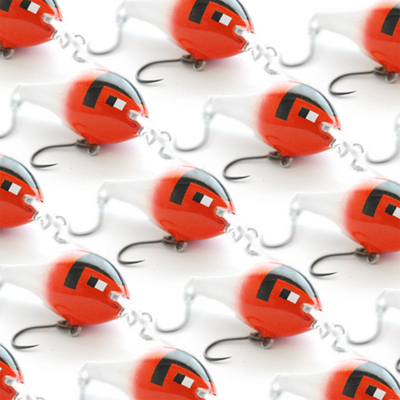 pixel_red_head_fat-rap (pixel girl on Rapala "Fat-Rap")
Please tell us three most important things for your pixel design.
To design pixels that people think "perhaps I may be able to do this."
To design pixels that people think "perhaps I may not be able to do this."
To keep designing pixels everyday that I think "there are small discoveries and they are fresh for me," finding them "stuck in a rut" at the same time.

bow_sbee (spin_dog for SpinCollectif Tokyo)
Could you tell us the recent activities?
I created flying discs for a cool Frisbee team. Also I had an opportunity to collaborate with Fred Perry (Mods) and PAC-MAN (video game), two big icons that heavily impacted me. The products are available in Fred Perry stores worldwide. Please check them out!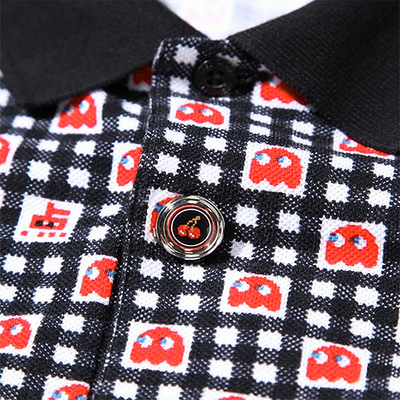 pac-man_gingham_check (ten_ki_style_for Fred Perry x Pac-Man x ten_do_ten Project)
Do you have any new field or media in your mind in which you want to try your expression in the future?
* I want to create a picture book again! (My first all-slanted picture books are now on sale!)
* I want to start a silkscreen label, in such a difficult time!
* I want to design a skateboard deck because I started skateboarding after I reached 40 years old!
* I'd love to create original fly patterns because I love sea bass fly-fishing in the canals in Tokyo! (But I'll give this up for the moment as I know it will disrupt my work once I start it. [laugh])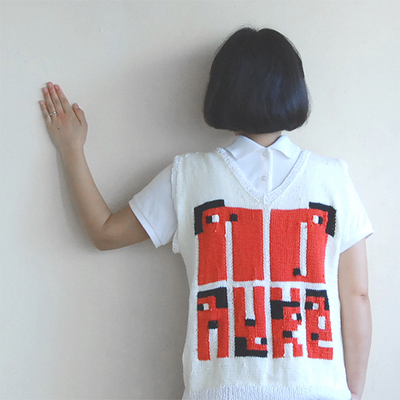 pixel_no_nuke_knitting_vest (Knitting : Tomoko Sekita)
Who are designers / artists who influenced you?
The great Hajime Tachibana (Plastics, everybody loves); the great Jamie Reid (Sex Pistols, everybody loves); the great Dick Bruna (Miffy, everybody loves); the great Gerda Bengtsson (great mother of Danish stitch work, everybody loves); and the great Keisai Kuwagata (a charming copy & paste illustrator in the Edo period, far from the eccentric Edo-period illustrations that everyone loves).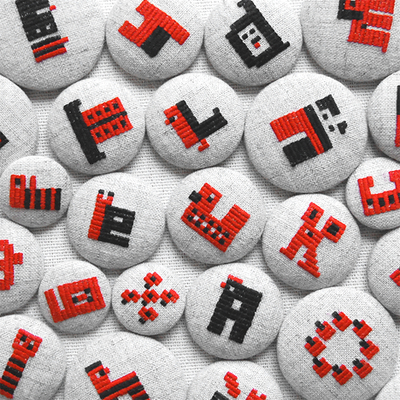 pixel_satin_stitch_A_to_Z (satin stitch : jung-jung)
Do you have anything that you enjoy other than designs and arts?
I enjoy all of my life, but I enjoy the music and get inspired from it as part of my life all the time. Recently I made a karaoke album in a format called "Kimi no na wa / kill.me.no.now.wow" as a singer. It was distributed through a net radio station, Vincent Radio. Thank you! Vincent Radio & Mr. Abe!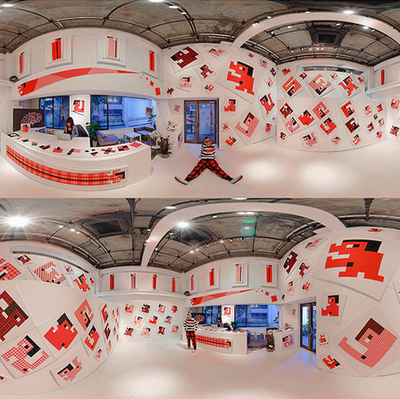 nude_picture_book_&_craft_painting_exhibition (photo : Hiroaki Aikawa)
Please tell us three of your recent favorite musicians and one favorite song.
Zoo Kid / Out Getting Ribs:
A song by a long-absent genius boy (what a banal way of calling someone. I remembered Ben Lee.). This song bears a miraculous zoo-kid melancholy that sounds nostalgic though one has never heard it before.
Tshetsha Boys / Nwa Pfundla:
Shangaan Electro (a dance movement which happened in the southern part of Africa)! Contemporaneousness with today's juke/footwork ghetto-based music is also cool, but the Shangaan Electro seems enjoyable ten years later.
Dark Ducks / Noraneko (stray cat):
My mother's favorite chorus group [laugh]. It's been a total mystery to me why this group is a favorite of hers, but now it's my favorite too with this song. Thanks for letting me know, Pampers-kun!
What is a happening that made you laugh most during these 7 days?
My wife jungjung (crochet knitter) fell down on her face so hard when we're practicing skateboarding. Then when I asked her "Are…are you all right?" she replied "I am okaaaaaay!!" in a surprisingly bright voice before I finished the last word.
Please give a message to our readers.
Everyone who has a right to vote, let's dress up and go to vote! It's not cool that you don't go to vote! LET'S VOOOOOOTE!!!!!
Text: Noriyuki Abe
Translation: Yumiko Sato

[Help wanted]
Inviting volunteer staff / pro bono for contribution and translation. Please
e-mail
to us.