A creative talent who uses creative materials.
David Bielander was born in Switzerland and lives in Munich, he studied at the Akademie der Bildenden Künste in Munich. He is well known for using different materials and different processes for creating his work, in recent years he has won the Herbert Hofmann Prize and the Francois van den Bosch Prize. His recent exhibition in London was sponsored by the Embassy of Switzerland and was located in Gallery S O London. This gallery is based in Brick Lane, a street famous for Indian restaurants, markets as well as art related venues. It aims to stimulate perceptions of contemporary art and jewellery, as well as to highlight how the creativity process works. The gallery has two different areas; a large space in the back is reserved for temporary projects and exhibitions while the front of the gallery provides a perfect platform for displaying works of art.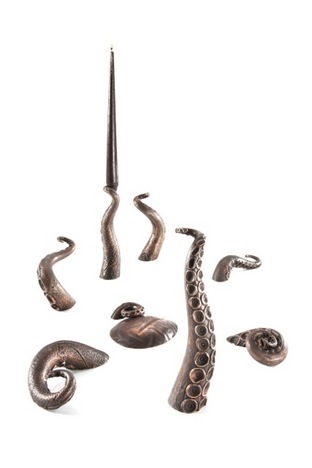 David Bielander, Kraken, 2012, Candelabra, Cast Bronze, Limited ed.12
A common theme, and inspiration, in his work is that of easily recognisable animals, fruits and even body parts. This theme allows the viewer to quickly identify with each piece of work and thus create a relationship, upon further examination we are forced to notice the unusual materials that have been used. As they are designed as pieces of jewellery they are obviously meant to be worn, thus anyone wearing such a unique art piece would inevitably provoke discussion. In this way his work can be viewed primarily as art, but also as an accessory that is meant to be worn.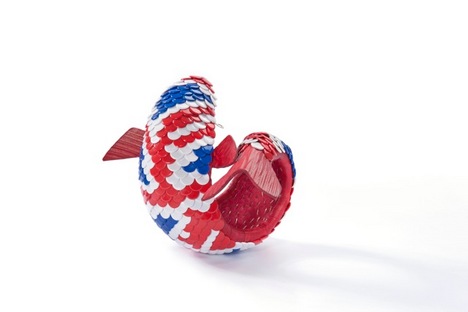 David Bielander, Koi, 2013, Bracelet, Leather & Drawings Pins
One of the most spectacular pieces is called Koi, this bracelet brings together the traditional fish of Japan with the colours of the British flag. It has been created using thumbtacks which give the obvious perception of being a sharp item, however the inside has been lined with a soft leather making it very comfortable to wear. It is an instantly noticeable accessory which is very beautiful for its colours and shape.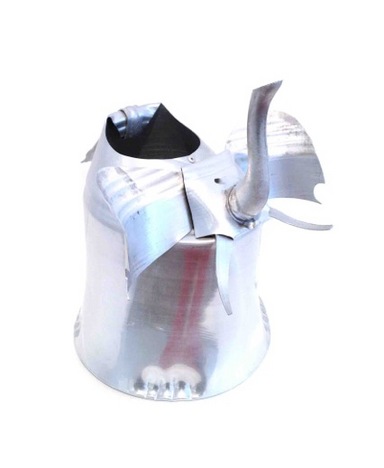 Gallery S O London
As a country famous for its tea the piece entitled Hannibal is an interesting exception to the theme of jewellery, it is a teapot made from aluminium. It is a surprising combination of an essential item found in every kitchen and an elephant; perhaps it makes the viewer appreciate how such a common item can be beautiful too, but also a constant reminder of an animal which is famous for its size and grace, yet butchered for its tusks.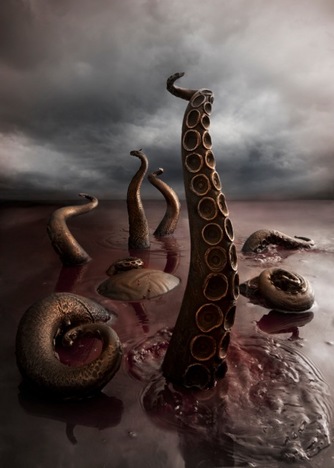 Simon Bielander
The Kraken is made from cast bronze, it is a candelabra made up of a number of different tentacles, it is an interesting choice of name as the Kraken is a mythological sea monster known for sinking ships. Most recently it featured in the fantasy movies of the Pirates of the Caribbean. This piece truly mixes together fantasy within the well-known shape of a squid, as such it is easily forgettable that this isn't just art but also created to be used.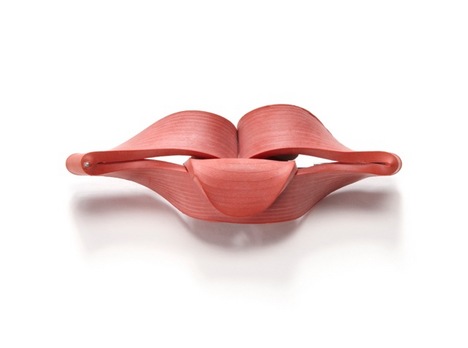 David Bielander, Lips, Brooch, Jar Seal Rubber & Steel
As an example of the diversity of the materials that Bielander uses, the piece entitled Lips is a brooch made from jar seal rubber and steel. It amusing for its cheekiness as there is a tongue sticking out and is clearly a discussion provoking piece of jewellery.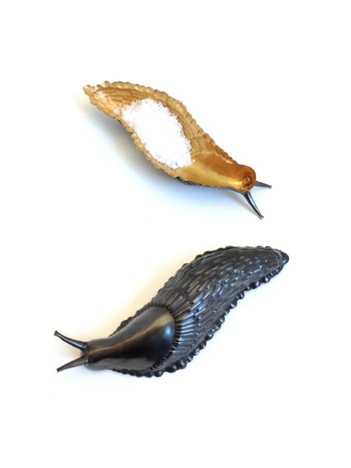 David Bielander, Slug, 2013, Salt Cellar, Silver, Fine Gold Plated, Limited ed.12
The slug is not an animal typically associated with art or beauty; as such it is an unconventional choice to be inspired by. Slug is made from silver and fine gold plate, by themselves they appear to just be art of slugs, but in fact they are also designed to be lain on their backs and used for salt. They make us realise that even in a common creature we can find beauty.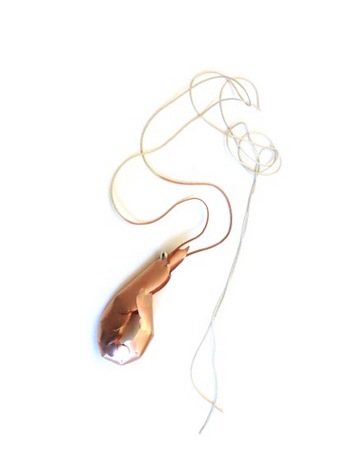 David Bielander, Scampi (Cooked), 2009, Pendant, Silver & Anodised Copper
For Bielander, the material is not as important as the result, very common materials become beautiful shapes which make us forget what they are made of and just appreciate what they have become. The different art pieces shown in this exhibition are delightful for their variety, from jewellery to kitchen items, as well as the different sources of inspirations which include the largest animal walking on land such as the elephant as well as the small creature found in any garden, the slug.
David Bielander "Koi For Joy"
Date: May 3rd – June 30th, 2013
Opening hours: 12:00 – 18:00 (Sunday till 17:00)
Closed on Monday, Tuesday
Place: Gallery S O London
Address: 92 Brick Lane, London, E16RL, UK
Tel: +44 (0)20 7377 8008
http://www.galleryso.com
Text: Mike Sullivan

[Help wanted]
Inviting volunteer staff / pro bono for contribution and translation. Please
e-mail
to us.