The title of the 9th Shanghai Biennale was "Reactivation". Until the 8th biennale, this exhibition has taken place in The Shanghai Art Museum located in the People's Square at the centre of Shanghai. This time, the main venue was at the new art facility called The Power Station of Art, which made use of buildings erected after Expo 2010. The facility was named "Power Station" because the building was a thermal power plant.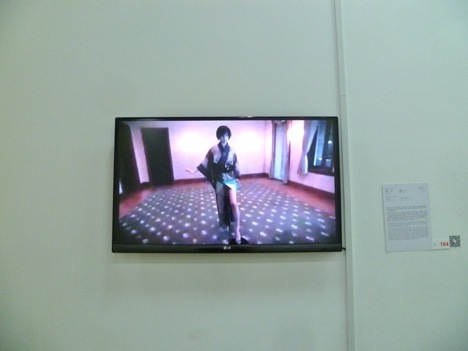 "Chaban Desuyo!" by Masako Yasumoto
There were many people stopping in front of a film that archives Japanese contemporary dancer Masako Yasumoto's work, "Chaban Desuyo!". Having a person dance in a Japanese kimono gives a strong impression, but that didn't seem like the only reason. It seemed like there were many people who enjoyed the way she dances. On Chinese Internet sites, people commented that "it was interesting" and "I like her dance". It was my first time seeing her work as well, but it made me want to see it again. There was also a film exhibit of a piece, "Senaka". At the opening, Masako Yasumoto performed "Senaka" at the site.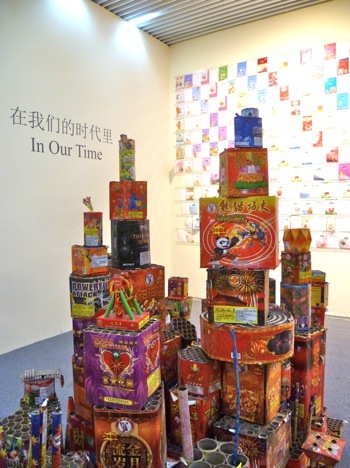 "In Our Time", Installation work by Jiang Zhi
Jiang Zhi from Hunan province in China is an artist who creates with diverse media. For the installation work, "In Our Time", he piled up used colourful fireworks in the exhibition space like building a castle out of building blocks. He also posted birthday cards that make sounds tightly together on the wall. There was a fire that occurred in Beijing on Febuary 9th, 2009, due to neglect of safety with fireworks while celebrating the New Year. There was a firefighter who lost his life while extinguishing the fire and on the artwork, it said "He was suppose to have his 30th birthday in two weeks".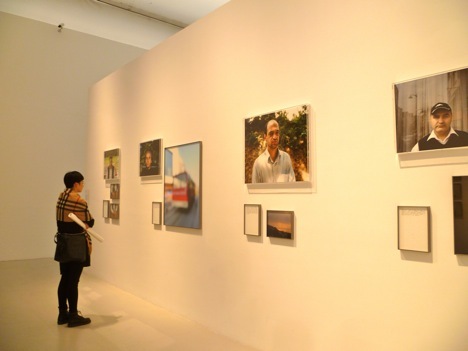 "For the Last and First Time", Sophie Calle
"For the Last and First Time" by French artist Sophie Calle was divided into two sections. The first section showed people who became blind for various reasons and introduced the last images they saw. One person says it was a red bus, another person says it was their family's face, and another says a light on the ceiling of their bedroom. The second section showed film works that document people seeing the ocean for the first time.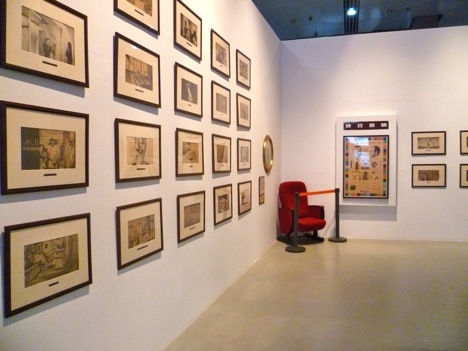 Exhibit by Ho Sin Tung
Ho Sin Tung from Hong Kong creates works that come from movies. She draws imaginary movie posters and scenes on paper dyed with tea and coffee. Short films were also displayed. Her thoughts towards movie are conveyed through humorous and fantasized works.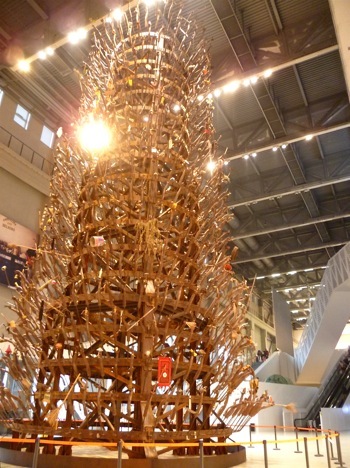 "Thousand Hands Kuanyin" in the hall of the main venue by Huang Yong Ping
There are numerous biennales and triennials in the world and they take place in two-thirds of a year. The huge characteristic of this year's Shanghai Biennale was how city pavilions were set up in the Bund area. By making it units of cities and not countries, the aim was to create more direct communication between people.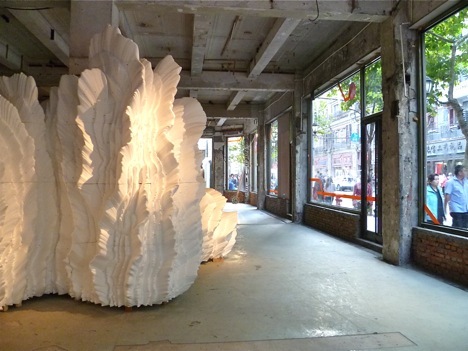 One of the city pavilions was on a famous street in Shanghai. An exhibit using an old and ruined building was fascinating.
It is also significant to touch on a topic of how the large-scale development of art facilities in Shanghai city has begun parallel to The Shanghai Biennale "Reactivation". At the opening press conference of Power Station of Art, The China pavilion from Expo 2010 was also announced to be renewed and opened as The China Art Museum. Other news was the founding of a private art museum. The Long Museum, opened by a Chinese art collecting couple, works from ancient Chinese paintings, writings, and potteries, to propaganda works and works by contemporary Chinese artists. In the fall of 2013, an art museum that accumulates contemporary artworks from around the world is scheduled to open in the Huangpu district by the Yuz foundation of Indonesia.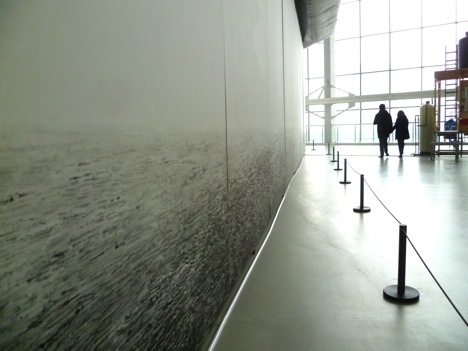 "Sea Sutra" series by Shanghai artist Shi Zhiying. Imagining the sea. At the rear of the piece, Huangpu River that lead to the ocean could be seen.
Often people say Beijing is the centre of political affairs and culture of China. Shanghai has a huge presence as a business city, however, cultural activities are significant for the city to develop further and it felt that the biennale was the start of the project. It will be exciting to watch how art will be built in to Shanghai and observe the effects it will give.
The 9th Shanghai Biennale
Date: October 1st, 2012 – March 31st, 2013
Opening Hours: 9:00 – 17:00
Closed on Monday
Entrance: Free (from January 1st, 2013)
Place: Power Station of Art
Address: 200 Huayuangang Road, Shanghai City
Tel: +86 21 3110 8550
http://www.shanghaibiennale.orgThe 9th Shanghai Biennale
Text: Hiromi Nomoto
Translation: Meiko Maruyama
Photos: Hiromi Nomoto

[Help wanted]
Inviting volunteer staff / pro bono for contribution and translation. Please
e-mail
to us.