A fairy tale-like documentary movie called "Herb and Dorothy" came out in 2008 that followed a real art collecting couple, Mr. and Mrs. Vogel. Postal clerk, Herb, and librarian, Dorothy, had been purchasing art over thirty years. Their collection eventually became one of the most important contemporary art collections in history. However, at the end of the movie, the majority of their collected art was gifted to the National Gallery of Art in Washington DC, their collection now worth millions of dollars. In the spring of 2013, the sequel to this movie, "Herb and Dorothy 50×50," will be released.
The focus of "Herb and Dorothy 50×50" is the massive gift project known as 'Dorothy and Herbert Vogel Collection: 50 Works for 50 States.' The Vogel's collection has continued to grow even after they transferred all of the art that they had owned. Eventually, it reached the point where the National Gallery wouldn't have been able to hold any more. Then, with the concept of 'distributing 50 art pieces to each of the 50 states,' this unprecedented gift project was launched, encompassing a total of 2500 pieces of art to be gifted. This movie captures the reactions of the Vogels, artists, museums and local communities as the collection spreads to each state and gets featured in exhibits.
This movie raises issues regarding the necessity of art in society, what is needed to support art and culture, and how to preserve it for future generations. It has also attracted attention for its use of crowdfunding *1 to raise the necessary funds to produce and distribute the movie. They succeeded in collecting $87,000 in 2011 and were able to finish the production which had previously stalled due to lack of funds. Currently, another crowdfunded project with a goal of 10,000,000 yen is in progress to raise the funds to distribute the sequel in Japan before anywhere else in the world. Director Megumi Sasaki was interviewed while traveling in Japan about her thoughts on the movie and the possibilities of crowd funding a project.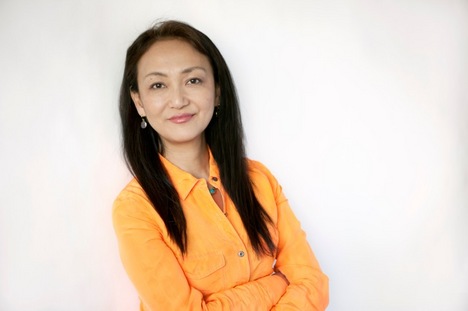 The original title for the movie is 'Herb and Dorothy 50×50' although the Japanese title is 'A gift from Herb and Dorothy.' Could you tell us the reason or motivation for the change?
I thought that it'd be difficult for Japanese people to get the meaning of '50×50.' I didn't want to name the movie with a title that people wouldn't even know how to read, so we decided to give the movie a subtitle which conveys the atmosphere of the movie more than the main title, similar to how the episodes of the Harry Potter series are all uniquely subtitled. The focus of the second movie was Herb and Dorothy's project to give pieces of their art collection to museums all over the United States. However, this doesn't mean that the gifts were only limited to art, but also Herb and Dorothy's spirit and the thoughts behind the various gifts being given.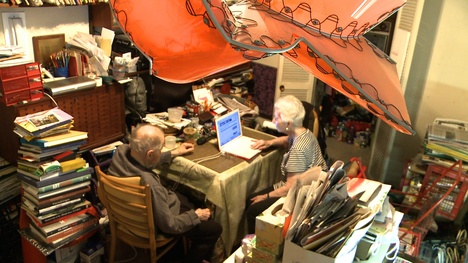 A scene from 'Herb and Dorothy 50 x 50' © 2013 Fine Line Media,Inc. All Rights Reserved.
The last movie was focused on the lifestyle of the Vogels and the communication between them and the artists. Were you surprised or did you discover anything new while shooting the new movie focusing on the exhibit?
The thing that surprised me most was the reactions of kids towards the art. Little kids react to art amazingly, even when adults might be confused by the many pieces at an exhibit. An exhibition does not show artists' work only to convey their thoughts, even though they have folded their various feelings into the art. An individual's response to art always varies. While this is a big theme of the movie, however, after seeing kids' natural reaction toward art I confirmed that there is no wrong way to react to art. As people grow up, they start thinking things like, 'I wonder why this is called art' or 'even my grandchildren could do this.' Rather than the adult reaction, I was interested in how kids reacted.
The production of this movie was an exploration of art for me. Although I knew Herb and Dorothy personally, I didn't quite understand their art collection. When I went to shoot footage of their collection on display at a museum in Indianapolis, I got a chance to see the collection in its proper environment and realized this. I felt that I wanted to find out more about the actual meaning of art as I got familiar with their collection.
The next question is related to crowdfunding. Are there any special reasons for choosing Kickstarter to raise fund in the United States and Motion Gallery in Japan, from among various websites?
As for Kickstarter, the infrastructure is very organized and the projects are well maintained by the management. That is why I believe that Kickstarter is a very good website. Also, it isn't necessarily available to everyone. Only about 40 percent of applicants get accepted. It was very encouraging when someone from Kickstarter's staff contacted me, eager to do this project, just because they knew the Herb and Dorothy movie. There's also another big website called Indiegogo. With their system, you receive all the funds raised whether or not you reach your goal. I thought that was half-hearted, and I wanted the serious challenge and sense of urgency born from the possibility of losing money if I wasn't able to reach my goal. For Motion Gallery, their website handles lots of movie projects, and I thought that the age of their users would be relatively close to this movie.
Kickstarter is a fundraising platform for creative projects founded in the United States in 2008. Users lacking funds and seeking to complete an independent project apply to be on Kickstarter and receive funding support from other users who agree with the goals of the project. In 2012, people from over 177 countries donated to projects on Kickstarter. Its influence has been increasing worldwide.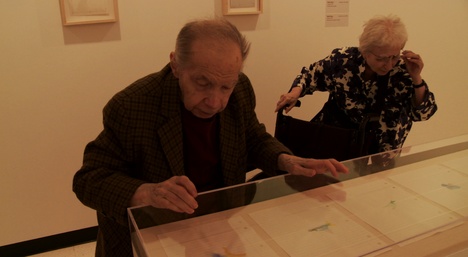 A scene from 'Herb and Dorothy 50 x 50' © 2013 Fine Line Media,Inc. All Rights Reserved.
Why were you looking to reach such a high funding goal of ten million yen in Japan?
In order to pursue a practical use of crowdfunding, it needed to be proven that at least ten million yen could be raised. Also, I wanted to show people that such an amount of money would be needed in order to create the movie. Therefore, I set this amount as my goal. Some examples of crowdfunding started to become known in Japan, but at most their goals were a few hundred thousand yen. That amount of money is enough for some projects, but when it comes to producing a movie, it would be very difficult to make it happen without gathering a few million yen. It's not rare for staff to work with no pay, but I'd like to pay professionals a decent rate for professional work on my movies. I don't film with a camera or edit movies by myself, so I have to hire people to handle such things for me. In order to do so, I would need a few hundred thousand dollars. I believe that my personality of setting high goals and doing my best to achieve them also explain my motives for this ambitious fundraising. For example, if you intend to collect five million yen, getting five million yen is the most you will do. However, if you set a goal for ten million yen, you will most likely get five million yen easily, if not more.
As for the project at Motion Gallery, about four million eight hundred thousand yen has been collected of the ten million yen target as of January 16th, with a mid-February deadline. For more information, please check the crowdfunding page.
I heard you had three people on staff specifically working on crowdfunding in the United States. How are you working on this in Japan?
I set up an office with four to five staff members always being available. Although I say 'always,' since everyone has another job, they work on this project during their spare time while I add some support from New York. The staff usually focuses on social media like Facebook and Twitter, publishing newsletters, and figuring out how to get big sponsors. In addition to that, we've been telling people about our free screenings currently being held all over Japan, and have been sending promotional material out to venues. I think that showing the movie is the most convincing way to get donations from people instead of simply asking for money. Since this is the purpose of the screening, we decided to do it for free. I believe that this will lead to more funding.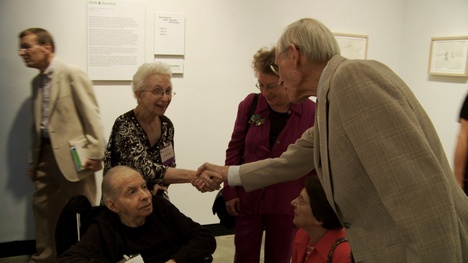 A scene from 'Herb and Dorothy 50 x 50' © 2013 Fine Line Media,Inc. All Rights Reserved.
You've organized various film-related events, such as an event during your last visit to Japan in November 2012 where you discussed crowdfunding, as well as another event called '2500 screening project *2' during your current visit.
Rather than strategize and organize them in advance, if someone is willing to cooperate with us on this project, I try to accept their offers as much as possible and make it happen. I came up with the idea of these current free screenings on my last visit to Japan. On Facebook, about 1700 – 1800 people liked our page as of December 2012, but only about 230 people 'liked' the funding campaign. It's a ratio of 8:1. On the other hand, when we raised funds in the United States before Japan the ratio was about 4:1. Therefore, the Japanese ratio seems very low. The 'Like' button is a thing that people can casually press on, but also an indicator of sorts.
What I'm wondering about now is why there is such a difference in Japan. A donation can be made starting from one coin, for as little as 500 yen, but people hesitate to donate for some reason. Maybe they're worried about putting a charge on their credit card over the internet, or maybe they like the idea of a project but not the idea of making a donation. The culture of making a donation by credit card has started to take root in the United States. Therefore, people are willing to help casually on the internet, but things are not the same in Japan. To overcome such a problem, we came up with the idea of accepting donations not only by credit cards but also by deposit to a bank account. On top of that, by doing free screenings of the previous movie 'Herb and Dorothy,' we're trying to motivate people to support the sequel. I believe that eliminating confusion, encouraging and motivating the public is what needs to be done.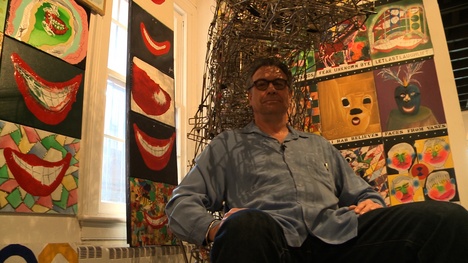 A scene from 'Herb and Dorothy 50 x 50' © 2013 Fine Line Media,Inc. All Rights Reserved.
What do you think is necessary in order for crowdfunding to keep growing?
As for the system itself, a proper setup will be needed since it is very hard to use in Japan without setting up the infrastructure on the web. If I want to write a quick note of thanks to someone for their donation, the process of doing so is a great hassle. I also hear people saying that they're confused by the system for participating and donating, so this could be fixed. It's not like people aren't interested, but they are in a situation in which the methods are difficult to understand, causing them to hesitate. By making this system easier, I hope to improve the current situation will be improved. For example, in the case of Kickstarter, if you have an Amazon account, you're just three clicks away from completing donating. I believe that making the donation process simpler is very important in terms of giving money.
Ever since I started to ask for donations on crowdfunding websites, I've been hoping to convey my desire to support others, not just asking for help from everyone. With this in mind, I donate $10 every month to Obama's election campaign. Once you make a donation, an account is created for you. Then, when a debate happens during election season, I'll receive an email from the campaign after the debate ends saying 'If you thought the debate was good, please donate $4.' Their method of choosing the donation amount, to make it $4 and not $5, and their payment system are very well planned. I think that these sorts of ideas and internet infrastructure are more necessary.
The most important thing is for the users who are working on a project with crowdfunding to care for their supporters and donors, otherwise, everyone will leave the website. Although the system is developed, the site management can't control such things. This should be the responsibility of the people who participate.
Is there anything that you specifically try to do?
I would like people who participated in the fundraising to be happy about their participation. In order to make this happen, it's important to have enough benefits for them. For example, with the Motion Gallery fundraising, two advance tickets come with a 3,000-yen donation. This won't be a waste for those who actually want to watch the movie. Also, following up after the campaign and communicating with your project's followers is also important. The users should keep followers posted about the progress of the project and future schedule. The follow-up after the receiving funds needs 60% more attention than getting to the funding goal.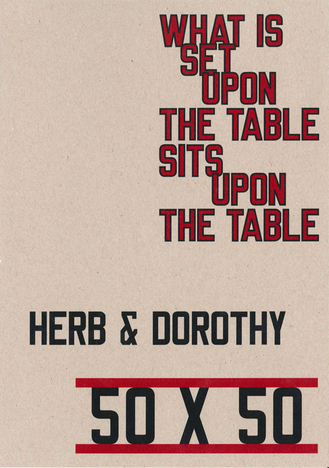 The sketchbook designed by Lawrence Weiner for 'Herb and Dorothy 50 x 50.'
This funding project has various rewards prepared. One example is a limited sketchbook designed specially for 'Herb & Dorothy 50x 50' by a well-known conceptual artist, Lawrence Weiner. In the United States, Dorothy sent an e-mail to all supporters. Director Sasaki says that the e-mails contained five important points about collecting art. Receiving this message from Dorothy probably seems like a really good deal to people.
Have you started buying paintings during the eight years you have spent with Herb and Dorothy?
Never. I'm not a big fan of owning things and don't have any desire to buy things. I think that it's enough to enjoy art at museums and galleries. On the other hand, making the second movie made me want to paint.
Do you have a message for those who are thinking of trying crowdfunding?
Preparation is very important in order to do crowdfunding. Not only raising funds, but also providing timely follow-ups to your contributors is the most important thing to keep using this crowdfunding system.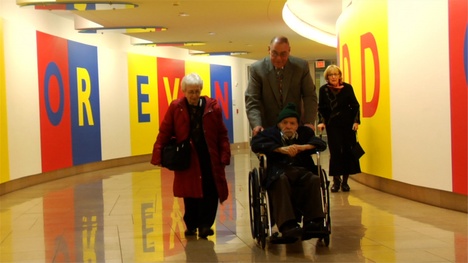 A scene from 'Herb and Dorothy 50 x 50' © 2013 Fine Line Media,Inc. All Rights Reserved.
Director Sasaki mentions that "'the democratic approach to supporting the arts where anyone can participate' in crowdfunding shares the same spirit Herb and Dorothy." As opposed to just being a spectator, people are able to see more by actively participating. Won't you join us in the theater to receive a piece of Herb and Dorothy's gift? 'Herb and Dorothy 50 x 50' will be released on Saturday, March 30th at Shinjuku Piccadilly, the Tokyo Metropolitan Museum of Photography and other places.

*1. Crowdfunding is a system which helps gather funds from unspecified numbers of supporters for people looking to complete a project. Through the Internet, people ask for a relatively small amount of support from backers who agree with the idea of the project. It has been used in a wide range of fields, such as social contribution activities and art projects, mainly in Europe and the United States and has rapidly proliferated in the last few years.

*2. Upon the completion of the sequel, a campaign to screen the first film 'Herb and Dorothy' for free was organized until the end of March 2013. In honor of the name of the sequel, 'Herb and Dorothy 50 x 50', they aim to do 2,500 free screenings across the country.
'Herb and Dorothy' Official Website
http://www.herbanddorothy.com/jp
'Herb and Dorothy 50 x 50' Crowdfunding project website
http://motion-gallery.net/projects/herbanddorothy5050
Megumi Sasaki
Born in Sapporo Hokkaido. Moved to New York in 1987 where she has resided since. She has worked as news director or reporter on news shows, and has produced TV programs in over 40 countries around the world. In 2002, she established her own production company, Fine Line Media. She released her directorial debut film, 'Herb & Dorothy' in the United States in June 2008, which was awarded the Best Documentary Award and the Audience Award at several film festivals. In Japan, the movie was released and distributed independently in November 2010. Currently, Sasaki is working on the release of 'Herb and Dorothy 50 x 50' in March 2013, as a sequel to 'Herb and Dorothy.' She is also working on a film focusing on the international whaling controversy.
Text: Miki Matsumoto
Translation: Yumiko Miyagawa

[Help wanted]
Inviting volunteer staff / pro bono for contribution and translation. Please
e-mail
to us.