Ever stepped into a gallery and wondered who purchases the massive installations on display? The Collectors Show: Weight of History at the Singapore Art Museum attempts to partially unveil the mystery. Over 20 prized possessions of private collectors have been curated to form an impressive assembly of contemporary Asia works, unveiled for the public eye.
The spatial manifestations of Asian themes prove to provoke and delight.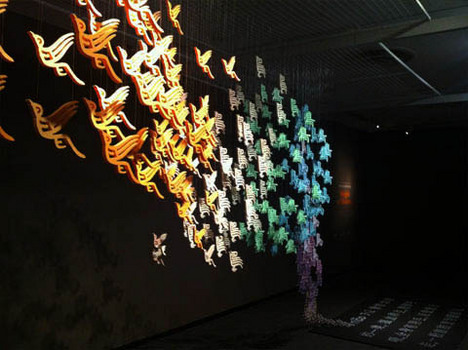 Chinese artist Xu Bing's "The Living Word" animates the pictographic evolution of the Mandarin language from form into character. Returning to nature and depicting history, following the poetic and graceful decent of birds as it transforms and manifests itself into the complex and then final simplified Mandarin character of "bird" as we know it today. The act of descending, with its' shadows casted across the space, suggest the freezing of passing of time. The different facades of the installation, embraces a greater complexity to the unification of the Mandarin language, its simplification and offshoot dialect and accents.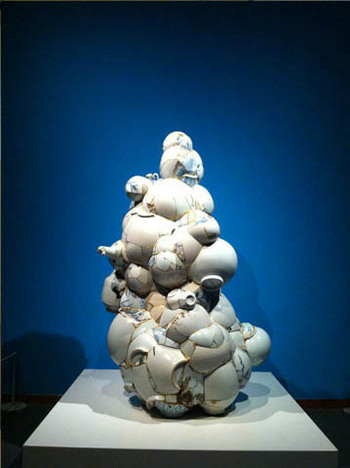 Korean artist Yee Sookyung's "Translated Vase" inverts the lightness of Xu Bing's representation as she creates complex geometries using ceramic fragments of other forms. Bubbles. Rubble. Mountain. Sculpture. Awkward, yet elegant, Yee's reconstruction juxtaposes tension and harmony. Depicting the confluence of the past and the present, through the reuse of the object and the use of different glazings from different periods.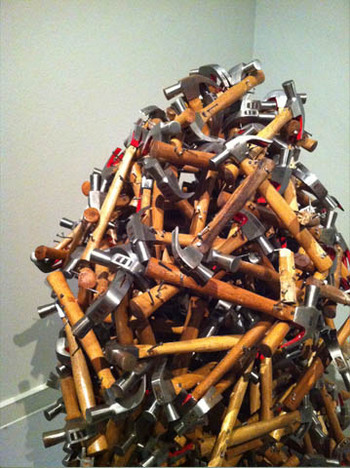 The founder of Singapore's first artist colony The Artist Village, Tang Da Wu's "Same Same and No Difference between Unity and Self-Destruction," takes on the local on as the humble hammer is violently and yet poetically secured together with nails. A metaphor and reflection on the states of Singapore, the work reflects upon Tang's outlook to the contradictions man inflicts upon himself and others in life.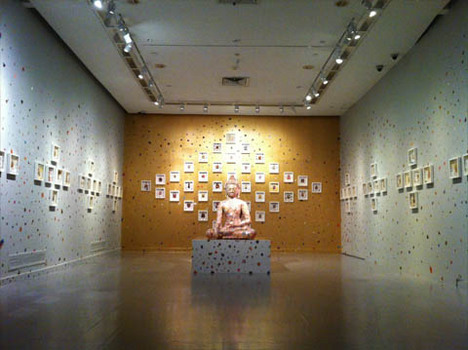 Contemporary Tibetan artist Gonkar Gyatso's "Excuse Me while I Kiss the Sky" sees the confluence of religion with popular culture. With capitalism and the rise of the consumer, religion finds itself competing with popular culture. It's believers' at conflict. Should religion adapt or reject? Stemming from the artist's own experiences, a central Buddha figure is covered with thousands of stickers. This new persona is surrounded by a series of collages. Entitled "108 Burning Questions," they articulate the social, political and religious dilemmas and conflict of the capitalistic world.
This journey across the Asian private collectors sees the spatial manifestation of existence. Be it historical conflict, the retention of cultural roots, the central role of religion, life or death. The spatial realisation of these themes creates suspense and delight. It appears that history need not be such a burden after all.
The Collectors Show: Weight of History
Date: January 25th – May 5th, 2013
Place: Singapore Art Museum
Address: 71 Bras Basah Road, Singapore
http://www.singaporeartmuseum.sg
[Help wanted]
Inviting volunteer staff / pro bono for contribution and translation. Please
e-mail
to us.