Hiroko Nakajima completed a BA and a MA at the prestigious Central Saint Martins University in central London, she states her interests as defamiliarization and surrealism in fashion. Her collections over the last three years are clear expressions of a unique mind, for example her MA graduate collection (Magic Numbers) in 2012 was inspired by the sculptures of Marisol Escobar as well as ancient Egyptian sarcophagi. It is not often that in the field of fashion design that you will hear the words 'ancient Egyptian sarcophagi! Another interesting aspect in this collection was her use of numbers which definitely raised a lot of questions. Her latest work, the 2013 collection 'Deception' included hats designed to look like two hands resting on top of the head, once again she managed to pique the interest of many fashion enthusiasts. Previously she has also collaborated with eco print label Partimi and with fashion tarot card 'Eroteme' by Oleg Mitrofanov.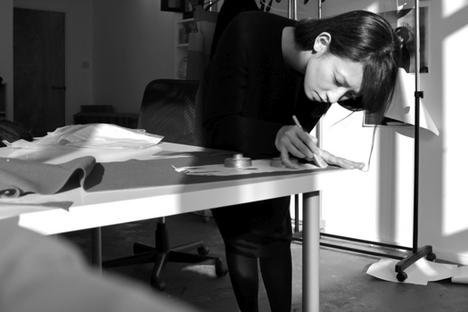 Please introduce your particular perspective on fashion design.
I never thought myself as a fashion designer to be honest. I believe I make sculpture that could go on a body. I like surrealism. I like when ordinary becomes extraordinary. I like to make people question.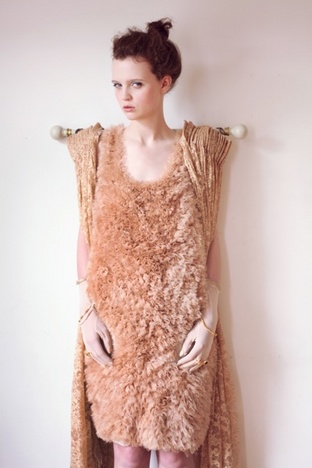 What motivates you to be a designer?
I don't really know. I actually have never thought about what motivates me to be a designer. I guess it's more instinctive reason why I happen to do this now?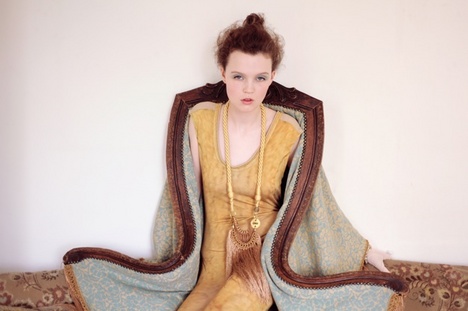 Your graduate collection was inspired by Marisol Escobar and Ancient Egyptian sarcophagi, please tell us more about this and especially how you came to be inspired by Ancient Egypt.
Marisol's work was the biggest inspiration but I was looking into Egyptian mummies at the same time. In both, they put a body in a box and sculpt some part of the body for some kind of identification. I was fascinated by the mixture of human and non-human, dead and alive.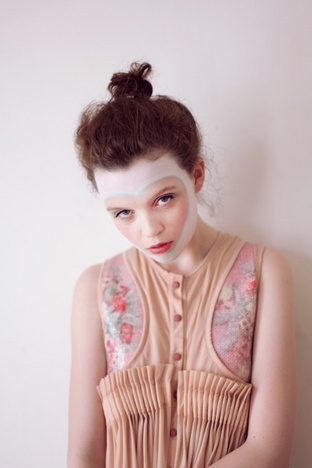 In 2012 you had a collection called Magic Numbers, and your clothes featured numbers as well, what is the message behind this?
Those numbers were to raise curiosity so they do not have any particular meanings but you instantly thing it means something and I wanted to play with this subconscious-ness. The message behind it is to think and question about what you see and the answers are always open to you. I often use the graphics that are familiar to everyone and transform them into something totally alien to you.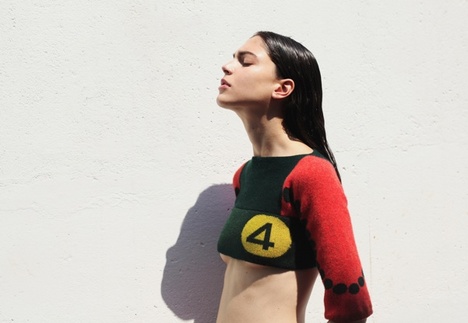 Could you tell us more about your designs for this year?
I am aiming to create garments that are difficult to be categorized. Free and abstract.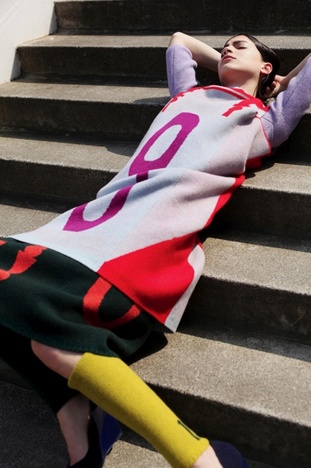 Please tell us things that you care about most when designing clothes.
I love working with colours and graphics, so I care about them the most. I also care if the garment looks interesting and alive when it is just hanging because most of the times those unique clothes stay quiet in the closet so I want the piece to work as a nice interior object too.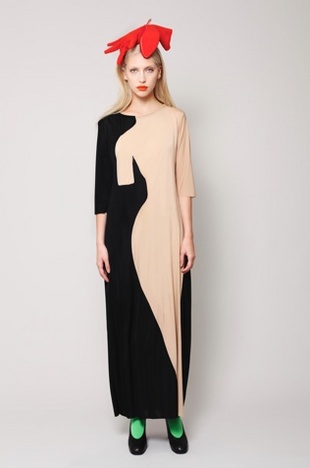 What is your answer to the question, 'what is fashion'?
If I could simply answer this question, I would probably be no longer in fashion. It is just a piece of clothes really, but with so many dramas behind.
What kind of clothes do you usually wear?
I normally wear vintage clothes, colourful, but I only wear black when I travel.
Please give your message to the Japanese audience/readers.
Thank you for reading!
Text: Michael Sullivan

[Help wanted]
Inviting volunteer staff / pro bono for contribution and translation. Please
e-mail
to us.