As a follow-up event of a conference in Berlin in fall 2012, International Conference "Digital Backyards" by Sapporo Media Arts Lab (SMAL) and berlinergazette was held in Sapporo.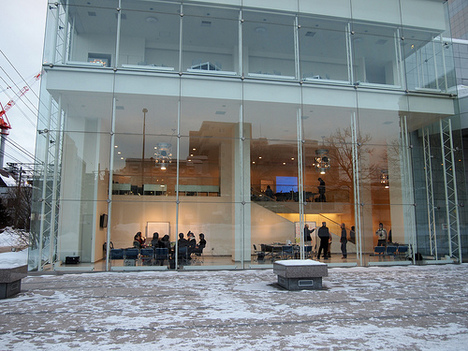 The city of Sapporo in mid January: walls of snow, slippery roads and super careful taxi drivers. An unusual and yet inspiring setting to hold the international conference "Digital Backyards". The conference location is to be found in the midst of all the snow and ice – aptly named "Porto". A harbor for the ideas of the journalists, artists, researchers, activists and developers who came together between January 10th and 12th on the invitation of the Sapporo Media Arts Lab (SMAL) and Berliner Gazette. They discussed their activities in the "digital backyards" of Japan and the rest of the world. And they talked about how to realize the potential of their work.
The conference program consisted of two major parts: A two-day networking lounge with about fourty expert-participants and a one-day session of public talks which was attended by more than 100 people. The event was streamed live and photographically documented (flickr).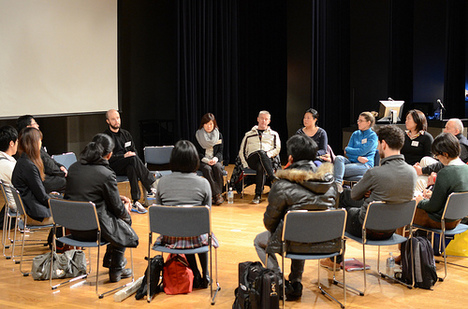 Bringing together so many people from different fields one has to ask: What was the common denominator? Was there a narrative which emerged in all the workshops and during the public panels? Looking at the content and output of the conference closely we find that all modules dealt with bottom up innovation in different contexts.
The notion of bottom up innovation was discussed as micro level innovation in the context of citizenship, art, journalism and consumption. All of the experts gathered in the different workshops presented their ideas and projects. Thus the discussions took place primarily on a practical, hands-on level.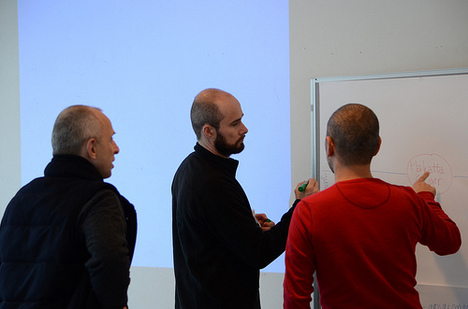 There is a lot of snow in Sapporo and in the whole Nothern island of Hokkaido. Snow is beautiful. But for many people it can be a problem in everyday life. The internet and new digital tools could help people to become actively involved in the solution of this problem.
Nowadays everybody can be a sensor. This means that everyone can provide important data to solve various city problems, like the snow cleaning problem in Sapporo. The workshop "Social impacts" brought together project makers and developers: Andreas Schneider (Insitute for Information Design Japan), Norifumu Ogawa (Hakkate Geiger), Sean Bonner* (Safecast) and moderator Krystian Woznicki (berlinergazette.de).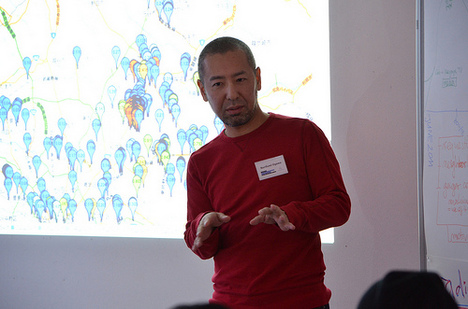 A starting point for this workshop group was their individual response to the Fukushima Daiichi nuclear disaster. Many people in Japan were uncertain of the radiation data that was provided by official government bodies or the involved company Tepco. Thus many people were either collecting or researching their own data. Norifumi Ogawa tried to make this data accessible to the public. He developed a map that was relying on crowd sourced data: The Hakkate Geiger. Sean Bonner had a similar idea and developed Safecast. Also Andreas Schneiderdeveloped a radiation map with collectively gathered radiation data.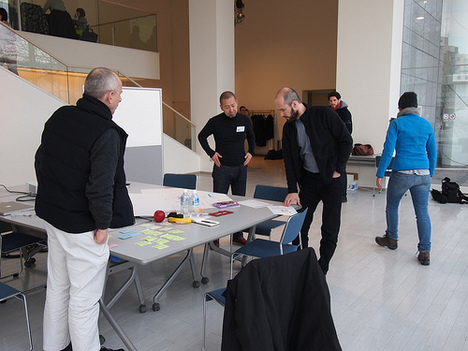 Since radiation is not a local issue in Sapporo, the "Social impacts" workshop members tried to apply their methodology to the snow problem in Sapporo and developed in the two days of the Networking Lounge the "Sapporo Snow Project" which is based on the same idea of crowdsourcing and mapping.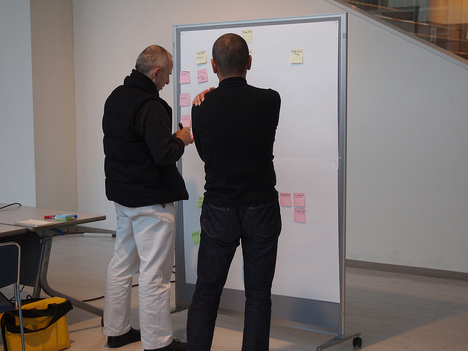 The starting point was the question how the local city government can provide a better service of snow removal. After all many citizens think, that the system is not efficient enough. The key idea is, that the citizens become directly involved solving the problem. If all citizens were to become sensors they could submit detailed information about the amount, character and precise location of snow that needs to be cleared. This is a push and pull model. With the help of a mobile App citizens can ask city officers to clear the snow. At the same time city officials can ask citizens to submit information about specific regions.
The workshop team discussed with some of the local delegates directly about the current system of snow removal and presented their idea. Both sides engaged in a discussion about the idea. So this project is to be continued…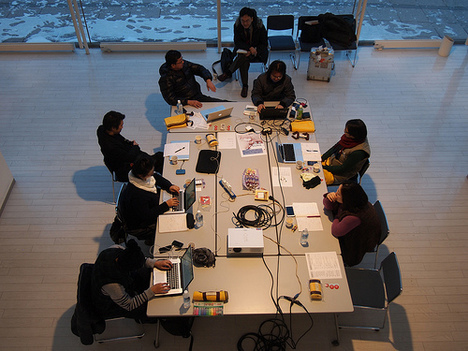 The workshop track "The Art of Tomorrow" focused on art and the new role of artists and consumers. The participants of this workshop track were (local) artists, researchers, educators and curators including Kyoko Tachibana, Junichi Oguro, Tomohiro Okada, Keiko Miura, Satoshi Hata, Mami Odai and SMAL-founder Mitsuhiro Takemura as moderator.
The guiding principal for the discussion was the credo of the german artist Joseph Beuys "Everybody can be an artist". This idea seems to gain new momentum in the digital age. Thereby the role of art as a critical social practise is being redefined: by involving people tradionally considered non-artists, it renders visible problems and provides conceptual tools for their solution. Leaving behind elitism, art nowadays can have a deeper impact in society and in local communities. The workshop tried to deal with the situation of artists in Japan, the changing role of art and the local context of Sapporo. Also in this workshop the discussion had a pragmatic agenda: In 2014 the city of Sapporo is hosting an International Art Festival which serves as a platform to experiment with this new role of art.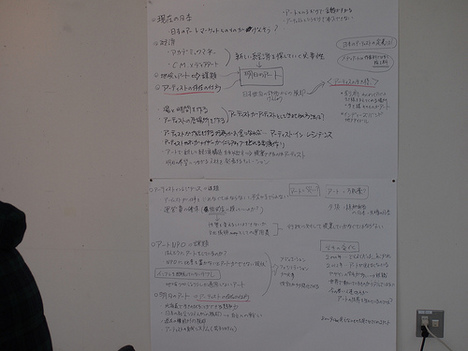 So it may be true: Everybody can be an artist – but who can make a living of it? In Japan the place of the artist is very fragile. Keiko Miura from the Sapporo University of Education was giving a vivid example: "Today we see less students loudly pronouncing their interests in art. We see more students speaking of design. They say they want to be designers or creative directors. In the early 2000s there were many students with interests in fine art or installation art. This I think has a lot to do with the dooming economy. It seems apparent that design contributes to society. With the increased use of social media, art seems to be less visible. As an educator, I feel strongly that there's an increasing need for education about self-management, how artists can survive economically."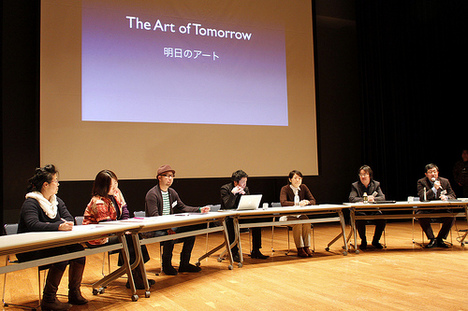 So how can art survive and thus artists sustain their work? Tomohiro Okada, director of the NPO "creative cluster", points out that in the wake of digital media, art might need to be showcased in a polymorphic way rather than in a static museum. One example for this kind of presentation was showcased at the YCAM. Here theater producers and contemporary musicians collaborated to showcase an opera. No one was singing or playing an instrument. Just a vocal software came into use. So all of a sudden the "girl next door" was able to be a part of an opera production. This way of production doesn't necessarily solve the financial problems of artists but it examplifies that art and artists maybe have to change their views as to what is art and who is an artist.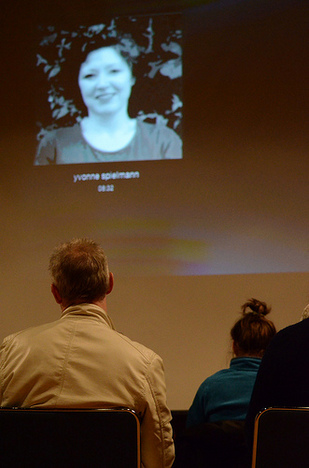 The ideas of the group were enriched by the talk of Yvonne Spielmann, who joined the conference from Singapore via Skype. Spielmann is Dean of Faculty of Fine Arts at Lasalle College of the Arts in Singapore and explained her concept of hybrid culture. She reminded us that nowadays our reality consists of multilayered mixtures. Within our multilayered reality the artist has an important role: he or she helps us understand the heteregenous situation. The artists does so when he or she uses things against the strain. All of a sudden there seems to be a bigger potential of (digital) media when it is being used in an active way and not just consumed passively.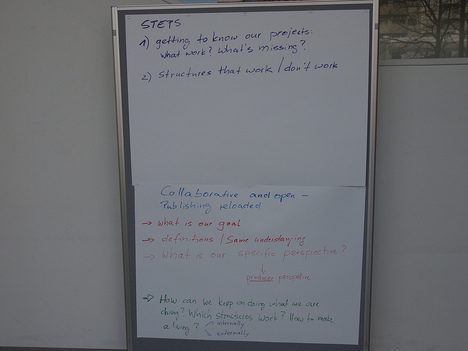 Nowadays everybody can be a journalist. Using different tools like blog software or platforms for micro-blogging like twitter, ordinary people can provide up to the minute news. They can share their observations when participating in an event of social, cultural or political relevance. Alternatively they can correct and supplement existing news reporting on the issues they have access to first hand.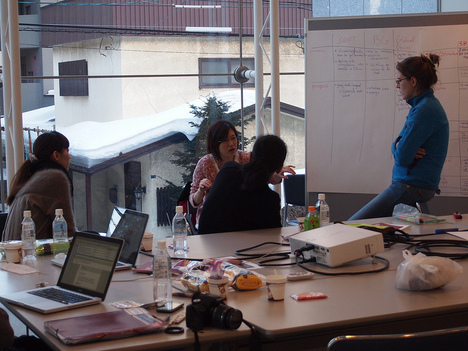 The workshop track "Publishing Reloaded" dealt with the future of publishing. It brought together Taketo Oguchi of the international online art mag SHIFT, Keiko Tanaka, who is Japanese language editor of Global Voices, Magdalena Taube, editor in chief of Berliner Gazette and Chris Piallat who is a copyright expert and advisor for internet policy of the green party in the German parliament.
With a lot of experience in the field of citizen media and digital publishing, the group rapidly came up with one question: How can we keep on doing what we are doing? How can we sustain alternative publishing platforms when on the one hand the publishing world is more and more dominated by global players like Google and Facebook and on the other hand everyone can publish anything.
Chris Piallat sketched out the need of a new narrative in times of digital disruptions. A general framework which enables us to overcome perceived conflicts in cultural production and publishing in special. Not only do we need differentiated approaches (on the micro level) but simultaneously we also do need a strong narrative that enables everybody to declare their rights on accessing culture on the one hand and on the other hand is inclusive enough that existing giants can agree on. The narrative for the digital age could deal primarily with sustainability – its slogan being "The net is just borrowed". The environmentalism movements were pretty successful in declaring a responsibility of everybody for the commons. We could learn from this story. We all, as producers and consumers, depend on contract laws of web services and closed ecosystems we use. Only if we understand that we are able to declare cultural production as open commons we want to keep sustainable.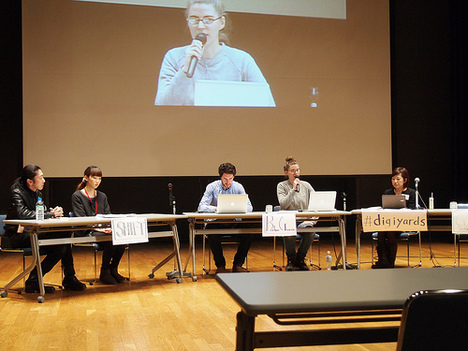 As in the other workshop tracks the starting point to this challenge was also: More power to the people! Taketo Oguchi came up with the idea of creating a template that could help people to organize their local news. With the help of that template it would be easy for everyone to create their own digital local newspaper. Sapporo already has a very strong local newspaper the Hokkaido Shimbun with more than one million readers. The challenge for a digital local newspaper would be to connect with the already existing readership and help them engage actively in the production of their own newspaper.
Obviously such peer-production only become sustainable when the power of the people is supplemented by the power from the governemnt and the economy. Those sectors need to create an approriate enviornment (we are talking about laws and regulations) for the creative output of the masses to become sustainable.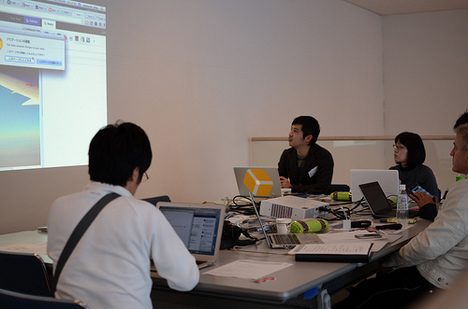 Everybody can become a prosumer – that is a consumer, who is actively involved in producing what he or she consumes. In addition to that, the active consumer can generate new products, contents and much more. At the fourth track of the conference, entitled "WE DO: Trends in consumer generated content", David Lindsay Wright, Professor at the Future University of Hakodate in Hokkaido, tried to bring together the different strings as moderator.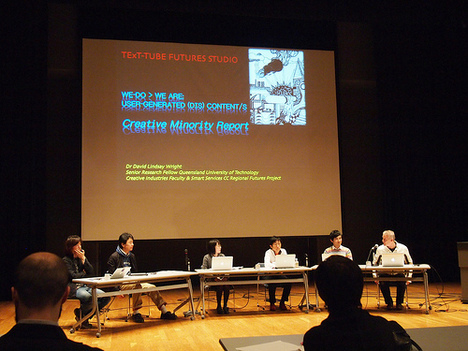 What we call "consumer / user generated content" has a quality of its own, easily surpassing standardized contents or products made for mass consumption. Here something more personal, more individual, more unique is being made and offered to a growing number of people, who are interested in alternatives to mass consumerism.
One example of this new prosumer culture is the Japanese pop idol Hatsune Miku. Hatsune Miku is not a real person but a singing synthesizer application which has a female persona. It was developed by Crypton Future Media. Hiroyuki Ito, CEO of Crypton Future Media, explained about the success of Hatsune Miku and how his company decided to let the user decide what their idol will do and look like. The original software is properietary but all additional software is open source. This way everyone can compose songs for Hatsune and let her sing.
In all those contexts innovation is initiated by people who are not necessarily aiming at innovation. Instead, they most of the time just follow their passion without a professional or commercial interest. Or they are in a catastrophic situation and try to deal with a big problem by developing non-standard solutions.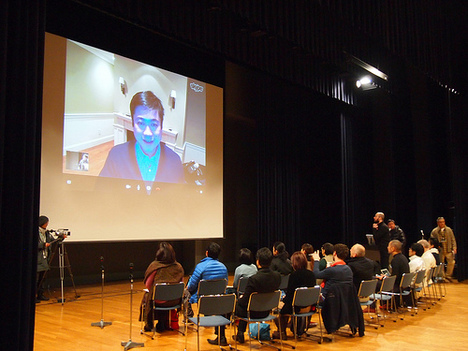 At the conference we coined for this type of innovation the term "silent innovation". As Joichi Ito, the director of the MIT Lab in Boston, put it in his key note speech, there is almost no noise being made for development and announcement of this innovation. It happens rather casually in the digital backyards of dominant industries.
One could compare this silent process with snow falling down: Flake by flake the snow changes the environment we live in.
SMAL International Conference "Digital Backyards"
Date: January 10th – 12th, 2013
Place: PORTO Sapporo 1F
Address: South 1, West 22, Chuoku, Sapporo
Tel: +81 (0)11 622 5110 (Sapporo media arts lab)
http://www.smal.jp
Text: Magdalena Taube
Photos: Yasuhiro Yamaguchi, Chris Piallat, Krystian Woznicki

[Help wanted]
Inviting volunteer staff / pro bono for contribution and translation. Please
e-mail
to us.