ART TAIPEI has the longest history as an art fair in Asia. It saw 19th anniversary in 2012. It was held at the Taipei World Trade center, which is next to the highest building – Taipei 101. Approximately 150 galleries joined the fair.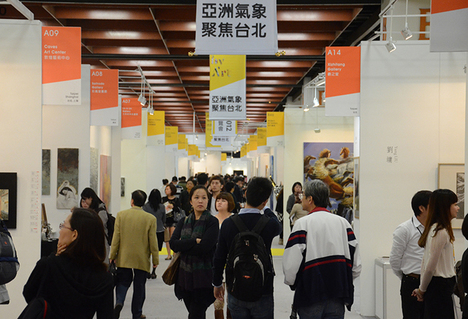 More than half of the galleries are from the Asia Pacific region, Europe and North America. Among them, Lebanon and Russia are making their first record of participating in ART TAIPEI. Twenty-three were galleries were Japanese.
ART TAIPEI offered a free art bus tour. It also enabled visitors to go to the NEW CITY ART FAIR that was held at Huashan 1914 Creative Park by H.P France.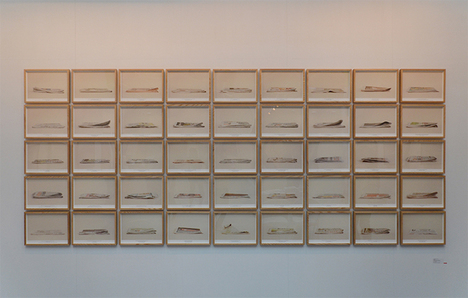 Ting Ting Cheng "Involuntary Reader", ART TAIPEI 2012 Photo: Tomomi Sakuma
Ting Ting Cheng's works stood out in the section for young artists. She photographed free newspapers that are available on the Tube in London. When people have finished reading, the papers are often left on the seats then other passenger would pick them up. Looking at how papers travel from one hand to another, she wondered, "How does the information flow, and how does it influence the way we see the world?" She then decided not to chase any information. For 100 days, all information that was available to her was the papers that "involuntary" came to her hand. She took photos of the papers and she exhibited them at the fair. Her photos only show the thickness of the papers. Any information in the papers has nothing to do with her works. People usually think we chase and select information in our lives, however Ting Ting Cheng's works are as if saying that all information comes to us accidentally, and we are not able to control it. Now more and more people are also catching onto her work.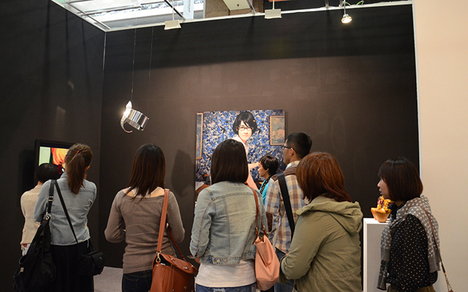 Sputniko! "Menstruation Machine – Takashi's Take", ART TAIPEI 2012 Photo: Tomomi Sakuma
At SCAI THE BATHHOUSE, a gallery for contemporary art, works of Tastuo Miyajima, Anish Kapoor and Sputniko attracted visitors' attention. A music video "Menstruation Machine – Takashi's Take" by Sputniko! attracted many people. In the video, a man named Takashi, Sputniko herself played this role, wondered how it feels to be a girly girl. He wears girl's cloth and "menstruation machine", and goes into town. It seemed Sputniko's view of the world, concept of the works, fashion, character and music attracted Taiwanese young people. The crowd of people never vanished in front of her work.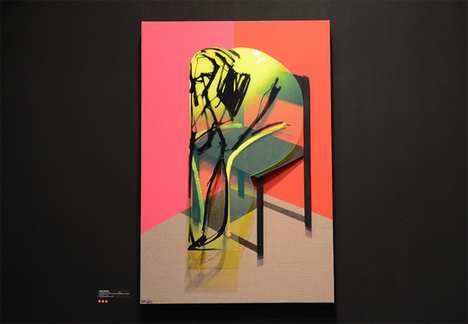 Adam Neat "THE BLACK CHAIR", ART TAIPEI 2012 Photo: Tomomi Sakuma
Elms Lesters, a gallery from London, exhibited an artist Adam Neat's work. He had a dream to do a show around all of London. In 2008, he and helpers left 1,000 prints around London's streets for anyone to pick up and take to their homes. He avoids painting on canvas and paints on cardboard boxes he has collected.
His works at the fair were dimensional paintings (3D paintings). He painted himself and his wife. They made me feel that he stares deeply and calmly into himself and the environment around him.
At the front of the gallery was Adam Neat's photo. A lot of people seemed to be beckoned by his works. Talking to the owner of the gallery, I felt he really loves Adam's works. He will keep fascinating art lovers by his fresh style and explorative mind.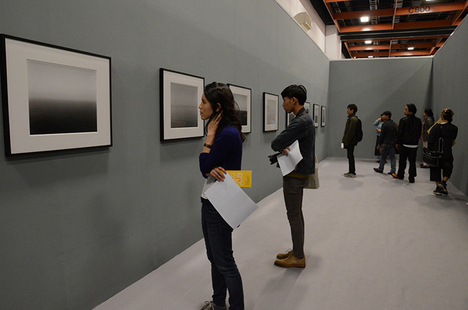 Hiroshi Sugimoto, ART TAIPEI 2012 Photo: Tomomi Sakuma
ART TAIPEI also offered an art lecture. Hiroshi Sugimoto talked about his inspiration and respect toward artwork. A lot of people lent their ear to his lecture.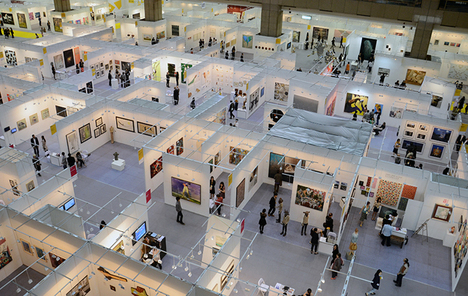 ART TAIPEI serves as the most essential platform in the trading of Asian art for international collectors, curators and art lovers. It exhibits ranged from classic art to modern art—all categories of art. This event is one of the most important art fairs in the ever-developing Asian market.
ART TAIPEI 2012
Date: November 9th – 12th, 2012
Place: Taipei World Trade Center (Area B C D)
Address: No.1, Jingmao 2nd Rd., Nangang District, Taipei
http://www.art-taipei.com
Text: Tomomi Sakuma
Photos: Tomomi Sakuma

[Help wanted]
Inviting volunteer staff / pro bono for contribution and translation. Please
e-mail
to us.