ART BERLIN CONTEMPORARY 2012
Fall is the most exciting season for Berlin's art scene. This is because Berlin hosts an art fair which invites galleries from all over the world to sell art. Since many collectors visit the fair looking to purchase art, even the galleries that do not participate in the fair hold their opening receptions around the same time. Also, museums and artists host events to raise excitement through the city. There used to be a yearly art fair by the name of Art Forum Berlin which was at the heart of this season, however, it no longer exists. Recently, a new incarnation of the art fair, abc, Art Berlin Contemporary, has arisen in Berlin.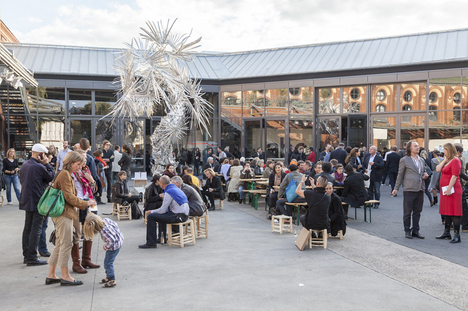 abc opening. Photo: © Stefan Korte
Abc, Art Berlin Contemporary, started in 2008 and this year will be its fifth. The fair was held this year for four days, from September 13th to 16th, at a former postal train station in Berlin, with 129 international galleries participating, including participants from Berlin, New York, Paris, London and Vienna. It is obvious why abc calls itself an innovative art fair. Unlike your usual art fairs, you will never see booths divided into small sections filled with tiny paintings and pieces of art at abc. Huge pieces dominate the crowd's vision in this huge exhibit hall. The galleries show only one artist in each given space and focus on introducing the artist to the world.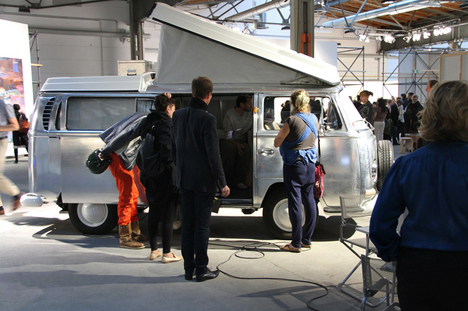 Christoph Keller. Photo: © Marco Funke
Walking around the exhibit hall, some art might not seem very suitable to the art fair. A piece by Christoph Keller from the Esther Schipper gallery is one example. Their exhibit space features a classic recreational vehicle which attendees may board. A video of old ethnology is projected on the driver's side and people can take a seat to watch it inside of the vehicle. This draws the observer closer to an unfamiliar theme by forging a strong and memorable experience, allowing them to forget that they are actually at an art fair.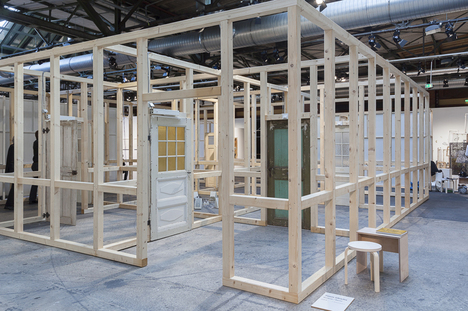 Timm Ulrich. Photo: © Stefan Korte
Wentrup Gallery in Berlin was showing a huge wooden structure made by Timm Ulrich. His piece could look like a single story building, but there are no walls, only poles and doors. People seemed to be attracted by the wall-less piece at the wall-less art fair.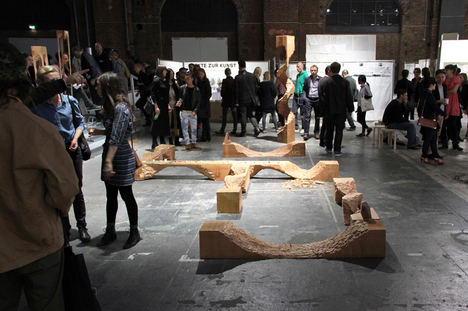 David Adamo. Photo: © Marco Funke
IBIDThe pieces by David Adamo at the London gallery, IBID, are neither huge nor gorgeous, but do leave a strong impression. Objects resembling poles made of sharpened pieces of wood were laid out on the concrete floor of the exhibit space. The same type of pieces were also laid out in another direction to give the appearance of stretching out to stairs near the side of the exhibit space. The pieces face into the true nature of sculpture, absorbing the robotic exhibit space and guiding the viewer's eyes onto not only the art pieces, but the exhibit space as well.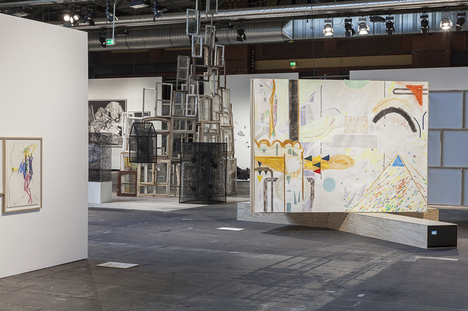 abc Installation view. Photo: © Stefan Korte
In addition to these, there are many more unique gallery displays. Among them, Carlier Gebauer shows pieces by Rosa Barba that explore the way that videos should be by Rosa Barba; KOW has installation pieces by Clemens Von Wedemeyer that show the relation between places and videos; Galerie Max Hetzler has political pieces by Mona Hatoum that tell the background of the artist himself. This strengthens the peculiarity of abc.
abc's features are the result of the deliberate idea of having an art fair where people can see artwork from many galleries, as supposed to the idea of an art fair as just a place to sell art. When abc started they chose themes that all of the participating galleries would follow. The theme in 2009 was to do an art project in a public space. The only rule was that they must use the same table to display art. Therefore, some used the table as a stand for the art and a screen for a projector, or someone even changed the shape of the table and used it as a part of their art piece. At abc, people will realize the challenges posed for galleries and artists, to work within the theme and to exhibit pieces as they say that they should originally be looking, while viewers will not find the usual type of works meant for art collectors. abc's plan and structure of having art as the center of the event instills the idea that that is how art fairs should be, in strong contrast to Art Forum Berlin which centered itself on the sale of art.
In 2011, Art Forum Berlin (abc's main competitor) was cancelled, leaving abc by itself as the leader of the fall art scene in Berlin. Although some people were nervous about the absence of Art Forum Berlin, by now they will have noticed that abc has filled the void and is even providing more with its own development. They set pictorial pieces as the theme for the 2011 event, even trying to please art collectors. This year, they did not set a theme, instead encouraging galleries with their own creative ideas. abc has been building up the characteristics of your usual art fair while also maintaining its own uniqueness.
People may see abc's current appearance as a result of chaotic Berlin's art scene. However, there are actually two tendencies as a result, which have formed abc into a shape of something that usually does not exist. That is, a balance between an art fair as 'a place to introduce artists' and 'a place to sell art'. Art fairs seeking extreme commercialism drive artists to create commercial products, and the frequent criticism is that that is not the way that art should be. However, galleries can't keep introducing artists without selling art. Moreover, art fairs are necessary to attract the many art collectors who will actually buy art. However, art fairs also need to introduce art to people who are not art collectors.. This year's abc tried to find a way to resolve this problem, and they at least succeeded in bringing a mixture of people to the fair: the general public who were looking for new art pieces, representatives from galleries promoting sales of art and introducing artists, art collectors who were there to purchase art, and artists who exhibited their own pieces as 'art.' By inviting these various crowds to the fair, abc made their idea of an art fair very appealing, and left a lasting impression of their strong power to create new things in Berlin's art scene.
Art Berlin Contemporary 2012
Art Berlin Contemporary
Date: September 13th – 16th, 2012
Place: Station -Berlin
Adress: Luckenwalder Strasse 4-6 10963 Berlin
Admission Fee: 8 Euro
http://www.artberlincontemporary.com
Text: Kiyohide Hayashi
Translation: Yumiko Miyagawa

[Help wanted]
Inviting volunteer staff / pro bono for contribution and translation. Please
e-mail
to us.